Erratum to: potential therapeutic application of gold nanoparticles in B-chronic lymphocytic leukemia (BCLL): enhancing apoptosis
Journal of Nanobiotechnology
2013
11:23
Received: 27 June 2013
Accepted: 27 June 2013
Published: 1 July 2013
Correction
After the publication of this work [
1
], it was brought to our attention that there might have been an error during compilation of the gel bands in Figure
1
. We regret such unintentional errors and any inconvenience this may have caused. In order to ensure that the published figure is correct, we have repeated the experiments to provide a corrected version of Figure
1
.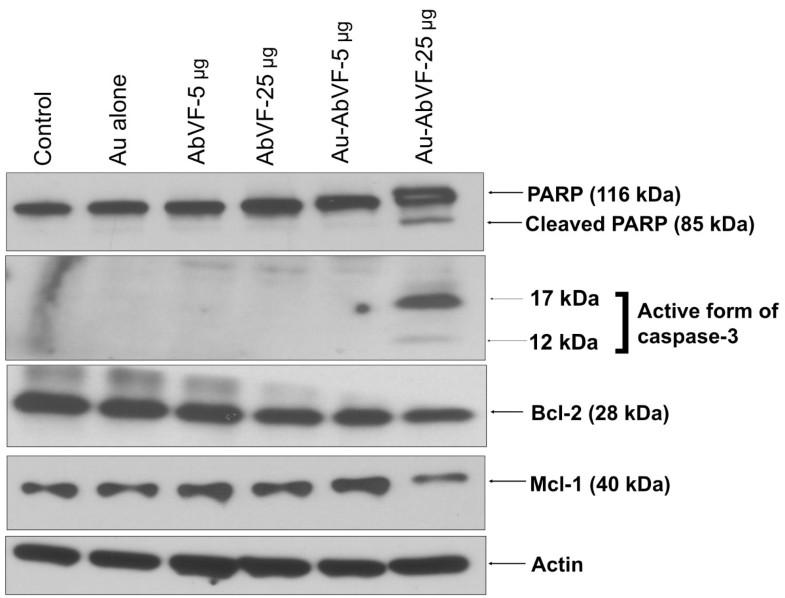 Authors' Affiliations
(1)
Department of Biochemistry and Molecular Biology, Mayo Clinic Rochester, Rochester, USA
(2)
Department of Medicine, Division of Hematology, Mayo Clinic Rochester, Rochester, USA
(3)
Department of Orthopedic Research, Mayo Clinic, Rochester, USA
(4)
Department of Biomedical Engineering, Mayo Clinic Rochester, Rochester, USA
(5)
Department of Chemical Biology, Indian Institute of Chemical Technology [IICT], Hyderabad, India
(6)
Department of Materials Science and Engineering, and Institute of Biomedical Engineering, The University of Tennessee, Knoxville, USA
(7)
Department of Metallurgical and Material Engineering, Jadavpur University, Kolkata, India
References
Nancy B, Lee YK, Chitta Ranjan P, Shanfeng W, Lu L, Secreto C, Banerjee PC, Yaszemski MJ, Kay NE, Potential therapeutic application of gold nanoparticles in B-chronic lymphocytic leukemia (BCLL): enhancing apoptosis. Priyabrata Mukherjee, Resham Bhattacharya: Debabrata Mukhopadhyay. J Nanobiotechnol. 2007, 5: 4-10.1186/1477-3155-5-4.View ArticleGoogle Scholar
Copyright
© Mukherjee et al.; licensee BioMed Central Ltd. 2013
This article is published under license to BioMed Central Ltd. This is an Open Access article distributed under the terms of the Creative Commons Attribution License (http://creativecommons.org/licenses/by/2.0), which permits unrestricted use, distribution, and reproduction in any medium, provided the original work is properly cited.