Chemistry of conjugation to gold nanoparticles affects G-protein activity differently
Journal of Nanobiotechnology
2013
11:7
Received: 10 October 2012
Accepted: 6 March 2013
Published: 19 March 2013
Abstract
Background
Gold nanoparticles (AuNP) are extensively used as biophysical tools in the area of medicine and technology due to their distinct properties. However, vivid understanding of the consequences of biomolecule-nanomaterial interactions is still lacking. In this context, we explore the affect of conjugation of Gαi1 subunit (of heterotrimeric G-proteins) to AuNP and examine its consequences. We consider two bio-conjugation strategies covalent and non-covalent binding.
Results
Affinity of the AuNP to the Gαi1 is 7.58 × 10 12 M-1. AuNP conjugated Gαi1 exhibits altered kinetics of activation, non-covalent bio-conjugates displays retarded kinetics, up to 0.88 fold when GTPγS was used as ligand, of protein activation contrary to covalent conjugates which accelerates it to ~ 5 fold. Conjugation influence intrinsic Gαi1 GTPase function in conflicting modes. Non-covalent conjugation inhibits GTPase function (decrease in activity upto 0.8 fold) whilst covalent conjugation drastically accelerates it (12 fold increase in activity). Altered basal nucleotide uptake in both types of conjugates and GTPase function in non-covalent conjugate are almost comparable except for GTPase property of covalent conjugate. The effect is despite the fact that conjugation does not change global conformation of the protein.
Conclusion
These findings provide clear evidence that nanoparticles, in addition to 'passive interaction' with protein (biomolecule), can interact "actively" with biomolecule and modify its function. This concept should be considered while engineering nanoparticle based delivery systems in medicine.
Keywords
G-protein
Nanoparticles
Fluorescence
Bioconjugation
Background
Impressive developments have occurred in nanoscience technology in the past decade, despite which a detailed understanding of nanoparticle (NP) interaction at cellular, sub-cellular and biomolecule level is lagging behind [1–19]. Cedervall et al. have demonstrated that binding and dissociation parameters of protein-nanoparticle complex depend on surface characteristics of nanoparticle as well as physico-chemical properties of the protein [20]. It has been demonstrated that NPs can elevate the rate of protein fibrillation potentially leading to proposals of novel mechanisms for amyloid diseases offering therapeutic opportunities for treatment [21]. Further, imaging studies provide crucial information that nano-conjugation uniformly promotes endocytosis of EGFR, influencing its compartmentalization, and the mechanism of endocytosis [22]. Thus, nano-conjugation cannot be construed as an innocuous tool but may directly alter the cellular processes at the molecular level [22]. Improved understanding of the interactions at nano-bio interface will give answers to questions concerning the effect of conjugation on protein conformation and hence its function.
Majority of the drugs target GPCR, which transduce signal by activating heterotrimeric G-protein which in turn switches on a cascade of downstream signal transduction pathway. The activation status of heterotrimeric G protein regulates the downstream cascade events. Hence, Gαi1 is a very important model protein to investigate the effects of different types of conjugation to nanoparticle. G proteins are ubiquitously expressed and despite the variety in their function and biochemical effects, their structures are very highly conserved. These properties of G proteins, additionally, make them very vital model systems for studying the effects of nanoparticles; an area that is fast gaining importance in biology and medicine.
In the present study, we investigate the effect of the different conjugation strategies on the conformation and function of G proteins. A comparative study is presented, between non-covalently and covalently bound AuNP-Gαi1 conjugates. In the non- covalent conjugate, the rate of basal nucleotide uptake was retarded in a concentration dependent manner of AuNP, whereas in the covalent conjugate, the rate was accelerated. Both types of conjugation influenced the intrinsic Gαi1 GTPase function affecting the kinetics of GTP hydrolysis in opposite modes. Non-covalent conjugation showed inhibitory effect on GTPase function whilst covalent conjugation dramatically accelerated it. We propose that the mode of interaction with nanoparticles modulate the function of the protein in the conjugate, which may alter related cellular physiological pathways. These findings provide strong evidence that nanoparticles can interact "actively" with biomolecules and modify their function.
Discussion
In the present study, we address the dependence on the chemistry of conjugation towards alteration in the kinetics of activation of Gαi1. There have been contradicting observations regarding the benefit of using a nanoparticle in medicine and biochemistry [25–27]. In our view, understanding the physico-chemical basis of how an engineered nanoparticle modulates biological processes requires the study of nanoparticle-biomolecule binding and its effects on biomolecule functionality. Recent studies have emphasized that properties like size, shape, surface modification, and charge of nanoparticles can profoundly affect the interaction between NPs and biomolecules.
Guanine nucleotide binding proteins (G-protein) play a vital role in the physiology of a cell. Structure-function relationship of both, the monomeric and the heterotrimeric G proteins are well understood, their crystal structures helping elucidate their mode of action and the biochemical function. Heterotrimeric G-proteins are activated by agonist-stimulated G Protein-Coupled Receptors (GPCRs) that catalyze the exchange of GTP for GDP on G protein α-subunits and relay extracellular signal to intracellular signalling pathways [28]. We chose to use G proteins as model proteins to better understand the effect of AuNP binding to proteins and the biological effect they elucidate.
Here, we exploit two modes of conjugation between Gαi1 and AuNP, covalent and non-covalent. Effect of AuNP conjugation to Gαi1 was examined by monitoring steady-state Trp-fluorescence from the protein. AuNP interacts with Gαi1 with a binding constant (Kb) of 7.58 × 10 12 M-1. Strong tryptophan fluorescence quenching of Gαi1 was observed with increasing concentration of AuNP. Fluorescence quenching could be explained by efficient energy transfer between AuNP and Gαi1 tryptophan residues. No shift in emission wavelength was noticed, suggesting no change in polarity around tryptophan residues on addition of AuNPs.
Cysteine modifications did not alter the AuNP conjugation and, vice versa, conjugation did not lead to the unavailability of the thiol groups of cysteine for the modifying reagents, therefore leading us to conclude that the 10 cysteine residues (of Gαi1) do not interact with AuNP via thiol-Au linkage chemistry. Our finding is in agreement with a previous study which demonstrates that cysteine residue at the end of a C-terminus of protein was much more reactive toward a gold cluster than a cysteine residue introduced in middle region of protein [29]. This study concludes that non-specific AuNP interaction is not protein-sulphydryl mediated even though cysteine residues are present on Gαi1 surface.
A number of studies have shown that nanoparticle protein conjugates undergo conformational changes and result in unfolding of protein [30–32]. For biochemical applications of NP-protein conjugates, it is crucial that labelling does not modify the protein structure. Interestingly, both types of conjugates of Gαi1 retain their secondary structure as evident from far UV-CD spectra profile for Gαi1 and the conjugates (Additional file 3: Figure S3).
We next investigated whether the bioconjugated Gαi1 was functional and active. We report here functional activity of both the covalent and non-covalent AuNP conjugated Gαi1. Time dependent fluorescence measurement using intrinsic tryptophan and extrinsic MANT moiety fluorescence with hydrolyzable and non-hydrolyzable nucleotides were assayed. Detailed kinetics based functional studies for both non-covalent and covalent AuNP-Gαi1 conjugates have provided important insights: (i) reduced rate of activation by AlF4-, GTPγS and mant-GTP were observed as a consequence of non-covalent interaction of AuNP. (ii) N-terminal covalent probing led to enhanced rate of nucleotide uptake "activity" of Gαi1.
To further probe the influence of AuNP conjugation on intrinsic Gα
i1
GTPase function, kinetics of bound GTP hydrolysis was examined. As demonstrated in Figure
5
A, non-covalent conjugation does not affect the GTPase function while covalent conjugation dramatically accelerated it. From our studies, it may be hypothesized that the functional property of conjugated protein are governed by the contribution of type of molecular interaction, between the nanomaterial and biomolecule (Figure
6
). This has strong implication that nanoparticles can impair the cell function when it enters into biological fluid depending on the extent and format of presentation of the signalling protein to the nanoparticles. Thus, these finding presented here need to be considered carefully before using engineered nanoparticles for medical application.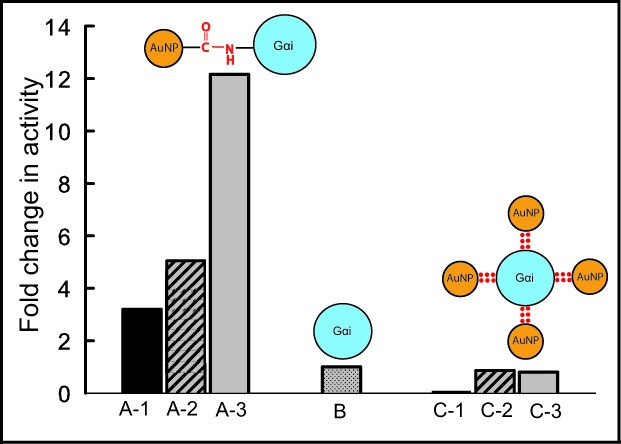 Conclusion
In summary, we here report two different bioconjugation strategies, non-covalent and covalent attachment, of Gαi1 to 6 nm DHLA capped AuNP. No effect of change in protein conformation was observed despite the presence of negatively charged capping ligand, DHLA. Non-covalent bioconjugation caused decrease in "activity" of Gαi1 in terms of decelerated rate of nucleotide exchange and inhibited GTPase activity. N-terminal covalent probing of AuNP modulate the active state of Gαi1 state, as displayed by enhanced rate of nucleotide exchange and stimulated GTPase function. These results (extraordinary increase in the Gαi1 GTPase property) have ramification in understanding the probable molecular basis of gold to cure many diseases when used either in powder form (in ayurvedic treatment) or as colloidal gold in modern medicine (e.g., in arthritis).
Declarations
Acknowledgements
Authors acknowledge funding form the Department of Biotechnology (Govt. of India), New Delhi and IIT Madras for providing facilities. We thank Prof. G. Jayaraman, VIT Univeristy, Vellore, INDIA for allowing us to use CD spectrometer.
Authors' Affiliations
(1)
Department of Biotechnology, Indian Institute of Technology Madras, Chennai, India
(2)
Department of Physics, Indian Institute of Technology Madras, Chennai, India
Copyright
© Singh et al.; licensee BioMed Central Ltd. 2013
This article is published under license to BioMed Central Ltd. This is an Open Access article distributed under the terms of the Creative Commons Attribution License (http://creativecommons.org/licenses/by/2.0), which permits unrestricted use, distribution, and reproduction in any medium, provided the original work is properly cited.