Engineered nanoparticles interacting with cells: size matters
Journal of Nanobiotechnology
2014
12:5
Received: 3 January 2014
Accepted: 31 January 2014
Published: 3 February 2014
Abstract
With the rapid advancement of nanoscience and nanotechnology, detailed knowledge of interactions between engineered nanomaterials and cells, tissues and organisms has become increasingly important, especially in regard to possible hazards to human health. This review intends to give an overview of current research on nano-bio interactions, with a focus on the effects of NP size on their interactions with live cells. We summarize common techniques to characterize NP size, highlight recent work on the impact of NP size on active and passive cellular internalization and intracellular localization. Cytotoxic effects are also discussed.
Keywords
NanoparticleCellular uptakeProtein coronaEndocytosisRed blood cellCytotoxicity
Introduction
In recent years, nanoparticles (NPs) and other nanomaterials have entered essentially all areas of our everyday lives. In industrial applications, they have become indispensable components of catalysts [1], sensors [2] or photovoltaic devices [3]. In the biomedical field, they have found wide-spread use as nanovaccines [4], nanodrugs [5] and diagnostic imaging tools [6]. However, our knowledge about biological effects and, importantly, potential risks of the omnipresent (intended and unintended) exposure to nanomaterials has not kept up with the pace of these developments and is still very limited [7, 8].
NPs may invade the human body via inhalation, ingestion or through the skin (Figure
1
). Once they have entered a biological milieu, NPs will inevitably come into contact with a huge variety of biomolecules including proteins, sugars and lipids that are dissolved in body fluids, such as the interstitial fluid between cells, lymph or blood. These biomolecules immediately coat the NP surfaces and form the so-called 'protein corona' [
9
–
11
], which determines the biological identity of the NP [
12
]. Its composition is dynamic and depends on the relative concentrations of the individual components and on their affinities toward the NP surface. In fact, NPs have to be viewed as evolving systems that adapt to varying concentrations of the biomolecules present in the fluid. It has been suggested that the 'final corona' reflects its own prior history [
13
].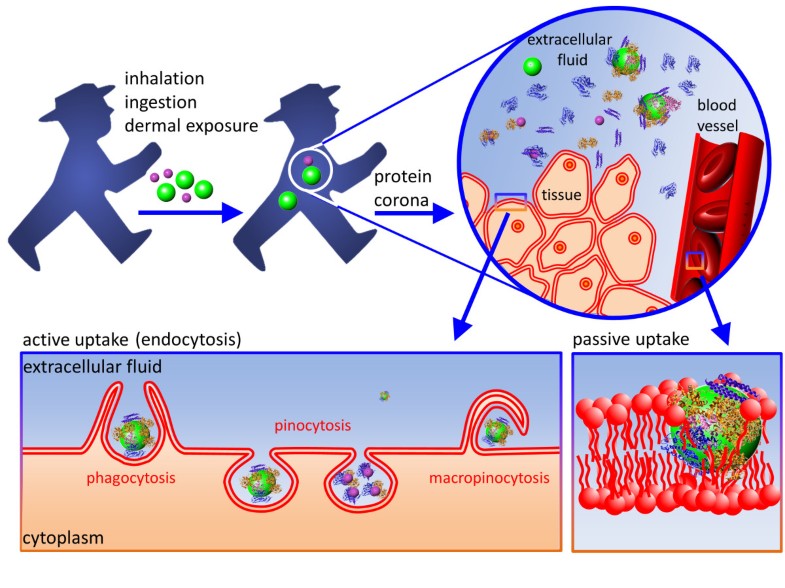 NPs have to surmount the cell membrane to intrude cells. One of the hallmarks of any cell membrane is its ability to selectively control the flow of ions and molecules into and out of the cell, and to maintain a separation between the cytosol and the extracellular environment. Large macromolecular agglomerates, e.g., protein assemblies, lipoprotein particles, viruses and also NPs are typically encapsulated in vesicles and selectively transported into and out of the cells via endocytosis and exocytosis, respectively (Figure 1). Different types of endocytosis mechanisms are known, varying with the size of the transport vesicle, cargo properties and the internalization machinery involved. In most cells, internalization occurs via pinocytosis. In this process, an invagination forms in the cell membrane that is finally pinched off so as to generate a vesicle in the cytoplasm that contains the internalized materials. Typically, the inward budding vesicles contain receptor proteins that recognize specific chemical groups on the molecules to be internalized. Thus, if proteins adsorbed to an NP trigger cell surface receptors, they will readily activate the cell's uptake machinery, whereas adsorbed proteins that only weakly interact with membrane-associated biomolecules will reduce the uptake of the 'disguised' NPs. Specialized cells, so-called 'professional phagocytes', such as macrophages, neutrophils, and monocytes are capable of phagocytosis, a form of endocytosis in which the cell engulfs larger particles. In addition to intruding cells by active transport, NPs may also enter cells by passive penetration of the cell membrane. In fact, for cells lacking the endocytosis machinery such as red blood cells (RBCs), passive transport is the only option.
Regardless of the specific internalization mechanism, the cell-NP interactions are, on the one hand, modulated by physicochemical properties of the NPs including size, shape, surface charge and surface chemistry [14] and, on the other hand, by cell-specific parameters such as cell type or cell cycle phase [15]. The uptake efficiency might even be affected by specific properties of the experimental setup [16]. A quantitative understanding of the NP-biomolecule/membrane interaction is, therefore, an important prerequisite for designing and engineering NPs with intentionally enhanced or suppressed cellular uptake [17, 18]. In the present review, we shall focus mainly on the effect of NP size on the interaction with live cells. We present a survey of methods to determine the size of NPs, investigate the impact of the NP size on active and passive uptake and discuss their cytotoxic effects.
Conclusions
In summary, the size of NPs has a strong effect on their interactions with living cells, influencing uptake efficiency, internalization pathway selection, intracellular localization and cytotoxicity. Despite huge efforts in this area, it still remains challenging to reliably correlate a particular cellular response with NP size. Considering the vast variety of nanomaterials and the complexity of the biological probes, it is difficult to draw general conclusions from the huge pool of available data. Still, we believe that there are a few general trends that can be trusted. (i) There is an optimal size for efficient endocytosis of NPs independent of the particle composition. (ii) This critical size can vary with cell type and surface properties of the NPs. (iii) Small NPs have a higher probability to be internalized by passive uptake than large ones. (iv) Under otherwise identical conditions, small NPs are more likely to cause toxic cellular responses.
Further research on NP-cell interactions will benefit from advances in the synthesis of well-defined, monodisperse NPs and the development of sophisticated analysis tools. We are confident that these efforts will result in a better understanding of the influence of physicochemical properties of nanomaterials on their interaction with biological systems and will provide guidelines to the design of more advanced biocompatible and efficient nanodevices.
Declarations
Acknowledgements
Financial support from the Deutsche Forschungsgemeinschaft (DFG) through the Center for Functional Nanostructures (CFN) and the Priority Program SPP1313 is gratefully acknowledged.
Authors' Affiliations
(1)
Institute of Applied Physics and Center for Functional Nanostructures (CFN), Karlsruhe Institute of Technology (KIT), Karlsruhe, Germany
(2)
Institute of Toxicology and Genetics (ITG), Karlsruhe Institute of Technology (KIT), Eggenstein-Leopoldshafen, Germany
(3)
Department of Physics, University of Illinois at Urbana-Champaign, Urbana, USA
Copyright
© Shang et al.; licensee BioMed Central Ltd. 2014
This article is published under license to BioMed Central Ltd. This is an Open Access article distributed under the terms of the Creative Commons Attribution License (http://creativecommons.org/licenses/by/2.0), which permits unrestricted use, distribution, and reproduction in any medium, provided the original work is properly cited. The Creative Commons Public Domain Dedication waiver (http://creativecommons.org/publicdomain/zero/1.0/) applies to the data made available in this article, unless otherwise stated.