Direct microcontact printing of oligonucleotides for biochip applications
Journal of Nanobiotechnology
2005
3:7
Received: 11 April 2005
Accepted: 01 July 2005
Published: 01 July 2005
Abstract
Background
A critical step in the fabrication of biochips is the controlled placement of probes molecules on solid surfaces. This is currently performed by sequential deposition of probes on a target surface with split or solid pins. In this article, we present a cost-effective procedure namely microcontact printing using stamps, for a parallel deposition of probes applicable for manufacturing biochips.
Results
Contrary to a previous work, we showed that the stamps tailored with an elastomeric poly(dimethylsiloxane) material did not require any surface modification to be able to adsorb oligonucleotides or PCR products. The adsorbed DNA molecules are subsequently printed efficiently on a target surface with high sub-micron resolution. Secondly, we showed that successive stamping is characterized by an exponential decay of the amount of transferred DNA molecules to the surface up the 4th print, then followed by a second regime of transfer that was dependent on the contact time and which resulted in reduced quality of the features. Thus, while consecutive stamping was possible, this procedure turned out to be less reproducible and more time consuming than simply re-inking the stamps between each print. Thirdly, we showed that the hybridization signals on arrays made by microcontact printing were 5 to 10-times higher than those made by conventional spotting methods. Finally, we demonstrated the validity of this microcontact printing method in manufacturing oligonucleotides arrays for mutations recognition in a yeast gene.
Conclusion
The microcontact printing can be considered as a new potential technology platform to pattern DNA microarrays that may have significant advantages over the conventional spotting technologies as it is easy to implement, it uses low cost material to make the stamp, and the arrays made by this technology are 10-times more sensitive in term of hybridization signals than those manufactured by conventional spotting technology.
Keywords
microcontact printing
elastomeric stamp
DNA immobilisation
biochips
detection of mutations
Background
DNA microarrays have rapidly evolved to become one of the essential tools to investigate expression or mutation of thousands of genes simultaneously. Two main technology platforms for manufacturing DNA chips have emerged. The first platform uses the immobilization of prefabricated DNA or oligonucleotides by spotting on functionalized glass slides using metal pins as originally developed by Brown and collaborators (see http://cmgm.stanford.edu/pbrown/index.html), or by a non-contact method using piezoelectric liquid handling [1]. The second platform rests on the direct in-situ synthesis of oligonucleotides (between 20 to 70 mers in general) on glass slides or silicon surfaces, as developed by Affymetrix or Agilent [2]. A typical characteristic of these techniques is the sequential nature of the process. One molecule is deposited after another or one base is added to the previous one, with the consequence that each array is made as an original with a reduced throughput, although Affymetrix microarrays manufacturing involves combinatorial processes that allow multiple microarrays (around 96) to be synthesized in parallel in matters of hours. Nevertheless, these technology platforms needs sophisticated equipment, leading to high density arrays that can be too expensive for production and utilization of simple-customized-DNA arrays.
There is a need for alternative patterning methods that must be very simple, reproducible, cost-effective, and eventually transferable to any laboratories for their own problematic. The microcontact printing (μCP) could fulfill this requirement as it is a printing technology that uses cheap elastomeric stamps made usually of polydimethylsiloxane (PDMS) and which exhibits relief patterns at the micron and nanoscale [3]. These stamps let to parallel deposition of molecules on a target surface, in the same manner as the printing of a page of book instead of a letter being written individually to compose the page. Previous works demonstrated that proteins can be deposited on a substrate surface by microcontact printing (μCP) [4, 5]. More recently, Lange et al. [6] showed that μCP technique can be used to deposit DNA molecules with a PDMS surface of the stamp chemically modified to enable the DNA molecules to stick on the stamp. This functionalization step strongly restricted the speed of this technology, as it takes several hours from the conversion of the CH3 terminated surface of the PDMS into an aminated surface to complete inking of the stamps prior to printing the target surface.
In this paper, we demonstrate that μCP can be used to fabricate DNA biochips directly without any surface modification of the stamps. We show that inking and contact times of less than 30 seconds give high quality and high resolution arrays by μCP. According to our new variant of the process, the stamp is simply inked with the molecules of interest, dried under a nitrogen stream and then printed manually onto the substrate surface (see Fig.
1
). It is foreseen that this technology platform will be highly competitive for high throughput analysis of gene expression and mutation detection analyses. Moreover, this technique can be easily implemented for sub-micron patterns as demonstrated previously [
6
] and in this work.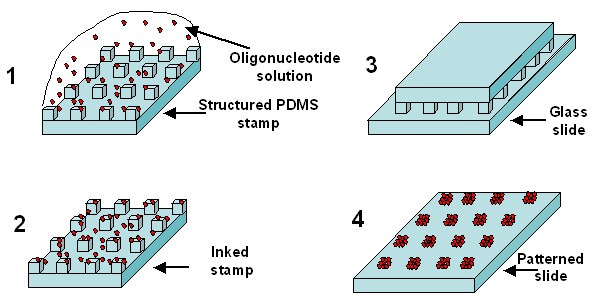 Results and Discussion
The two main steps of μCP are the adsorption of the biomolecules on the stamp (inking process) and the transfer from the stamp to a target surface (contact printing). It is important that the retention of molecules on the stamp surface does not prevent their subsequent transfer to the slide, and that the inking and the contact time were as short as possible for optimizing the high throughput of the technique. In a recent work [6], this compromise was obtained by a specific chemical treatment of the elastomeric poly(dimethylsiloxane) material (PDMS) of the stamp after molding. In contrast to this report, we found that untreated PDMS stamp that has a strong hydrophobic surface after curing, easily adsorbs a sufficient amount of DNA molecules within few seconds while allowing their subsequent deposition by contact on microscope glass slides or silicon. The printing process works for untreated glass or silicon surfaces, but real bioassays were carried out on treated glass surfaces enabling strong binding of the probe molecules. During the contact, the purpose is to transfer efficiently and as quick as possible the molecules from the stamp surface to the slide without affecting the size of the patterns. A specific chemistry on the surface of the slide is also important for the attachment of the probes after taking away the stamp from the surface. We also verified that stamps could be reused several times after cleaning in deionized water. The experiments detailed below aim at investigating the influence of several parameters including the surface chemistry of the slide, the inking and the contact time of the stamp, and to demonstrate the potentiality of this technique for actual biochips.
Conclusion
In this work, we demonstrated that μCP is a new potential technology platform to pattern DNA microarrays at a relatively high speed, high resolution and high reproducibility. Two additional features which may provide significant advantages of this technology over the conventional spotting technologies are: (i) the simplicity of the μCP associated with the low cost of the material employed to make the stamp, and (ii) the arrays made by μCP technology provide 10-times higher fluorescence intensity after hybridization compare to those manufactured by conventional spotting technology. With these advantages in mind, our next step will be the fabrication of a dedicated automatic X, Y, Z controlled tool for printing different probe molecules with a high throughput. In the future, μCP may help to simplify, accelerate and improve the fabrication of microarrays and increase significantly their reliability and accessibility in i.e. clinical applications.
Methods
Stamp fabrication
The first step of fabrication consists in generating a silicon master. This was achieved by proximity U.V. photolithography on a Si [100] wafer coated with positive resist (AZ 1529), and pattern transfer by deep Reactive Ion Etching (1.4 μm deep). For submicronic patterns, Electron beam lithography on PMMA (PolyMethylMetAcrylate) was used instead of UV photolithography and the etch depth was limited to 100 nm. To enable simple demoulding of this master, an anti-adhesive treatment is carried out using silanisation in liquid phase with OTS (octadecyltrichlorosilane). The final step consists to cure the PDMS pre-polymer solution containing a mixture (10:1 mass ratio) of PDMS oligomers and a reticular agent from Sylgard 184 Kit (Dow Corning) on the silicon master. The PDMS was thermally cured at 120°C for 90 min or for 12 hr at 80°C (both methods giving similar results of stamping). A silicon master can be reused more than 50 times and each stamp can be used for a large number of prints (>100).
Surface chemistry of the substrate
Two kinds of microscope glass slides were used for spotting and printing the probes. Using "electrostatic" glass slides that are positively charged amine glass slides (Ultra Gap, Dow corning), the printed/spotted probes were cross-linked onto the amine surface by UV light at 300 mJ. With dendrislides (home made slide bearing generation 4 dendrimers, see [7], and our web site: http://biopuce.insa-toulouse.fr), a covalent attachment of the probes on the glass surface through aldehyde function of the dendrimers was performed [8, 9]). After spotting, the dendrislides were allowed to dry overnight at room temperature. The reduction of the imines function formed between probes and dendrimer was carried out by immersion of the slides into a solution containing NaBH4 at 3.5 mg/ml for 3 hr at room temperature under agitation. The DNA slides were washed three times in water during 2 min, at room temperature and then dried under a stream of nitrogen.
Stamping process
Stamps were incubated with 2–20 μl of a 10 μM oligonucleotide solution made in Na-phosphate buffer 0.3 M, pH 9 for only 30 sec (unless mentioned differently), and then blown dried under a stream of nitrogen. Then, the stamp was printed manually onto the substrate surface and left in place during a controlled contact time. A 35-mer 5'-labelled Cy5-oligonucleotide-3'NH2 (5'Cy5-TTAGCGCATTTTGGCATATTTGGGCGGACAACTT-NH2-3'), a 35-mer 5'-amino modified (5'NH2-GTGATCGTTGTATCGAGGAATACTCCGATACCATT) and 70-mer 5'NH2 oligonucleotides corresponding to yeast HSP12 gene (from Qiagen/Operon yeast set) were used in spotting and printing experiments. The PCR fragment was a 500 bp amplified fragment on HSP12 gene using universal primers as described elsewhere [7].
Preparation of labeled targets
The target was a 15-mer 5'-labelled Cy5 oligonucleotide (Cy5-AATGGTATCGGAGTA) complementary to the 35-mer probes (5'NH2-GTGATCGTTGTATCGAGGAATACTCCGATACCATT). Other targets were prepared from total yeast RNA as a template by incorporation of fluorescent-labeled Cy5 or Cy3-dCTP during first-stand cDNA synthesis. The labeling reaction and cDNA purification was carried out with 15 μg total RNA using the LabelStar Kit from Qiagen following the manufacturer's instruction.
Hybridization
In initial experiments, the hybridization was carried out in an hybridization cassette (Corning Inc), according to the standard protocol used in the lab for microarray technology http://biopuce.insa-toulouse.fr in the presence of 20 μl solution containing 16.5 μl Dig Easy buffer (Roche Diagnostic), 1 μl of denatured salmon sperm DNA and 2.5 μl of labeled target and covered with a 2.2 cm2 cover slip to achieve a uniformed hybridization reaction during 15 min. After hybridization, the slides were washed for 2 min in 2 × SSC/0.1% (v/v) SDS; 2 min in 0.2 × SSC/0.1% (v/v) SDS and 2 min in 0.2 SSC at room temperature, and then dried under a nitrogen stream. In experiments reported on Figure 8, hybridization was carried out with an automatic hybridization room (Discovery from Ventana Medical System, Inc). Prehybridization was carried out with a freshly prepared solution of 1% BSA, 2 × SSC, 0.2% SDS during 1 h 30 at 42°C. After automatic washing according to manufacturer instruction, the slides were hybridized for 8 hr in a 200 μL of ChipHybeTM buffer (Ventana Medical System, Inc) containing 20 μl of labeled and purified cDNA.Fluorescence imaging. Fluorescent images were captured with the laser scanner GenePix 4000 B from Axon at appropriate sensitivity levels of photomultiplier (PMT). The scanner run and collects data in 5 μm steps, then averages the data into 10 μm pixels. For correct data treatment, only features bigger than 10 μm were used.
Declarations
Acknowledgements
This work was supported in part by the EC-funded project NaPa (Contract n° NMP4-CT-2003-500120, to C.V.) and by Genopole Toulouse Midi-Pyrénées (to J.F.). The content of this work is the sole responsibility of the authors.
Authors' Affiliations
(1)
LAAS-CNRS, TOULOUSE, France
(2)
Biochips Platform Genopole Toulouse, UMR-CNRS 5504 & INRA 792, TOULOUSE, France
(3)
Laboratoire de Biotechnologie & Bioprocédés, UMR-CNRS 5504 & INRA 792, TOULOUSE, France
Copyright
© Thibault et al; licensee BioMed Central Ltd. 2005
This article is published under license to BioMed Central Ltd. This is an Open Access article distributed under the terms of the Creative Commons Attribution License (http://creativecommons.org/licenses/by/2.0), which permits unrestricted use, distribution, and reproduction in any medium, provided the original work is properly cited.