Investigation of magnetically controlled water intake behavior of Iron Oxide Impregnated Superparamagnetic Casein Nanoparticles (IOICNPs)
Journal of Nanobiotechnology
2014
12:38
Received: 22 May 2014
Accepted: 12 September 2014
Published: 4 October 2014
Abstract
Iron oxide impregnated casein nanoparticles (IOICNPs) were prepared by in-situ precipitation of iron oxide within the casein matrix. The resulting iron oxide impregnated casein nanoparticles (IOICNPs) were characterized by Scanning electron microscopy (SEM), Transmission electron microscopy (TEM), X-ray photoelectron spectroscopy (XPS), Fourier transform infrared (FTIR), Vibrating sample magnetometer (VSM) and Raman spectroscopy. The FTIR analysis confirmed the impregnation of iron oxide into the casein matrix whereas XPS analysis indicated for complete oxidation of iron (II) to iron(III) as evident from the presence of the observed representative peaks of iron oxide. The nanoparticles were allowed to swell in phosphate buffer saline (PBS) and the influence of factors such as chemical composition of nanoparticles, pH and temperature of the swelling bath, and applied magnetic field was investigated on the water intake capacity of the nanoparticles. The prepared nanoparticles showed potential to function as a nanocarrier for possible applications in magnetically targeted delivery of anticancer drugs.
Keywords
Casein
IOICNPs
Swelling behaviour
pH sensitive
Magnetic drug targeting
Introduction
The concept of magnetic drug targeting (MDT) simply entails retaining specially designed magnetic drug nanocarriers at a specific site in the body using an externally applied magnetic field. The two key properties for an effective nanocarriers are (a) efficient targeting to specific tissue and cells, and (b) avoiding rapid clearance (i.e. remaining in circulation) for a significant amount of time to increase particle uptake in target tissue. Circulation time, targeting, and the ability to overcome biological barriers depend on the shape (e. g, aspect ratio), chemical coating and size of the nanoparticles [1]. Thus a precise control over the shape and size of nanoparticles is a challenging task and must be addressed in order to achieve high performance drug delivery systems.
In order to achieve an efficient MDT, various polymeric/inorganic hybrid materials have been suggested that offer unique properties because of their small size, limited toxicity [2], low production cost, ease of separation and detection [3]. The magnetic nanoparticles often tend to form large aggregates owing to the strong magnetic dipole-dipole attractions among particles. To improve their chemical stability and biocompatibility, the surface of magnetic nanoparticles have been modified with various surfactants [4] or biopolymer compounds having multiple functional groups capable of binding to the particle surfaces (multidentate ligands). The rational for using magnetic nanoparticles to tumor targeting is based on the fact that nanoparticles will be able to deliver a concentrate dose of drug in the vicinity of the tumor targets via the enhanced permeability and retention effect or active targeting by ligands on the surface of nanoparticles [5]. Moreover, the extent of drug loading onto the nanoparticles greatly depends on the hydrophilic nature of the biopolymer also and, therefore, proteins could be an excellent option to design such magnetic nanocarriers.
Use of milk proteins, like caseins, in drug delivery applications is relatively a new trend and this is mainly due to its amphiphilic nature that allows them to interact with both the drug and solvent. In fact, caseins may be regarded as block copolymers with high level of hydrophilic and hydrophobic amino acid residues and thus they exhibit a strong tendency to self assemble into spherical micelles. Moreover, thier biodegradability, not-toxicity, metabolizablity and feasibility to surface modification enable them to interact with the targeting ligand. In an study, the complexation of curcumin with ?-casein micelles increased the solubility of curcumin at least 2500-fold with enhanced curcumin cytotoxicity to a human leukemia cell line [6]. Shapira et al. [7] showed that ?-CAS micelles could entrap and deliver hydrophobic chemotherapeutics such as mitoxantrone and paclitaxel, allowing them to be thermodynamically stable in aqueous solutions for oral delivery applications. Thus, the hydrophobic and hydrophilic domains of casein are responsible not only for their water sorption capacity, but also for the nature and type of drug to be encapsulted in the casein nanoparticles.
Thus, motivated by the pharmaceutical specialities of the casein protein the authors were pused to undertake a systemic investigation of synthesis and characteriztion of magnetic casein nanoparticles and their water sorption behavior to judge their suitability in designing swelling controlled and magnetic mediated drug delivery system. The present study aims at designing controllable size iron oxide impregnated casein nanoparticles (IOICNPs) by co-precipitation of iron salts within the casein nanoparticles matrix. As the It is also proposed to characterized the so prepared IOICNPs by various analytical techniques and investigate their water sorption potential in the presence of applied magnetic field.
Experimental
Materials
Casein was purchased from Merck, Mumbai, India and used without any pretreatment. FeCl2. H2O, FeCl3.6H2O, glutaraldehyde (used as a crosslinker) were obtained from Loba Chemie, Mumbai, India. Toluene was obtained from Sigma Aldrich Co., USA, and used for preparing oil phase. Other chemicals like acetone, NaOH etc. were of analytical reagent (AR) grade and double distilled water was used throughout the experiments.
Preparation of Iron oxide impregnated casein nanoparticles (IOICNPs)
Preparation of magnetic casein nanoparticles consists of a two steps process. In the first step the casein nanoparticles are prepared by emulsion crosslinking method while in the second one iron oxide nanoparticles are impregnated within casein nanoparticles matrix by in situ precipitation.
Preparation of casein nanoparticles (CNPs)
In order to prepare CNPs the microemulsion crosslinking method was adopted as described in literature [8]. In brief, an aqueous phase was prepared by dissolving known amount of casein in 1% NaOH whereas toluene was used to prepare the oil phase. The above two solutions were mixed with vigorous shaking (shaking speed 1000 RPM, 5 L capacity, Remi, India) for 30 min and to this emulsion 1 mL glutaraldehyde was added as crosslinker with constant stirring. The crosslinking reaction was allowed to take place for 30 min at room temperature (3002DAC) and H2SO4 was added to the solution for the solidification of particles. The nanoparticles were cleaned by washing them thrice with acetone and stored in air-tight polyethylene bags.
Impregnation of Iron oxide in to the casein nanoparticles
The dried CNPs were placed in an aqueous mixture of Fe
2+
and Fe
3+
chloride salts at 1:2 molar ratio and allowed to swell for 24 h so that both Fe
2+
and Fe
3+
ions were entrapped in to the biopolymer matrix. Prior to putting them in salt solution, a dry stream of N
2
was flushed for at least 15 min to control the reaction kinetics, which is strongly related to the oxidation speed of iron species. Bubbling nitrogen gas through the solution not only protects critical oxidation of the magnetite but also reduces the particle size [
9
]. The ferrous and ferric ions loaded casein nanoparticles were added to NaOH solution for a definite time period so that magnetite is precipitated within the biopolymer matrix according to the following chemical reactions [
10
].
Furthermore, for synthesis of nanoparticles with either the ferrous or ferric ion alone, the chemical reactions pass through different mechanisms as shown in Equations (
2
) and (
3
), respectively.
These two mechanisms provide a larger particle size as compared to the case of the mixture of ferrous and ferric ions because the particle size of magnetite also depends on the nature of the intermediate form. Since the methods adopted require longer reaction times for the transformations of ferric ions and ferrous ions so that the intermediates can continuously grow. However, care must be taken while adding NaOH because according to the thermodynamics of this reaction, a complete precipitation of Fe
3
O
4
occurs in the range of 9 to 14 pH and in molar ratio of 1:2 for Fe
2+
: Fe
3+
under a non oxidizing oxygen free environment. Otherwise, Fe
3
O
4
might get oxidized as,
The change in color of the casein nanoparticles from orange to dark brown also confirms the formation of oxides of iron. The prepared nanoparticles were washed, dried at room temperature and stored in airtight polyethylene bags. The chemical reaction is shown in Figure
1
. The percentage impregnation of iron oxide was calculated using following equation.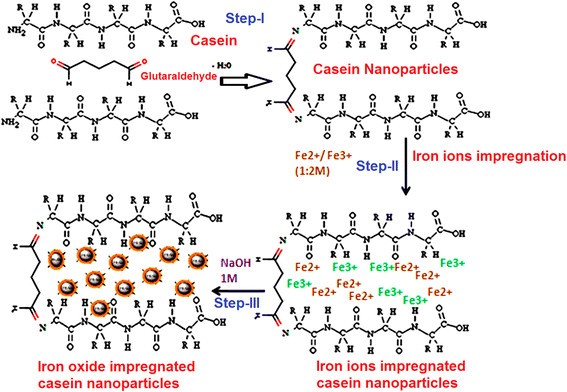 In fact, the process of formation of iron oxide involves the diffusion of ferrous/ferric ions into the polymer matrix and their subsequent in situ precipitation in an alkaline medium. It is therefore expected that the higher is the water uptake greater will be, the iron oxide formation [11].
Characterization
FTIR Spectral analysis
The FTIR spectra of casein and IOICNPs were recorded on a FTIR- 8400, Shimadzu Spectrophotometer. Samples for the spectral analysis were prepared by mixing nanoparticles and KBr in 1:10 proportion and the spectra were obtained in the range of 4000 to 400 cm?1 with a resolution of 2 cm-1.
SEM analysis
Morphological studies of cross-linked CNPs and IOICNPs were performed using SEM, Philips 515, fine coater (Philips, Eindhoven, The Netherlands). Drops of the polymeric nanoparticles suspension were placed on a graphite surface and freeze-dried. The sample was then coated with gold by ion sputter at 20 mA for 4 minutes, and observations were made at 10 kV.
TEM analysis
The size and morphology of the nanoparticles were determined by conducting TEM analysis of casein and IOICNPs on Morgagni 268-D Transmission Electron Microscope with an accelerating voltage of 80.0 kV. The samples for TEM measurements were prepared by dispersing a drop of the sample solution on Formvar-coated C grids.
Raman spectral analysis
In order to investigate the impregnation of iron oxide nanoparticles in to the matrix of casein nanoparticles, Raman spectroscopy was used and the spectra were obtained in the range of 200-1800 cm-1. The characteristic peak position of magnetite (Fe3O4) and its possible oxidation product maghemite (?-Fe2O3) and hematite (?- Fe2O3) were determined in the Raman region of 100-1200 cm-1. For correct assignment of the band positions and phase identification present in the samples, combined Raman data were used for key iron oxides bands. The Raman spectra of casein and IOICNPs were recorded on a Micro Raman Spectrometer, Jobin Yvon Horibra LABRAM-HR.
VSM analysis
The magnetization versus magnetic field measurements (M-H first magnetization curve and hysteresis loop) at 300 K, for the IOICNPs (powder sample) were done on 14 T PPMS- vibrating sample magnetometer.
XPS analysis
The samples were also analyzed by X-ray photoelectron spectroscopy (XPS) on a modified laser ablation system, Riber LDM-32, using a Cameca Mac3 analyzer. Photoelectron spectra were collected by acquiring data for every 1.0 eV with an energy resolution of 3 eV. Narrow-scan photoelectron spectra were recorded for C 1 s, N 1 s, O 1 s, and Fe 2p by acquiring data for every 0.2 eV and the energy resolution was 0.8 eV.
In vitro cytotoxicity test
In order to determine in vitro cytotoxicity of the prepared materials test on extract method (ISO10993-5,2009) was applied. In brief, a test sample of the nanoparticles, negative control and positive control in triplicate were placed with subconfluent monolayer of L-929 mouse fibroblast cells. After incubation of cells with test samples at 3700B1102DAC, for 24 h, cell culture was examined microscopically for cellular response around and under the test samples.
Water sorption capacity
The extent of swelling of CNPs and IOICNPs in both presence and absence of magnetic field were determined by a conventional gravimetric procedure as reported in the literature [
12
]. The swelling ratio was determined by the following equation:
The amount of water imbibed by the sample provides information about the hydrophilic nature of the material, which is one of the criterions for biocompatibility.
Effect of pH
The effect of pH on swelling of the nanoparticles was studied by preparing solutions over the pH range 1.8 to 9.0, and the desired pH was adjusted with the help of 0.1 M HCl and 0.1 M NaOH solutions. The pH was determined on a digital pH meter (Systronics, No. 362, Ahmadabad, India).
Effect of temperature
The effect of temperature on swelling of the nanoparticles was studied by varying temperature of the swelling medium in the range of 1002DA to 4002DAC.
Swelling studies in physiological fluid
In order to study the swelling of nanoparticles in simulated biological media, the following aqueous fluids (100 mL) were prepared: Saline water (0.9 g NaCI), synthetic urine (0.8 g NaCl, 0.10 g MgSO4, 2.0 g urea, 0.6 g CaCl2), urea 5.0 g, and D-glucose 5.0 g.
Statistical analysis
All experiments were done at least thrice and Figures and data have been expressed along with their respective error bars and standard deviations, respectively.
Conclusions
The controlled size magnetite nanoparticles have been successfully prepared via a convenient co-precipitation method and characterized by various analytical techniques, such as FTIR spectroscopy, TEM, SEM, XPS, VSM and Raman analyses which confirm the in situ impregnation of nanosized iron oxide within the matrix of casein nanoparticles. The biopolymeric nanoparticles clearly show the presence of characteristic functional groups of casein and iron oxide as confirmed by their FTIR spectra. SEM and TEM of the nanoparticles provide information about their size and morphology.
The IOICNPs show an optimum swelling when the casein content is 0.5 g while on increasing casein content further the degree of swelling decreases. Likewise, when the concentration of crosslinker increases from 0.02-20 mM, the quantity of water imbibed by the nanoparticles increases while beyond 10 mM of crosslinker concentration, the extent of swelling decreases. It is also found that in alkaline pH the nanoparticles show an enhanced swelling which thereafter decreases with further increase in pH. In the case of rising temperature the swelling ratio constantly increases. The prepared IOICNPs exhibit property of superparamagnetism which is a significant for biomedical applications. It is also observed that the swelling of nanoparticles is enhanced by the application of external magnetic field. Thus the present swelling system may be helpful in designing targeted drug delivery carriers using external magnetic field.
Authors' Affiliations
(1)
BMRL, Department of Chemistry, Government Model Science College, Jabalpur, India
Copyright
© Singh et al.; licensee BioMed Central Ltd. 2014
This article is published under license to BioMed Central Ltd. This is an Open Access article distributed under the terms of the Creative Commons Attribution License (http://creativecommons.org/licenses/by/4.0), which permits unrestricted use, distribution, and reproduction in any medium, provided the original work is properly credited. The Creative Commons Public Domain Dedication waiver (http://creativecommons.org/publicdomain/zero/1.0/) applies to the data made available in this article, unless otherwise stated.