Gefitinib loaded folate decorated bovine serum albumin conjugated carboxymethyl-beta-cyclodextrin nanoparticles enhance drug delivery and attenuate autophagy in folate receptor-positive cancer cells
Journal of Nanobiotechnology
2014
12:43
Received: 17 September 2014
Accepted: 12 October 2014
Published: 30 October 2014
Abstract
Background
Active targeting endocytosis mediated by the specific interaction between folic acid and its receptor has been a hotspot in biological therapy of many human cancers. Various studies have demonstrated that folate and its conjugates could facilitate the chemotherapeutic drug delivery into folate receptor (FR)-positive tumor cells in vitro and in vivo. In order to utilize FA-FR binding specificity to achieve targeted delivery of drugs into tumor cells, we prepared Gefitinib loaded folate decorated bovine serum albumin conjugated carboxymethyl-?-cyclodextrin nanoparticles for enhancing drug delivery in cancer cells. On this context, the aim of our study was to develop a novel nano-delivery system for promoting tumor-targeting drug delivery in folate receptor-positive Hela cells.
Results
We prepared folic acid (FA)-decorated bovine serum albumin (BSA) conjugated carboxymethyl-?-cyclodextrin (CM-?-CD) nanoparticles (FA-BSA-CM-?-CD NPs) capable of entrapping a hydrophobic Gefitinib. It was observed that nanoparticles are monodisperse and spherical nanospheres with an average diameter of 90.2 nm and negative surface charge of -18.6 mV. FA-BSA-CM-ß-CD NPs could greatly facilitate Gefitinib uptake and enhance the toxicity to folate receptor-positive Hela cells. Under the reaction between FA and FR, Gefitinib loaded FA-BSA-CM-ß-CD NPs induced apoptosis of Hela cells through elevating the expression of caspase-3 and inhibited autophagy through decreasing the expressing of LC3. It also confirmed that clathrin-mediated endocytosis and macropinocytosis exerted great influence on the internalization of both NPs.
Conclusions
These results demonstrated that FA may be an effective targeting molecule and FA-BSA-CM-ß-CD NPs provided a new strategy for the treatment of human cancer cells which over-expressed folate receptors.
Keywords
Folate
Folate receptors
Carboxymethyl-ß-Cyclodextrin
Bovine serum albumin
Nanoparticles
Gefitinib
Background
Nanosized drug carriers functionalized with moieties specifically targeting tumor cells are promising tools in cancer therapy, due to their ability to circulate in the bloodstream for longer periods and their selectivity for tumor cells, enabling the sparing of healthy tissues [1]-[5]. Many synthetic biomimetic nanocrystalline apatites are used as nanocarriers to produce multifunctional nanoparticles, by coupling them with the chemotherapeutic drug, such as Gefitinib, Dox or membrane antibody DO-24 monoclonal antibody (mAb) directed against the c-Met/Hepatocyte Growth Factor Receptor (Met/HGFR), which is over-expressed on different kinds of carcinomas and thus represent a useful tumor target recently [6]-[8]. Gefitinib, a tyrosine kinase inhibitor of Epithelial Growth Factor Receptor (EGFR) usually expressed in solid tumors of epithelial origin, can prevent tumor growth, metastasis and angiogenesis, and promote apoptosis of tumor cells [9]-[11]. The main mechanism includes that it can block the signal transmission by competitive binding Mg-ATP situated on catalytic domain of EGFR-TK, then inhibit the activation of mitogen activated protein kinase, inducing the apoptosis of cancer cells [12]. However, Gefitinib is absorbed slowly and widely distributed in bodies following oral administration, resulting in the serious side effects and lower bioavailability. Moreover, the solubility of Gefitinib is decreased with the decline of pH in medium [13].
Cyclodextrins (CD), a family of carbohydrate polymers which are produced from starch by enzymatic conversion and commonly used in food, pharmaceutical, drug delivery, and chemical industries, as well as agriculture and environmental engineering, is cyclic oligosaccharide with cone barrel structure composed of seven glucopyranose units with cylindrical cavity [14]-[16]. The exterior of this cone is polar and hydrophilic, whereas the interior cavity is relatively nonpolar and hydrophobic. Small hydrophobic molecules as the guest molecules can be completely or partially embedded into CD cavity to form complexes, improving water solubility, stability and biological activity of the guest molecules [17]-[21]. Bovine serum albumin (BSA), a carrier protein, plays an important role in drug storage and transport, for its superior biocompatibility it has been widely used in biomedical research, such as Nano carrier, nanoparticle surface engineering and temples for preparation of nanoparticles [22]-[25].
To improve the solubility and stability of Gefitinib, we synthesize the amphiphilic BSA-CM-ß-CD conjugates to prepare the assembled nanoparticles capable of entrapping hydrophobic Gefitinib into the cavity of CD through the host-guest interaction. Folate receptor (FR), as a trans-membrane glycoprotein, promotes the transportation of folate (FA) or its conjugates into the cells by active targeting endocytosis mediated through FA-FR interaction [
26
]-[
28
]. FA is expressed at basal levels in normal adult organs such as brain, lung and liver, but it is over-expressed in many human cancers including ovarian cancer, breast cancer, endometrial cancer, lung cancer, kidney cancer, colon cancer and nasopharyngeal carcinoma cells [
29
]-[
31
]. Several lines of evidence have demonstrated that FA and its conjugates could significantly enhance the drug delivery efficiency into FR-positive tumor cells both
in vitro
and
in vivo
[
32
]-[
34
]. Herein, FA is adopted as the coupling molecule to improve FR-positive tumor-targeted drug delivery (Figure
1
). Properties of NPs such as size, morphology and surface potential were examined. Using Gefitinib as the model drug, we prepared drug-loaded nanoparticles. We found that FA-BSA-CM-ß-CD NPs greatly facilitated Gefitinib uptake and enhanced the toxic effect in folate receptor-positive Hela cells. Our results demonstrated that FA-BSA-CM-ß-CD NPs might be a higher efficiency drug delivery system than the conventional delivery system for the targeting therapy of FR positive human cancers.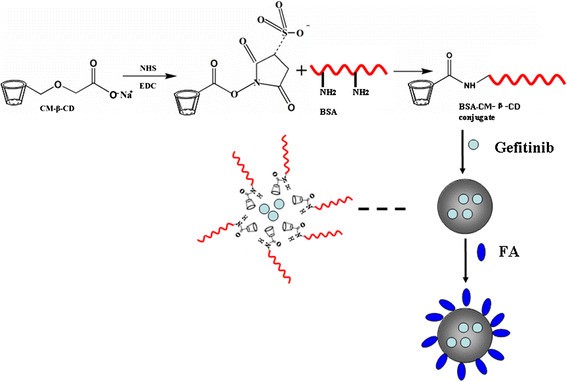 Conclusions
In summary, CM-ß-CD was conjugated with BSA by carbodiimide coupling. FA as a small targeting molecule, was bond to the surface of NPs. Gefitinib loaded FA-BSA-CM-ß-CD NPs showed good monodispersity, negative charge and homogenous particle size. The encapsulating efficiency of Gefitinib and the release pattern were investigated in vitro. MTT results showed that no obvious cytotoxity was observed when incubating naked FA-BSA-CM-ß-CD NPs with Hela cells. The free folic acid competition study showed that the cell inhibition of FA conjugated NPs in FR positive cells was significantly enhanced when FA was removed from the medium. Gefitinib loaded FA-BSA-CM-ß-CD NPs inhibited cells autophagy by down-regulating LC3, and promoted apoptosis of Hela cells through the prevention of ATP generation and elevating the expression of caspase-3 protein. It also confirmed that clathrin-mediated endocytosis and macropinocytosis played an important role on the internalization of both NPs. Taken together, FA-BSA-CM-ß-CD NPs presented the promising candidates as a folate receptor-positive tumor-targeting carrier via folate mediation.
Methods
Materials
BSA was purchased from Sigma (USA), Carboxymethyl-?-Cyclodextrin Sodium Salt (CM-ß-CD) was purchased from Zhiyuan Bio-Technology Co., Ltd (China), 1-ethyl-3-(3-dimethylaminopropyl) carbodiimide (EDAC) and folic acid were obtained from Sigma Chemicals (St Louis, US). Gefitinib was purchased from Eastbang Pharmaceutical Co., Ltd (China). All other chemicals were of reagent grade and were used as received.
Synthesis of BSA-CM-ß-CD conjugates
8.0 mg of CM-ß-CD was dissolved in 8.0 mL PBS buffer solution (pH 5.8). Then, the solution was added into a centrifuge tube in the presence of 40.0 mg EDC and 16.0 mg NHS. After the tube was rotated constantly for 1 h, 8.0 mg BSA were added into the tube. Subsequently, the tube was rotated overnight. Finally, the BSA-CM-ß-CD conjugates were collected by dialysis filter with a dialysis bag with 1000 molecular weight cutoff to remove the uncoupled CM-ß-CD.
Preparation of Gefitinib loaded FA-BSA-CM-ß-CD self-assembled nanoparticles
20 mg conjugates were suspended in 20 mL of distilled water to achieve a solution with concentration of 1 mg/mL. Drug solution (0.4 mg/mL) was prepared by 2 mg Gefitinib was dissolved in 5 ml dichloromethane. Gefitinib loaded BSA-CM-ß-CD NPs were prepared by quickly dropping 5.0 mL of drug solution into 20 mL distilled water containing 20 mg conjugates at 30°C under continuously stirring for 24 h to remove dichloromethane. FA was conjugated with BSA-CM-ß-CD NPs as the following: 5 mg folic acid was dissolved in 10 mL phosphate buffer suspension (pH 7.4), then 15.0 mg EDC and 5.0 mg NHS were added under stirring constantly for 1 h. Entrapment efficiency of FA conjugated with BSA-CM-ß-CD NPs was determined as the ratio of actual FA loading amount to the initial added FA amount. The solution was centrifuged at 16,000 rpm for 30 min. NPs collected were washed 3-4 times with deionized water and centrifuged at 16,000 rpm for 20 min, freeze drying to obtain powders.
Characterization of Gefitinib loaded FA-BSA-CM-ß-CD NPs
The characterization of Gefitinib loaded FA-BSA-CM-ß-CD NPs was investigated by using AFFINITY-1 IR spectroscopy (Shimadzu, Kyoto, Japan). Its morphology was observed by using transmission electron microscope (TEM) (JEM-1200EX, Tokyo, Japan) and the mean diameter and zeta potential were determined by Zetasizer (Nano ZS90, Malvern, UK). The encapsulation efficiency (EE) of Gefitinib in FA-BSA-CM-ß-CD NPs was calculated using the equation listed below.
Assessment of drug release
The drug releases were carried out in PBS containing 10% serum with different pH at 37.0±0.5°C under gentle agitation. 10 mL PBS (pH 7.4) in which accurate weighed 10 mg dried Gefitinib-loaded FA-BSA-CM-ß-CD NPs were suspended was put into a dialysis bag with 1000 molecular weight cutoff and the dialysis bag was immersed into 100 mL phosphate buffer solution containing 10% serum maintained at pH 7.4 or 5.0 at 37.0±0.5°C. At predetermined intervals, 5 mL of release medium was withdrawn and the same volume of fresh buffer solution was added. Samples were filtered through 0.45 µm filter and the concentrations of Gefitinib released were analyzed by spectrophotometry at 338 nm.
Cell viability assays
A 3-(4,5-dimethylthiazol-2-yl)-2,5- diphenyltetrazolium bromide (MTT) assay was used to investigate cell viability. Hela cells were chosen and used as a model folate receptor-positive cell line in angiogenesis targeting delivery and treatment for their high FR expression [42],[43]. Hela cells were seeded into the 96-well plate at a density of 5 ×104/mL and attached for 24 h at 37°C in both folate-free medium and the medium containing folate at 5 µg/mL under 5% CO2. Then, the cells were treated with free Gefitinib and Gefitinib-loaded NPs for 48 h, followed by addition of 20 µL MTT (5 µmg/mL) and incubated for 4 h at 37°C. Then, the supernatant was carefully removed and 150 µL DMSO was added to each well and stirred for 30 min. The absorbance was measured using microplate reader at 490 nm.
Uptaking ability of different kinds of NPs in Hela cells
Hela cells, (a folate receptor-positive cell line) a model cell line, were applied to investigate cell uptake ability of different kinds of nanoparticles. Rhodamine B as the fluorescent marker was encapsulated in NPs. Cells were cultured in flasks supplemented with both folate-free medium and the medium containing folate 5 µg/mL at 37 °C and 5% CO2. When the cell concentrations reached 5 ×104/mL, 100 µL of medium containing cells was transferred to the 96-well plate and treated with different Rhodamine B-labeled nanoparticles. At specified time, NPs were withdrawn and the wells were washed with PBS. Nucleus was stained with Hoechst for 15 min at 37µC followed by double washing with PBS. The internalization of RhB-loaded NPs into cells was observed using fluorescent microscopy (DMI400B, Leica, Germany).
Intracellular ATP level assay
Free Gefitinib, Gefitinib loaded BSA-CM-ß-CD NPs, Gefitinib loaded FA- BSA-CM-ß-CD NPs at the same drug concentration were added into the 96-well plate filled with Hela cells at a density of 5 ×10
4
/mL for 48 h. The luciferin-luciferase-based ATP luminescence assay kit was applied to determine the changing rates of intracellular ATP level (CR%) calculated using equation below.
Tracking of uptake pathways using various endocytic inhibitors
In order to analyze the potential mechanism on uptake pathways of nanoparticles, three types of endocytic inhibitors including cytochalasin D (30 µM, macropinocytosis), genistein (1 µg/mL, caveolae mediated endocytosis) and chlorpromazine (10 µg/mL, clathrin mediated endocytosis) were preincubated with Hela cells in 96-well plate for 30 min, respectively. Then both FITC labeled BSA-CM-ß-CD NPs and FA- BSA-CM-ß-CD NPs were treated with cells to track the uptake pathways. The effects of various inhibitors on the uptake pathway of the NPs were evaluated by comparing the intracellular fluorescent intensity between treatment of adding inhibitors and non-inhibitors.
Western blot assay
After treated with free Gefitinib, Gefitinib loaded BSA-CM-ß-CD NPs, Gefitinib loaded FA-BSA-CM-ß-CD NPs, cells were harvested, washed twice with ice cold PBS, then lysed in RIPA buffer (150 mM NaCl, 1% NP-40, 1% SDS, 1 mM PMSF, 10 µg/mL leupeptin, 1 mM aprotinin, 50 mM Tris-Cl, pH 7.4). The cell lysate was cleared by centrifugation at 12,000 ×g for 25 min. Cell lysate containing 50µg protein in 20 µL was separated by 10% SDS-PAGE and the protein was transferred onto polyvinylidene fluoride (PVDF) membrane. After blocking with 1% BSA, the PVDF membrane was incubated with the primary antibodies (caspase-3, Bax, tubulin, LC3) at 4°C overnight. Subsequently, incubated with appropriate secondary antibody for 1 h and stained with ECL. The level of the targeted proteins were photographed and analyzed by UVP gel analysis system.
Abbreviations
FA:

Folic acid
FR:

Folate receptor
BSA:

Bovine Serum Albumin
CM-?-CD:

Carboxymethyl-ß-Cyclodextrin
NPs:

Nanoparticles
Declarations
Acknowledgements
This work is supported by Foundation of Liaoning Educational Committee (No. L2014339) and Innovative Program of University Students of Liaoning Province (No. 201410160008).
Authors' Affiliations
(1)
College of Pharmacy, Liaoning Medical University, Jinzhou, P R China
(2)
College of Veterinary Medicine, Liaoning Medical University, Jinzhou, P R China
(3)
National Vaccine & Serum Institute, Beijing, China
(4)
Central Laboratory of Liaoning Medical University, Jinzhou, P R China
Copyright
© Shi et al.; licensee BioMed Central Ltd. 2014
This article is published under license to BioMed Central Ltd. This is an Open Access article distributed under the terms of the Creative Commons Attribution License (http://creativecommons.org/licenses/by/4.0), which permits unrestricted use, distribution, and reproduction in any medium, provided the original work is properly credited. The Creative Commons Public Domain Dedication waiver (http://creativecommons.org/publicdomain/zero/1.0/) applies to the data made available in this article, unless otherwise stated.