In-vitro cytotoxicity assessment of carbon-nanodot-conjugated Fe-aminoclay (CD-FeAC) and its bio-imaging applications
Journal of Nanobiotechnology
2015
13:88
Received: 10 September 2015
Accepted: 18 November 2015
Published: 26 November 2015
Abstract
We have investigated the cytotoxic assay of Fe-aminoclay (FeAC) nanoparticles (NPs) and simultaneous imaging in HeLa cells by photoluminescent carbon nanodots (CD) conjugation. Non-cytotoxic, photostable, and CD NPs are conjugated with cationic FeAC NPs where CD NPs play a role in bio-imaging and FeAC NPs act as a substrate for CD conjugation and help to uptake of NPs into cancer cells due to positively charged surface of FeAC NPs in physiological media. As increase of CD-FeAC NPs loading in HeLa cell in vitro, it showed slight cytotoxicity at 1000 μg/mL but no cytotoxicity for normal cells up to concentration of 1000 μg/mL confirmed by two 3-(4,5-dimethylthiazol-2-yl)-2,5-diphenyltetrazolium bromide (MTT) and neutral red (NR) assays, with further observations by 4′,6-diamidino-2-phenylindole (DAPI) stained confocal microscopy images, possessing that CD-FeAC NPs can be used as potential drug delivery platforms in cancer cells with simultaneous imaging.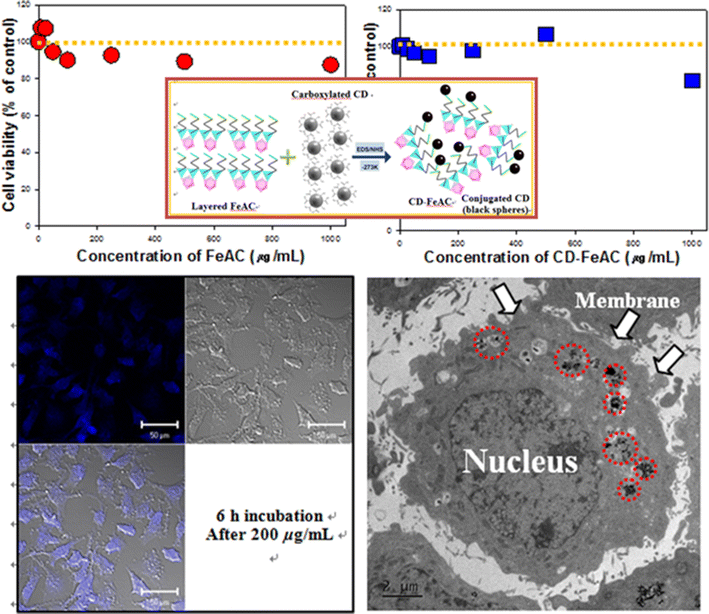 Keywords
In-vitro cytotoxicityFe-aminoclay (FeAC)Carbon nanodots (CD)CytotoxicityConjugationBio-imaging
Background
Over and beyond the various organic [1–6] and inorganic [7–10] nanoparticles (NPs), many hybrid organic–inorganic [11–16] NPs have been intensively researched in biomedical, environmental, and energy applications for their size, shape, charge, and surface chemistry including diverse functionalities. Specific organic-functional groups in many hybrid NPs offer usually unique properties in terms of the accessability and bioactivity of targeting cells or biomolecules in bionanotechnology without some post-functionalization in nanotechnology [17–20].
One candidate of organic–inorganic NPs with covalent-bonded primary amines, namely 3-aminopropyl-functionalized magnesium phyllosiliate [i.e., Mg-aminoclay, formulated as [H2N(CH2)3]8Si8Mg6O12(OH)4] was developed by one-pot sol–gel reaction under ambient conditions by Mann et al. [21, 22], showing unique interactions of organic-pendents with cell or other molecules [23, 24] in biomedical fields, as well as with heavy metals [25] in environmental applications. This aminoclay structure is composed of tetrahedral brucite (MgO) in the middle, sandwiched by octahedral silica (SiO2) as the unit structure in the vertical direction (i.e., 2:1 trioctahedral clay) and a repeated tetrahedral/octahedral structure in pairs, known as the 1:1 dioctahedral structure. Diverse high-density primary amines [–(CH2)3NH2] in octahedral structures have been coined aminoclays [26], according to the cationic metals used in their preparation [27, 28].
Recently, organo-building blocks of Mg- and Ca-aminoclays were tested for possible use as drug-delivery carriers, and were found to result in neither cytotoxicity nor inflammation [29]. Further, protonated clusters of Mg-aminoclay with positively charged zeta potential in the wide pH range of 2.0–12.0 [30] were tested as biodistribution and elimination pathways in in vivo mice after Cy 5.0 conjugation with organo-building blocks in delaminated Mg-aminoclay. The results showed fast elimination or excretion of Mg-aminoclay in mice after oral or intravenous injection, respectively, without toxicity [31]. With the exceptions of transparent Mg- and Ca-aminoclays in aqueous solutions, other colored aminoclays have not been tested for cytotoxicity to determine the feasibility of their use in biomedical applications. Importantly, the lack or weak fluorescent-emission intensity of aminoclays has driven research to explore fluorescent imaging for promising drug-delivery-carrier and simultaneous bio-imaging applications in diagnostics and therapeutics.
Carbon nanodots (CD) in zero-dimensional (0D) carbon materials [32–34] in the form of biocompatible and non-toxic fluorescent NPs with properties distinct from those of one-dimensional (1D) carbon nanotubes (CNTs) [12, 35, 36] and two-dimensional (2D) graphene [37–39], are especially intriguing for their photostability and bio-imaging, and contrast-agent applicabilities, Also, CD has a potential of their mass production from organic molecules using eco-friendly preparation methods [34].
Discussion
The cytotoxic results of Mg- and Ca-aminoclays were researched as non-toxic nanomaterial for bio-medical and bio-imaging [29–31]. In this study, cytotoxicity of FeAC resulted in slightly cytotoxic effects by reduced cell viability (%), due to the oxidation of H2O2 in cancer cells as a result of coordinated Fe3+ source to hydroxyl free radicals (∙OH) like Fenton-like reaction [50–52]. These ∙OH induced death in the cancer cell or apoptosis in vitro due to the radical-induced DNA- and cell-membrane damage. CD conjugation why it reduced cytotoxicity in FeAC NPs may be related to decreasing probability in accessibility of Fe source with cells. In detail, the reduced toxicity may be related to CD blocked the entrance or contact sites of FeAC for reactive oxygen species (ROS) generation, rather than the negatively charged surface property in CD-FeAC NPs.
In generally, anticancer agents delivered into cytosol and then, reached nucleus and directly effected in cell death [34]. So, tracking studies of CD-FeAC or FeAC NPs carriers into cells is important. As shown in Fig. 8c, FeAC NPs were existed into nucleus neighbors in HeLa cells abundantly, indicating CD-FeAC or FeAC NPs carriers can be successfully delivered target compounds into cytosol or nucleus in cells. In addition, nucleus site was negligibly damaged by FeAC NPs (Fig. 10). It is indicated that intact FeAC NPS have little cytotoxic effects for nucleus sites as well as an ability of transfection carriers [53–55]. As therapeutic agents, thus, taking into consideration the practical concentration in this study, <500 μg/mL concentration of CD-FeAC is suitable to development of transfection reagent [29, 31]. In conclusion, CD-FeAC NPs can be a useful diagnostic and therapeutic agent in providing drug-delivery-carrier with simultaneous fluorescent bio-imaging and tracking functionalities, although the use of only FeAC NPs can be given up the simultaneous bio-imaging.
Conclusions
In summary, it has dealt that CD-FeAC NPs plays roles both in bio-imaging and as a drug-delivery carrier into human cells with little cytotoxicity as simple preparation and inexpensive sources. In close future, cinnamic acid derivatives as anticancer agent can be loaded for target cargos [56] by amide bonding between carboxylic groups in cinnamic acid derivatives and amine groups in FeAC NPs. Taking into consideration that, as noted above, the practical applied dosage of NPs is <500 μg/mL, CD-FeAC NPs is feasible for trapping of targeting drugs and proteins, because it shows cytotoxicity only to cancer cells. Conclusively, a CD-FeAC-based hybrid agent for imaging/selective anticancer platform in in vivo is currently in the planning stage.
Abbreviations
FeAC:

Fe-aminoclay
NPs:

nanoparticles
CD:

carbon nanodots
MTT:

3-(4,5-dimethylthiazol-2-yl)-2,5-diphenyltetrazolium bromide
NR:

neutral red
DAPI:

4′,6-diamidino-2-phenylindole
CNTs:

carbon nanotubes
0D:

zero-dimensional
1D:

one-dimensional
2D:

two-dimensional
EDS/NHS:

1-ethyl-3-(3-dimethylaminopropyl)-carbodiimide/N-hydroxysulfosuccinimide
PL:

photoluminescent
TEM:

transmission electron microscopy
AFM:

atomic force microscopy
RMS:

rough root mean square
RPMI:

Roswell Park Memorial Institute
DLS:

dynamic light scattering
XRD:

X-ray diffraction
FT-IR:

Fourier transform infrared
APTES:

3-aminopropyltriethoxysilane
Declarations
Authors' contributions
HUL and YCL are organized and planned the project; KSK, HUL, SYP and YCL involved all experiments; MIK performed CD conjugated FeAC; SJC did Raman measurement; MY took TEM images; KSK, HUL, JHP, YSH, JL, YCL and HGP wrote the manuscript. All authors read and approved the final manuscript.
Acknowledgements
This work was supported by Basic Science Research Program through the National Research Foundation of Korea Funded by the Ministry of Science, ICT and Future Planning (NRF-2014R1A1A2055916) and the BioSynergy Research Project (NRF-2014M3A9C4066457) of the Ministry of Science, ICT and Future Planning through the National Research Foundation. We thank Jin Seok Choi of the KAIST Research Analysis Center for his TEM imaging.
Competing interests
The authors declare that they have no competing interests.
Open AccessThis article is distributed under the terms of the Creative Commons Attribution 4.0 International License (http://creativecommons.org/licenses/by/4.0/), which permits unrestricted use, distribution, and reproduction in any medium, provided you give appropriate credit to the original author(s) and the source, provide a link to the Creative Commons license, and indicate if changes were made. The Creative Commons Public Domain Dedication waiver (http://creativecommons.org/publicdomain/zero/1.0/) applies to the data made available in this article, unless otherwise stated.
Authors' Affiliations
(1)
Department of Chemical and Biomolecular Engineering (BK21+ Program), KAIST, Daejeon, Republic of Korea
(2)
Advanced Nano-Surface Research Group, Korea Basic Science Institute (KBSI), Daejeon, Republic of Korea
(3)
Department of BioNano Technology, Gachon University, Seongnam-si, Republic of Korea
(4)
Department of Chemistry, Chung-Ang University, Seoul, Republic of Korea
(5)
Department of Bio and Brain Engineering (BK21+ Program), KAIST, Daejeon, Republic of Korea
(6)
Department of Biological Engineering, College of Engineering, Inha University, Incheon, Republic of Korea
(7)
Division of Analytical Research, Korea Basic Science Institute (KBSI), Gangneung, Republic of Korea