The role of intracellular trafficking of CdSe/ZnS QDs on their consequent toxicity profile
Journal of Nanobiotechnology
2017
15:45
Received: 29 March 2017
Accepted: 6 June 2017
Published: 15 June 2017
Abstract
Background
Nanoparticle interactions with cellular membranes and the kinetics of their transport and localization are important determinants of their functionality and their biological consequences. Understanding these phenomena is fundamental for the translation of such NPs from in vitro to in vivo systems for bioimaging and medical applications. Two CdSe/ZnS quantum dots (QD) with differing surface functionality (NH2 or COOH moieties) were used here for investigating the intracellular uptake and transport kinetics of these QDs.
Results
In water, the COOH- and NH2-QDs were negatively and positively charged, respectively, while in serum-containing medium the NH2-QDs were agglomerated, whereas the COOH-QDs remained dispersed. Though intracellular levels of NH2- and COOH-QDs were very similar after 24 h exposure, COOH-QDs appeared to be continuously internalised and transported by endosomes and lysosomes, while NH2-QDs mainly remained in the lysosomes. The results of (intra)cellular QD trafficking were correlated to their toxicity profiles investigating levels of reactive oxygen species (ROS), mitochondrial ROS, autophagy, changes to cellular morphology and alterations in genes involved in cellular stress, toxicity and cytoskeletal integrity. The continuous flux of COOH-QDs perhaps explains their higher toxicity compared to the NH2-QDs, mainly resulting in mitochondrial ROS and cytoskeletal remodelling which are phenomena that occur early during cellular exposure.
Conclusions
Together, these data reveal that although cellular QD levels were similar after 24 h, differences in the nature and extent of their cellular trafficking resulted in differences in consequent gene alterations and toxicological effects.
Keywords
Quantum dot NPs
Intracellular localization
Endosomal uptake
Gene alterations
Nanotoxicity
Background
The scope of the use of nanomaterials (NMs) not only for technological, but also in biomedical and clinical applications is still increasing, where mainly imaging purposes and more recently therapeutic purposes are being explored to greater depth. This is driven by the high number of unique physical and chemical properties that many materials possess when downsized to the nanoscale. One such type of NM are quantum dots (QDs), which are small colloidal semiconductor nanoparticles (NPs) that possess remarkable photophysical properties, including high photostability and brightness, along with very narrow and size-tunable emission spectra [1, 2]. These properties have enabled the real-time tracking of surface-located receptors in live cells over longer time periods [3, 4], as well as intracellular tracking of single molecules and protein [5–7]. QDs also have potential as probes for in vivo fluorescence imaging [8]. They are being explored as therapeutic agents [9], such as in photodynamic therapy where the QDs could be used to eradicate cancer cells [10]. Despite alternative materials, the predominantly used QDs are based on II/VI group semiconductor materials, and thus typically comprise Cd. Given their chemical composition and the presence of highly toxic elements such as Cd2+ [11, 12], the use of QDs in live cells, tissues, and clinical applications has remained limited. Despite various strategies being explored to reduce their toxicity (e.g. Cd2+-free QDs, dual polymer-silica coated QDs), their practical use in biomedical applications remains moderate. This is in part due to the absence of sufficient information about the precise mechanisms and kinetics involved in the interaction of QDs with biological entities. Some recent studies have tackled this topic [13–15] yet more research is required to understand the effects of specific physico-chemical differences in NPs on their toxicity profiles [16]. Additionally, one inherent issue with the field of nanosafety research is the near endless number of potential interactions of NPs with biological components, of which only a selected few can be examined in every single study for a selected in vitro or in vivo model [17]. As most studies will focus on key mechanisms, such as the induction of reactive oxygen species (ROS) or gross cell viability studies, more subtle effects are often overlooked and differences between the various in vitro and in vivo models used can drastically alter the outcome of any study [18, 19]. As such, several key questions regarding the potential toxic effects of QDs remain thus far not fully answered.
In the present work, two different types of QDs (bearing negative and positive surface charge) are being used to examine cyto- and genotoxic effects on cultured human cells. Continuing on the results obtained in a previous work with the same QDs [20], further investigations are performed here to evaluate the kinetics of their cellular uptake, intracellular localization, and the alterations they induce to the cellular homeostasis in an effort to attaining a better understanding of the observed differences in their toxicity profiles. Intracellular cadmium levels are quantified and correlated to changes in cellular homeostasis. One major aim of this study is therefore to link the differences in physicochemical parameters with the kinetics of cellular processing and their toxicity levels. A second aim is to further elucidate upon the mechanisms by which the different QDs exert their toxicity. For this purpose, the effect of the intracellular environment on QD functionality and chemical stability are investigated. Additionally, detailed gene expression studies are performed and activation of important cytoskeletal regulator and stress and toxicity signalling pathways are examined. Finally, all results are combined and analysed together, in order to evaluate whether the differences in physicochemical properties of the QDs are linked to their respective uptake kinetics and levels, and whether their intracellular processing also influences QD behaviour and their mechanism of toxicity.
Therefore, this study is a more comprehensive investigation and exploration of the processes responsible for the differences in the cellular and NP interactions that was previously published using the same QDs [20].
Conclusions
Most NP studies consider physico-chemical properties and their correlation to either kinetics, or toxicity. The present work reveals the importance of understanding how the cell interacts with NPs from a kinetic and mechanistic point of view and then how to interpret these observations to NP properties in an effort to elucidate the differences observed in toxicity and gene alteration results between different NPs. Upon exposing human fibroblasts to two types of QDs, one with COOH moieties, which was well dispersed, and the other with NH
2
moieties, which was agglomerated, the toxicological profile for these QDs was different. The state of agglomeration turned out to be a very relevant physicochemical parameter describing the difference between both types of QDs. The latter clearly had an effect on the process by which the cells trafficked these NPs thus resulting in different effects on cellular homeostasis. The cellular uptake was studied at different time points, where clear differences were observed. NH
2
-QDs were taken up by the cells rather quickly, but soon resulted in a steady-state level, after which no additional uptake was observed, and were eventually transferred to the lysosomal compartment (Fig.
3
b). COOH-QDs followed a different pathway, where they were internalized at a high rate which persisted over at least 6 h (Fig.
3
c). There was only a minimal transfer of COOH-QDs to the lysosomal compartment. Generally, both QDs but more so with the NH
2
-QDs perinuclear localization of the NPs was noted which could be due to the residence of more acidic lysosomes that are performing degradation process in that region [
59
]. Although no acute cytotoxicity was observed for either of the two QD types under the conditions used, the differences in cellular internalization however resulted in variations in their stress response profile, where high-content imaging and gene expression studies revealed the induction of mitochondrial ROS, cytoskeletal remodelling, and hypoxia-like cellular responses from exposure to the COOH-QDs, which could all be linked to higher energy demands. A hypothetical sketch is shown in Fig.
7
.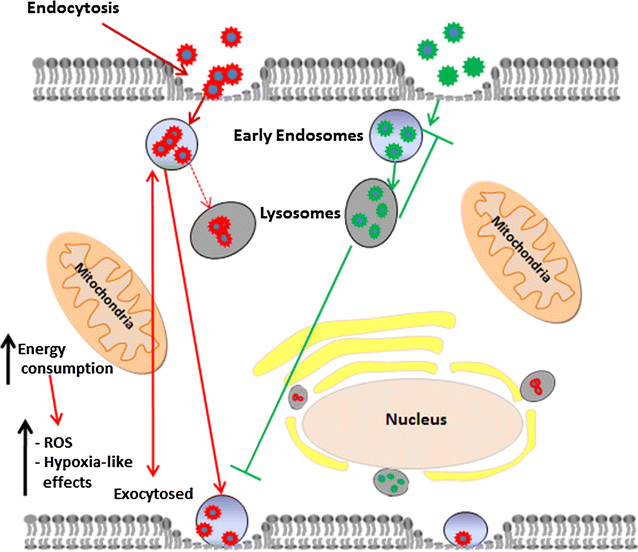 Together, these data reveal that though the two QDs differed in physico-chemical properties they were internalised by the cells to a similar extent. Differences in their uptake kinetics, however, appear to be accountable for the significant changes discovered in their toxicity and gene expression profiles.
Methods
Cell culture
Human foreskin fibroblasts HFF-1 (ATCC Manassas, VA) cells were cultured in Dulbecco's Modified Eagle's Medium (DMEM) in the presence of 15% foetal bovine serum (FBS, Gibco, Life Technologies, Belgium). Cells were incubated at 37 °C and 5% CO2 and sub-cultured every third day. All cellular treatments were at 0, 2.5, 5, 7.5, 10, and 15 nM concentrations. All experiments were performed in triplicates.
Quantum dot nanoparticles
Both QDs used in this work were commercial products. CdSe/ZnS core/shell fluorescent NPs with NH2 (Cytodiagnostics, Canada) and COOH (Invitrogen, UK) functional ligands were used. Details about the structure of the semiconductor part as well as the surface chemistry are not disclosed by the providers. These QDs had emission maxima of 664 nm (nominally 665 nm) and 585 nm (nominally 590 nm). These QDs have been previously thoroughly characterised (please see Additional file 1 for details) [18–20]. QD concentrations for exposure experiments were based on the concentrations of the QDs stocks as given by the suppliers. Cellular exposure stocks were prepared by diluting the QDs in sterile phosphate buffered saline (PBS). All concentration suspensions were vortexed for 30 s prior to addition to the cell culture. Exposure to QDs were for 4 or 24 h.
QD uptake studies
Confocal microscopy and ICP-MS analyses were conducted to examine QD uptake into HFF-1 cells following 4 and 24 h exposure. Details can be found in Additional file 1.
Analysis of photo-stability of the QDs
The effect of the lowered pH levels in the intracellular environment on the photo-stability of the QDs was determined by examining the possible effects of altered pH levels. Experiments were performed as previously described [21]. More details on the methods used can be found in Additional file 1.
Cellular interaction with QDs
The consequence of cell QD interaction in terms of the generation of cytoplasmic and mitochondrial reactive oxygen species (ROS), the level of the lipidated LC3 protein (marker for autophagy), and cytoskeletal changes were investigated using high-content image analysis as detailed previously [14]. A detailed experimental section of these studies can be found in Additional file 1.
QD tracking studies
Single particle tracking (SPT) and confocal microscopy based analyses were conducted to track NH2- or COOH-QDs in the intracellular environment, and to determine their colocalization with endosomes or lysosomes. Full details of the methodology can be found in Additional file 1.
Inductively coupled plasma mass spectrometry (ICP-MS)
Inductively coupled plasma mass spectrometry (ICP-MS) was conducted in order to determine the number of QDs excreted by the cells. For this end, cells were labelled with QDs at 2.5, 7.5, and 15 nM concentrations for 4 and 24 h. Cells were then washed three times with sterile PBS and supplemented with fresh culture media. Samples were collected from the culture supernatant at 0, 30, 120, 240, and 360 min. The amount of elemental cadmium and selenium in the samples was determined using ICP-MS (see Additional file 1: Section 4 for more details).
Gene expression studies
Two important human gene expression pathways, the human cytoskeletal regulatory and the cellular stress and toxicity pathways, were investigated using real time polymerase chain reaction (RT-PCR) arrays as described previously [14]. Briefly, 1.5 × 105 cells/mL were allowed to settle overnight, followed with incubation with 0, 2.5, 7.5, and 15 nM NH2- or COOH-QDs for 24 h (see Additional file 1: Section 9 for more details).
Statistical analysis
All data are expressed as the mean ± standard deviation (SD), unless indicated otherwise. All experiments, except the PCR arrays, were analysed using the One Way Anova statistical method. Significance in the PCR arrays was determined based on twofold change from the control ΔΔCt value.
Declarations
Authors' contributions
The study was planned by BBM and SJS. Particle characterisation, data processing and the writing of part of Additional file 1 was done by WP and BP. ICP-MS was done by KK with guidance from WP. Single particle tracking and MATLAB data analysis were done by BBM and TFM with guidance and input from KB, SCD, JD, and UH. Toxicity and PCR data analysis and interpretation were done by BBM, SJS, SHD, and GJSJ. The manuscript was written by BBM with input of all co-authors. All authors read and approved the final manuscript.
Acknowledgements
We would like to thank Prof. Sebastian Munck and Miss Nicky Corthout from the VIB Centre for Biology of Disease, Belgium for the technical guidance in the use of the IN Cell Analyzer 2000 and IN Cell Developer Toolbox software.
Competing interests
The authors declare that they have no competing interests.
Availability of data and materials
All data generated or analyzed during this study are included in the article and its Additional file 1.
Funding
Part of this work was supported by the FWO Vlaanderen (KAN 1514716N to BBM and KAN 1505417N to SJS). Flemish agency for Innovation by Science and Technology (IWT SBO MIRIAD/130065 and NanoCoMIT/140061) and the KU Leuven program financing IMIR (PF 2010/017). Funding of the above listed agencies was applied to design, perform and analyze all cell-based experiments. The UGent consortium NB Photonics supported the single particle tracking experiments performed and the European commission (Grant FutureNanoNeeds to WJP) supported the nanomaterials characterisation part of this work.
Publisher's Note
Springer Nature remains neutral with regard to jurisdictional claims in published maps and institutional affiliations.
Open AccessThis article is distributed under the terms of the Creative Commons Attribution 4.0 International License (http://creativecommons.org/licenses/by/4.0/), which permits unrestricted use, distribution, and reproduction in any medium, provided you give appropriate credit to the original author(s) and the source, provide a link to the Creative Commons license, and indicate if changes were made. The Creative Commons Public Domain Dedication waiver (http://creativecommons.org/publicdomain/zero/1.0/) applies to the data made available in this article, unless otherwise stated.
Authors' Affiliations
(1)
Biomedical NMR Unit/MoSAIC, KU Leuven Campus Gasthuisberg, Louvain, Belgium
(2)
Institute of Life Science, Swansea University Medical School, Swansea, UK
(3)
Faculty of Pharmaceutical Sciences, Ghent University, Ghent, Belgium
(4)
Center of Nano- and Biophotonics, Ghent University, Ghent, Belgium
(5)
Philipps University of Marburg, Marburg, Germany
(6)
CICBiomagune, San Sebastian, Spain