Characterization of ZnO nanoparticles grown in presence of Folic acid template
Journal of Nanobiotechnology
2012
10:29
Received: 28 February 2012
Accepted: 2 July 2012
Published: 12 July 2012
Abstract
Background
ZnO nanoparticles (grown in the template of folic acid) are biologically useful, luminescent material. It can be used for multifunctional purposes, e.g., as biosensor, bioimaging, targeted drug delivery and as growth promoting medicine.
Methods
Sol–gel chemical method was used to develop the uniform ZnO nanoparticles, in a folic acid template at room temperature and pH ~ 7.5. Agglomeration of the particles was prevented due to surface charge density of folic acid in the medium. ZnO nanoparticle was further characterized by different physical methods.
Results
Nanocrystalline, wurtzite ZnO particles thus prepared show interesting structural as well as band gap properties due to capping with folic acid.
Conclusions
A rapid, easy and chemical preparative method for the growth of ZnO nanoparticles with important surface physical properties is discussed. Emphatically, after capping with folic acid, its photoluminescence properties are in the visible region. Therefore, the same can be used for monitoring local environmental properties of biosystems.
Keywords
ZnO nanoparticlesFolic acidStructural effectsSpectroscopic studyCharge transfer effects
Introduction
Nanometer size multifunctional materials are gearing the biological fields in various ways [1]. One of the promising nontoxic and biocompatible semiconductor material is Zinc Oxide (ZnO), which has received extensive application due to its exceptional electrical and optical characteristics [2] in fabricating nanoscaled electronic and optoelectronic devices. ZnO is a kind of wide band gap (3.37 eV) semiconductor with large exciton binding energy (60 meV) [2]. In comparison to other wide band-gap semiconductors, ZnO possesses higher quantum efficiency [3] and higher exciton energy [4, 5]. Also, ZnO is a biofriendly oxide semiconductor and an inexpensive luminescent material. Owing to the properties stated above, it is expected to have a wide range of applications in room temperature ultraviolet (UV) lasing [6], biosensors [7], bioimaging [8], drug delivery [9] and piezoelectric transducers [10]. In general, ZnO is considered "generally recognized as safe" (GRAS) [11] but ZnO nanoparticle system may be toxic. ZnO nanosystem may be of important relevance in the context of nanomedicine, where targeted treatment of biological systems at molecular level is a necessity [12].
Recently, there are several physical or chemical synthetic methods of preparing ZnO, such as thermal evaporation [13], pulsed laser deposition (PLD) [14], ion implantation [15], reactive electron beam evaporation [16], thermal decomposition [17] and sol–gel technique [18–22]. To obtain ZnO nanoparticle, we choose sol–gel method because of its simplicity, which offers a possibility of large-area yield at low cost.
In the present study, nano-sized ZnO sample has been prepared by chemical synthesis in presence of surface active biological substance, such as folic acid. Folic acid [
23
,
24
] is a member of the Vitamin B family and is necessary for the healthy function of a variety of bodily processes. The structural aspect of the folic acid is shown in Figure
1
. Folic acid is sparingly soluble in pure water, but is well dispersed under physiological pH ~ 7.5. Folic acid being a multi dentate ligand, helps in controlling ZnO nanoparticle size through its surface charge density [
23
]. Also, folic acid has a natural affinity towards Folate receptor protein, which is over expressed by a number of tumor cells [
25
]. Since ZnO nanoparticles are cytotoxic and can combat the growth of tumor cells, it is envisaged that such a capping would help in targeting tumor cells. In this article further, the structural effects and the influence of folic acid are discussed in detail with the help of physical methods and spectroscopic tools. It is envisioned that the simple preparative scheme of the compound and the physical characteristics as shown in this article, would find its vital pathway in biotechnological applications and as well as optoelectronic device forming material.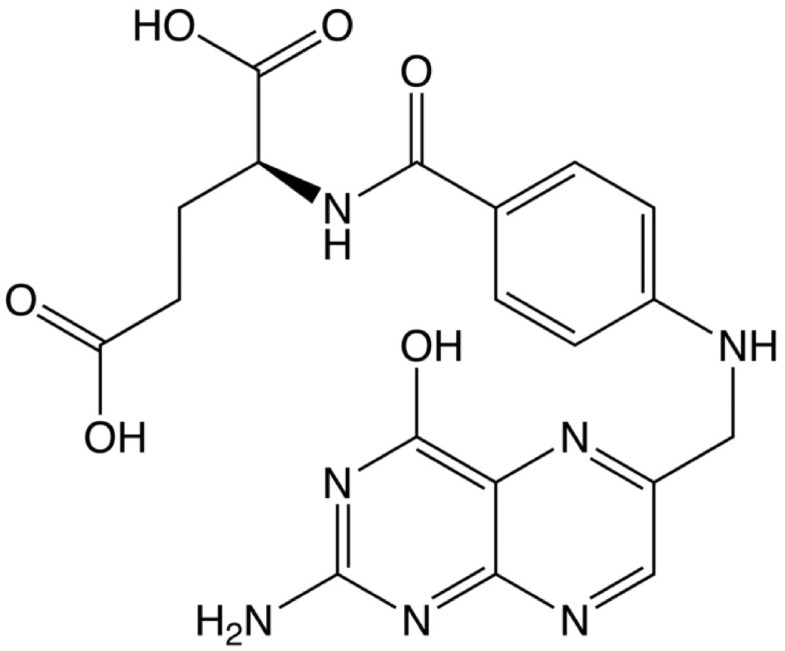 Materials and methods
Chemical method
Chemical Synthesis of pure Zinc oxide (ZnO)
ZnO nanoparticles were prepared by the sol–gel technique (shown in Figure
2
) from the zinc acetate (Zn(CH
3
COO)
2
. 2H
2
O, extra pure AR, grade material, from SRL, India). Desired weight of zinc acetate was dissolved in triple distilled water (TDW) and (1:1/vol) ammonia solution (Merck India) was added to this solution drop by drop, maintaining pH ~ 7.5; initially zinc precipitated as zinc hydroxide. After centrifugation, the precipitate has been collected and re-dispersed into TDW for removing of excess ions. Finally, the precipitate was recollected and dried at 100°C to get ZnO.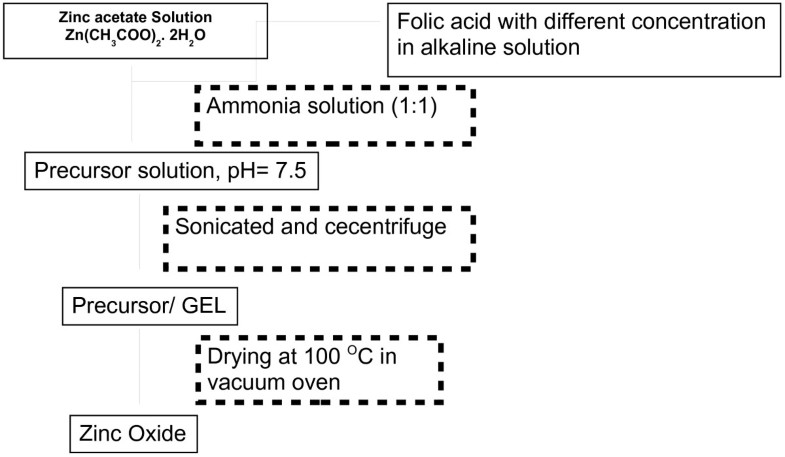 a) ZnO grown under Folic acid template
Folic acid (M.F.: C19H19N7O6, procured from Sigma. life Science), was dissolved in mildly alkaline TDW [26] at different percentage concentrations. Folic acid solution of desired dilution was added to zinc acetate solution and the final pH was adjusted to 7.5. The samples are denoted as Z0.2, Z0.5, Z1.0, Z1.3, Z2.0, Z3.0 and Z4.8. The suffix (Zx) represents the percentage concentration (weight/volume) of folic acid solution. After centrifugation, the precipitate was collected and re-dispersed into TDW for removal of excess ions. Finally, the precipitates were recollected and dried at 100°C. The schematic representation of the chemical synthesis is given in Figure 2. The prepared samples have been characterized by various physical techniques as given in the following classified sections.
Physical methods of characterization of the ZnO nanoparticles
X-ray diffraction (XRD) measurements
The phase structures of the samples were identified by X-ray diffraction technique using Seifert XDAL 3000 diffractometer with CuKα radiation (wavelength of the radiation, k = 1.54 Å). The data have been collected in the range (2θ) 30° –80° with a step size of 0.06°. Si has been used as external standard to deconvolute the contribution of instrumental broadening [
27
]. The XRD pattern has been shown in Figure
3
.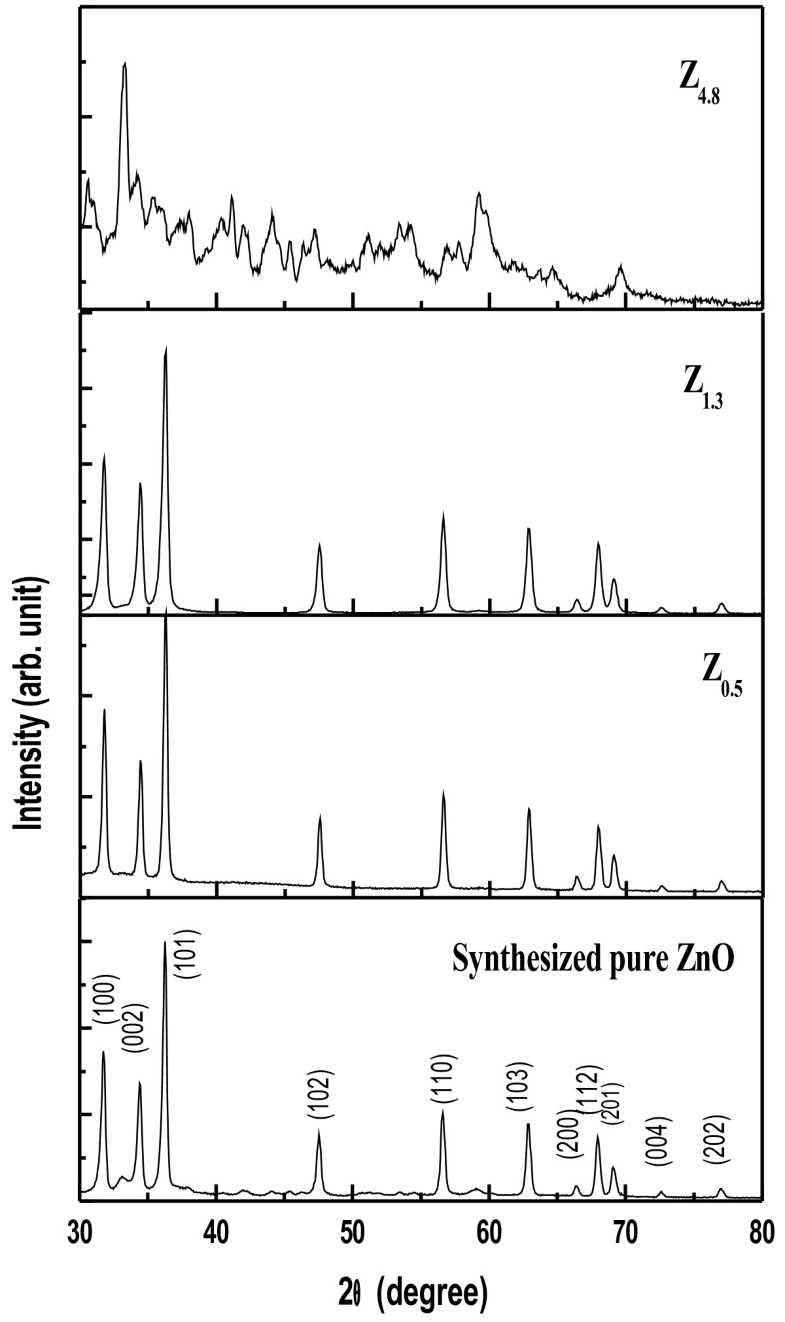 The grain sizes of the synthesized samples have been calculated using Scherrer formula [
27
]:
where, Dhkl is the average grain size, K the shape factor (taken as 0.9), λ is the X-ray wavelength, βP is the full width at half maximum (FWHM) intensity (here 101 peak of the ZnO spectrum fitted with a Gaussian, for precision measurement) and θ is the Bragg angle.
The nano crystalline material usually suffers from structural strain as the grain interior is relatively defect free but the grain boundary consists of high-density defect clusters [
28
,
29
]. Thus, the strain in the lattice has been estimated through constructing Williamson–Hall (W–H) plot, with different Bragg peaks [
30
] taken in to consideration, such as:
where, ϵ is the micro strain parameter.
Also, an estimation of the lattice parameters has been made by using FullProf program [31].
Transmission Electron Microscopic (TEM) study
The morphology of the synthesized product were characterized by transmission electron microscopy, TEM (Tecnai S-twin, FEI) using an accelerating voltage of 200 kV, having a resolution of ~ 1 Å. For this analysis, the ZnO sample has been dispersed in TDW through a probe sonicator; a drop of the same was placed onto a carbon coated copper grid and dried at room temperature. Furthermore, selected area electron diffraction (SAED) patterns are recorded to determine the growth orientation of the synthesized ZnO.
Spectroscopic Measurements
i) Fourier transmission infrared (FT-IR) spectra
Fourier transmission infrared (FT-IR) spectra of the powders (as pellets in KBr, without moisture) were recorded using a Fourier transform infrared spectrometer (Perkin Elmer FTIR system; Spectrum GX) in the range of 400–6000 cm-1 with a resolution of 0.2 cm-1.
ii) UV –Vis Spectroscopic measurements
The optical absorption spectra were measured in the range of 250–800 nm using a UV–VIS-NIR scanning spectrometer (Lamda 750, Perkin Elmer).
iii) Room temperature Photoluminescence (PL) Spectroscopy
Room temperature Photoluminescence (PL) measurement was carried out by a laser induced luminescence spectrometer (model IK3102R-G), the excitation source at room temperature being 325 nm line from a He-Cd laser.
Conclusions
Influence of folic acid in controlling the structural effects of ZnO nanoparticle under physiological conditions of temperature and pH has been studied as a novel method. The physical investigations with XRD, TEM and spectroscopic tools have been carried out in order to understand the interesting structural changes involved in the system which may find important biomedical applications. Photo induced charge transfer due to folic acid ensconced ZnO nanosystem is particularly a noticeable effect as seen from our results.
Declarations
Acknowledgements
The author acknowledge the technical help in measurements received from Solid State Physics Division, Indian Association for the Cultivation of Science for XRD data, Biophysics Division, Saha Institute of Nuclear Physics (SINP) (Mr. Pulak Ray) for TEM measurement, Surface Physics Division, SINP (Smita Mukherjee, Dr. Satyaban Bhunia) for FTIR and PL measurements. The author also thanks Prof. P. M. G. Nambissan for UV–vis spectroscopy and Soma Roy for all kinds of technical help.
Authors' Affiliations
(1)
Applied Nuclear Physics Division, Saha Institute of Nuclear Physics, Kolkata, India
Copyright
© Dutta and Ganguly.; licensee BioMed Central Ltd. 2012
This article is published under license to BioMed Central Ltd. This is an Open Access article distributed under the terms of the Creative Commons Attribution License (http://creativecommons.org/licenses/by/2.0), which permits unrestricted use, distribution, and reproduction in any medium, provided the original work is properly cited.