Self-assembled bionanostructures: proteins following the lead of DNA nanostructures
Journal of Nanobiotechnology
2014
12:4
Received: 10 December 2013
Accepted: 29 January 2014
Published: 3 February 2014
Abstract
Natural polymers are able to self-assemble into versatile nanostructures based on the information encoded into their primary structure. The structural richness of biopolymer-based nanostructures depends on the information content of building blocks and the available biological machinery to assemble and decode polymers with a defined sequence. Natural polypeptides comprise 20 amino acids with very different properties in comparison to only 4 structurally similar nucleotides, building elements of nucleic acids. Nevertheless the ease of synthesizing polynucleotides with selected sequence and the ability to encode the nanostructural assembly based on the two specific nucleotide pairs underlay the development of techniques to self-assemble almost any selected three-dimensional nanostructure from polynucleotides. Despite more complex design rules, peptides were successfully used to assemble symmetric nanostructures, such as fibrils and spheres. While earlier designed protein-based nanostructures used linked natural oligomerizing domains, recent design of new oligomerizing interaction surfaces and introduction of the platform for topologically designed protein fold may enable polypeptide-based design to follow the track of DNA nanostructures. The advantages of protein-based nanostructures, such as the functional versatility and cost effective and sustainable production methods provide strong incentive for further development in this direction.
Keywords
Self-assemblyProtein nanostructuresDNA nanostructuresProtein origami
Introduction
The versatility of biopolymers can be used to rationally design new molecules and assemblies with structures and functionalities unseen in nature. The ability of biopolymers to self-assemble into complex shapes and structures defined at the nanometer scale, and our competence of sustainable large-scale production using cell factories makes them highly desirable for diverse technological applications. In the rapidly-growing research area of modern nanobiotechnology the natural components polypeptides and nucleic acids have been employed as building blocks for the assembling of new designed nanostructures and nanomaterials. Bionanotechnologists have in the last decades achieved important advances in protein-based and particularly DNA-based responsive nanostructures, which can now be designed to self-assemble into almost any selected shape.
Molecular self-assembly as the main organizing principle of biological systems is also a widely applied strategy in the nanotechnology as the driving force for the assembly of artificial nanostructures. In self-assembly the final structure is encoded by interactions of its building elements defined by their properties and the order of building blocks within the linear polymer. The shapes and functions of both, DNA- and protein-based nanostructures are encoded by the sequence of their constituents, nucleotides and amino acids. Additionally, the architecture of both type of the nanostructures can be affected also by the environmental factors, such as solvent, pH, temperature and building blocks concentration.
DNA nanostructures are based on the Watson-Crick nucleic base complementarity. There are only two different base pairs based on a specific pairwise interaction, where stacking with neighboring pairs underlies the formation of stable double-helical domains that serve as the nanostructural building blocks. Some of the most spectacular examples of the potentials of nanobiotechnology have been demonstrated by DNA-based nanostructures. In the nature the primary function of nucleic acids are the storage, processing and mediation of genetic information; however natural structures such as aptameres, telomeres and partially the ribosome as one of the key and most complex nanodevices are formed by nucleic acids assembled into 3D structures. The relevance of the physiological role of nucleic acids that perform their function in form of self-assembled noncoding RNA transcripts is still unknown. On the other hand artificial rationally designed DNA nanostructures, which utilize a narrower subset of interactions from aptameres, can adopt a huge diversity of 2D or 3D shapes [1–5].
In contrast to designed DNA nanostructures, the rational design of protein nanostructures is much more complicated due to the complex cooperative interactions between amino acids stabilizing the fold of native proteins. The comparison of some features of self-assembled DNA- and protein nanostructures is presented in Figure
1
. Structural folding of most natural proteins still cannot be easily predicted from their primary structure due to contribution of many cooperative and long-range interactions between amino acids, therefore
de novo
design of completely new protein folds is even more challenging.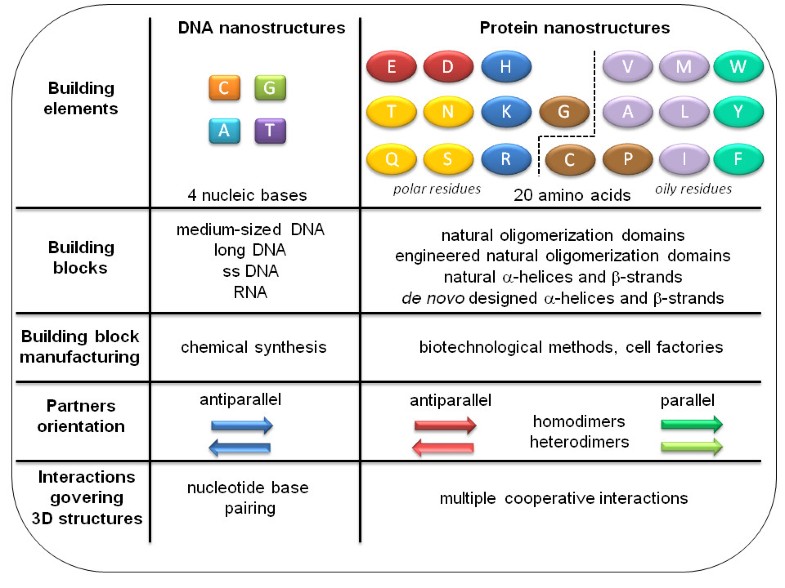 However, a significant progress has been recently achieved in the development of strategies for building artificial self-assembled bionanostructures, and a range of both, DNA- and protein nanostructures rapidly increased in last two decades. In this review we mainly focus on protein-based nanostructure strategies, while DNA nanotechnology has been discussed in detail in many recent reviews [6–12].
Designed DNA nanostructures
In 1982, Seeman proposed to use DNA as the structural material for the bottom-up self-assembly [13] and he is accepted as the founder of the field of DNA nanotechnology. Since then, DNA-based self-assembly achieved spectacular results relying on the base-pairing specificity of nucleotides, using DNA synthesis technology, computer based design and, above all, imaginative design. Over the last three decades self-assembled DNA nanostructures have been extensively studied and several different approaches for building DNA nanostructures have been developed. Self-assembled DNA nanostructures range from 3D structures with a well-defined shape [2, 4, 14–17] to a variety of complex dynamic DNA devices [8, 18–20]. This avenue of research also spawned DNA computing [21, 22] and design of dynamic devices [8, 23, 24], which are however beyond the scope of this review.
DNA self-assembly is a robust and flexible biomimetic strategy for molecular construction that is directed by the information embodied in the nucleotide sequence. Development of DNA nanostructures encompasses several different approaches (Figure
2
), where the design of nanostructures is based on the assembly of: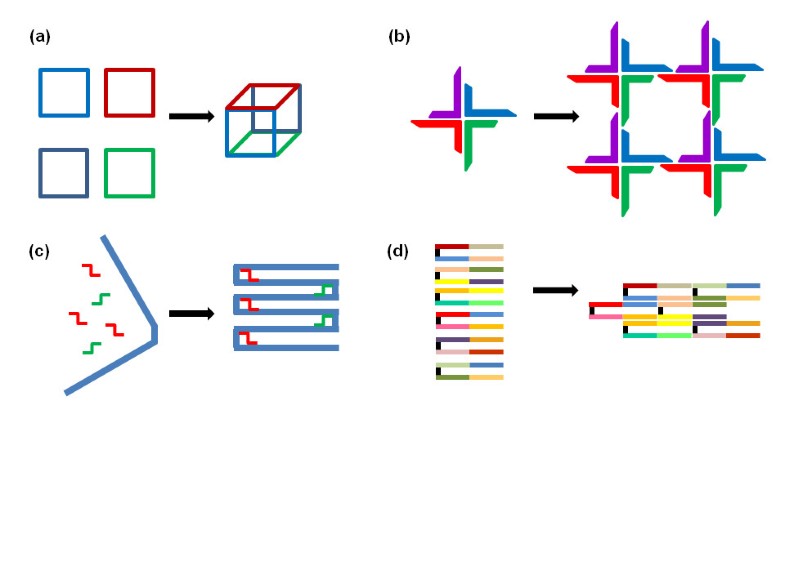 An important advantage of DNA-based nanostructures is that it is possible to address the selected positions within the 2D or 3D nanostructures at approximately 5 nm resolution and introduce oligonucleotides with selected functionalities, such as different organic compounds, fluorophores, metal binding groups, proteins etc. into those positions, thereby functionalizing DNA nanostructures [9, 32–36].
RNA has the distinct advantage that ssRNA could easily be produced in vivo in order to promote the self-assembly. This property was used to prepare RNA-based scaffolds with attached sites for functional proteins fused to specific sequence RNA binding domains. While those in vivo assembled structures were not well characterized, the scaffold strongly enhanced the reaction yield [37] similar to the DNA-based scaffolded enzymes, where the arrangement of enzymes had been linear [38]. It is hoped that this in vivo approach will be further developed for in vivo applications. ssDNA could also be produced in vivo, demonstrated by the self-assembly of a tetrahedron [39]. Isothermal DNA nanostructure assembly strategy has been developed that could further facilitate future DNA self-assembly in vivo [40].
DNA nanostructures were used to make devices that were functional in the cellular milieu; e.g. drug delivery container that encapsulates cargo, such as therapeutic antibodies, while opening of the container could be controlled by binding of the trigger signals to the aptamer lock that regulates opening of the container only if the triggering signals for both of the two locks are present [41]. DNA origami seems to be stable in vivo indicating that it is relatively protected against nucleases. There are also reports on the use of DNA nanostructures as the constituents of vaccines [42–44]. However real applications of DNA nanostructures are at the moment quite rare and essentially all DNA nanostructures are prepared by chemical synthesis, which limits the technological applications due to the cost and scale of production.
Protein nanostructures
Proteins provide masterful examples of complex self-assembling nanostructures with properties and functionalities beyond the reach of any human-made materials. It is estimated that there are only few thousand different protein folds in nature, and recently the number of new determined protein fold basically trickled to a halt despite determination of tens of thousands of new protein structures each year. So far folds of only few small protein domains can be accurately predicted [45–48] and design of completely new folds without resemblance to any of the existing native folds represents even a greater challenge [49].
Larger natural proteins have evolved through combinations of several smaller independently folding domains. Protein oligomerization based on the symmetric oligomerization domains is an important source of suprastructured proteins [50]. Existing protein oligomerization domains have been recognized as suitable building blocks for the predictable bottom-up design of artificial protein nanostructures. Strategies that used modified natural domains, or genetically or chemically linked secondary structure elements for self-assembling, and resulted in formation of symmetric intermolecular protein assemblies, lattices and heterogeneous cage-like assemblies, are described in reviews [51–53]. Recently we presented a new approach where a single polypeptide chain composed of concatenated coiled-coil-forming peptides self-assembled into a new topological fold, asymmetric tetrahedron-like cage, which is defined and stabilized by the specific pairing of the coiled-coil-forming segments arranged in a precisely defined order rather than cooperative packing of hydrophobic protein core [54].
Conclusions and future prospects
The recent successes in the design of new bionanostructures based on DNA and protein demonstrates the potentials of this approach to engineer new functional nanostructures.
While DNA-based nanostructures are clearly ahead of the designed protein nanostructures in terms of the complexity of the designed structures so far they lacked tangible applications. Although it has been demonstrated that DNA-based nanostructures are functional in organisms, use of in vivo produced and assembled nucleic acid-based nanostructures would represent an important step ahead both for the production cost and new biological applications. Functionalization of nucleic acids could combine structural design with precisely addressed functionalities. However, proteins adopt much larger conformational variability than nucleic acids and provide more versatile functionality. De novo design of protein nanostructures has been limited to small number of application cases which predominatly utilizing repurposed natural protein domains. Nevertheless the design of protein assemblies has matured beyond the proof of principles and is ready to face more complex challenges. New emerging paradigms such as the topological protein folds open completely new avenues that seem not to have been adopted or perhaps even tested by nature. Future developments will demonstrate the potentials of different strategies, or their combinations, with respect to the precise engineering of nanostructures and the theoretical limitations of different platforms. The next stage will need to focus on application development. The potentials are numerous, from targeted drug and biomolecule delivery, vaccine design, tissue engineering, senzors design, biocatalysis to bionanomaterials science. The interdisciplinary approach of synthetic biology, combining structural biology, molecular biology, mathematics, engineering and many other disciplines, have the potential to join forces in this exciting opportunity.
Abbreviations
2D:

Two-dimensional
3D:

Three-dimensional.
Declarations
Acknowledgements
We acknowledge Sabina Božič Abram and Iva Hafner Bratkovič for help in preparing structural images.
Funding
This work was supported by the EN-FIST Centre of Excellence and program and projects from the Slovenian Research Agency.
Authors' Affiliations
(1)
Department of Biotechnology, National Institute of Chemistry, Ljubljana, Slovenia
(2)
Excellent NMR – Future Innovation for Sustainable Technologies, Centre of Excellence, Ljubljana, Slovenia
Copyright
© Gradišar and Jerala; licensee BioMed Central Ltd. 2014
This article is published under license to BioMed Central Ltd. This is an Open Access article distributed under the terms of the Creative Commons Attribution License (http://creativecommons.org/licenses/by/2.0), which permits unrestricted use, distribution, and reproduction in any medium, provided the original work is properly cited. The Creative Commons Public Domain Dedication waiver (http://creativecommons.org/publicdomain/zero/1.0/) applies to the data made available in this article, unless otherwise stated.