Nanoparticle based insulin delivery system: the next generation efficient therapy for Type 1 diabetes
Journal of Nanobiotechnology
2015
13:74
Received: 9 June 2015
Accepted: 15 October 2015
Published: 24 October 2015
Abstract
Diabetic cases have increased rapidly in recent years throughout the world. Currently, for type-1 diabetes mellitus (T1DM), multiple daily insulin (MDI) injections is the most popular treatment throughout the world. At this juncture, researchers are trying to develop different insulin delivery systems, especially through oral and pulmonary route using nanocarrier based delivery system. This next generation efficient therapy for T1DM may help to improve the quality of life of diabetic patients who routinely employ insulin by the subcutaneous route. In this paper, we have depicted various next generation nanocarrier based insulin delivery systems such as chitosan-insulin nanoparticles, PLGA-insulin nanoparticles, dextran-insulin nanoparticles, polyalkylcyanoacrylated-insulin nanoparticles and solid lipid-insulin nanoparticles. Modulation of these insulin nanocarriers may lead to successful oral or pulmonary insulin nanoformulations in future clinical settings. Therefore, applications and limitations of these nanoparticles in delivering insulin to the targeted site have been thoroughly discussed.
Keywords
Nanocarrier
Insulin delivery
Type-1 diabetes mellitus (T1DM)
Oral drug delivery
Pulmonary drug delivery
Background
Diabetes mellitus (hyperglycemia), a metabolic disorder, is caused either due to lower insulin secretion by the cells or due to lower binding efficiency of insulin on their cell surface receptors resulting in high blood glucose level. According to the survey in low- and middle-income countries there are 366 million people living with diabetes and the count is expected to rise to 552 million by 2030 [1]. Especially in the developing countries, diabetes has increased rapidly during the last decade. In 21st century, this diseases have the possibility to become a new epidemic in the Middle East, Sub-Saharan Africa, Latin America, India, and the rest of Asia [2]. Symptoms of diabetes include excessive weight loss, polyuria, polydipsia and polyphagia [3]. Diabetes has been categorized as Type 1 and Type 2. Type 1 diabetes is insulin dependent condition, characterized by deficiency of insulin due to destruction of insulin-producing beta cells of islets of Langerhans by autoimmune system in pancreas. While, type 2 diabetes is distinguished as disorders of both insulin resistance and secretion due to defects in insulin receptor on cell membranes [4]. Besides these types of diabetes, gestational diabetes has also been reported in pregnant women. During pregnancy, abnormal hormonal production leads to woman's sensitivity to insulin resulting in high blood sugar levels [5].
Treatment of diabetes need constant monitoring of blood glucose level, regulating it through modified dietary sugar intake, physical exercise and insulin therapy (subcutaneous administration) to attain normoglycemia [6]. Disadvantages of subcutaneous administration of insulin are hypoglycemia [7], peripheral hyperinsulinemia [8], lipoatrophy, lipohyperatrophy [9], obesity due to intensive therapy [10], insulin neuropathy and insulin presbyopia. Current dosage of injectable insulin, required to maintain acceptable serum glucose level, comprise of up to four subcutaneous injections per day [11] which can cause psychological stress leading to poor patient compliance. Thus, focusing on the alternative route of administration (oral or pulmonary) or reducing the injection doses are beneficial to reduce the inconvenience and drawbacks associated with this conventional method [12–15]. Furthermore, orally delivered insulin reaches systemic circulation after passing through liver similar to physiological insulin secretion while injected insulin may result in peripheral hyperinsulinemia and associated complications. However, major obstructions in developing oral or pulmonary insulin formulations are either enzymatic barriers or physical barriers (i.e. intestinal epithelium), which oral insulin has to overcome [11, 16]. Insulin, 51 amino acid protein, can get deteriorated by gastric pH and intestinal enzymes, and even intestinal epithelial cell membranes serve as absorption barrier for intact peptide structure resulting in less than 1 % bioavailabity of total insulin taken orally [17]. Taken together, restrictions like; fragile nature and short half-lives of proteins may serve as extra barriers in the formulation of oral dosage forms. In this context, over past few decades attempts have been made to develop suitable alternative formulations. Some of the methods include the use of permeation enhancers [18, 19]; protease inhibitors [20, 21], hydrogels [22, 23], and protein–ligand conjugates [24, 25]. Although, significant advancement has been made worldwide in attaining the general objective for a convenient and equally effective oral insulin delivery [15], still sufficient commercial development has not been achieved. As a solution to these challenges, nanocarriers have been considered as the best suited vehicle for oral delivery of insulin [26, 27]. Various nanocarriers, like polymeric or micelles, have granted a promising advancement to acquire desirable biopharmaceutical and pharmacokinetic properties for insulin. Therefore, in this review we have tried to highlight several nanocarrier formulations for insulin delivery related to chitosan coated nanoparticles, PLGA-insulin nanoparticles, dextran-insulin nanoparticles, PACA-insulin nanoparticles and solid lipid-insulin nanoparticles. Moreover, limitations associated with these nanocarriers for insulin delivery has also been discussed.
Roles and possible mechanisms of nanocarriers in oral drug delivery system
The bioavailability of orally delivered drugs is influenced by the physico-chemical properties of the drugs (i.e. solubility, pKa, size, etc.). The absorption of drugs and particles in gastrointestinal tract (GIT) occurs through various sites depending upon their size. Particles with 1 µm diameter are absorbed via phagocytosis by intestinal macrophages while particles <10 µm in diameter are transported through peyer's patches (lymphatic islands present on GIT). Nanoparticles (<200 nm) are absorbed through endocytosis by enterocytes [
28
]. The efflux transporters such as P-glycoprotein (Pgp) and enzymes, expressed on enterocytes surface, also render the low systemic bioavailability of drugs affecting the absorption and excretion of drugs. [
29
]. Nanotechnology reveals the application of size scale complex systems in various fields due to their unique properties [
30
,
31
]. One of the extensively studied areas of nanotechnology is delivering systems for the active ingredient of the medicine. Effective nanomedicine must be stable, biodegradable, non-toxic, non-inflammatory, non-thrombogenic, nonimmunogenic and should escape by reticuloendothelial system [
32
,
33
]. Moreover, nanomedicine should be applicable to different molecules such as small drugs, proteins, vaccines or nucleic acids [
34
]. It has been proved experimentally that, for therapeutic and imaging applications, nanoparticles may range from 2 to 1000 nm [
35
]. Additionally, nanotechnology offers the wide range of advantages to the drug delivery field including oral drug delivery in particular, i.e., increase efficacy, tolerability, specificity and therapeutic index of analogous drugs [
36
]. Furthermore, for oral delivery of drugs nanotechnology may assist in the delivery of poorly water-soluble drugs, transcytosis of drugs across the tight intestinal barrier, targeting of drugs to the specific part of the gastrointestinal tract and in the intracellular and transcellular delivery of bulky macromolecules [
37
]. Also, to facilitate the oral absorption of peptides and proteins, nanocarriers can be modified with specific ligands and targeted to the receptors on epithelial cell surface [
22
,
38
–
41
]. Among various limitations of oral delivery of certain drugs is their poor absorption from the GIT. Such limitations can be overcome by the use of bioadhesive polymers which can facilitate the adhesion of nanocarrier to the mucosal epithelial membrane and can assist in nanoparticle uptake [
42
]. Other than the oral delivery of drugs using nanocarriers, pulmonary means of delivery is also an efficient route (Fig.
1
).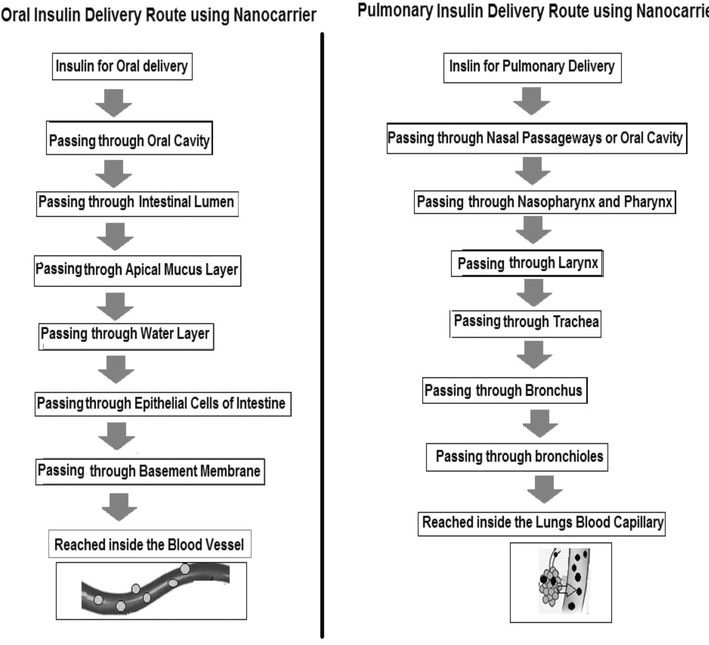 The use of biodegradable polymeric nanoparticles have evolved as a better alternative for oral/pulmonary delivery of proteins and peptide drugs [43]. Furthermore, the stability and functional abilities of the nanoparticles can be modulated by some of the pharmaceutically accepted excipients able to regulate pH responsivity and Pgp effect e.g. cyclodextrin, chitosan, PLGA, TPGS/Vitamin E TPGS, etc. [44]. Lowman et al. (1999) formulated pH sensitive nanocarriers to overcome the limitations of oral insulin delivery and observed decrease in blood glucose level for longer time (8 h) in diabetic rats at a dose of 25 IU/kg of loaded insulin [17]. In addition, the controlled release of encapsulated insulin and its enhances uptake and bioavailability can also be modulated by the use of various combinations of polymers and targeted molecules [34, 45]. Some of the pH sensitive biodegradable polymers explored so far are PMAA [46], HPMCP (HP55) [47], dextran sulphate [48], alginate [48], PGA [49] etc.
Nanocarriers based insulin delivery
Due to the drawbacks of conventional injectable insulin, drugs have been modified through nanocarriers with targeting ligands for their selective and targeted delivery meant for oral and pulmonary delivery [
22
,
41
]. Different nanoparticles developed to form stable and efficient insulin delivery system (Fig.
2
) are discussed below.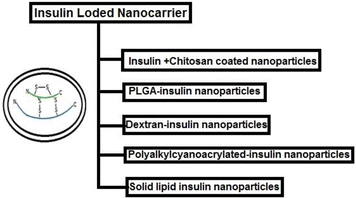 Limitations
Although attempts have been made so far in the development of oral insulin nanoparticulate (Table
1
), the formulation and synthesis of more efficient nanoformulation is required for commercial significance. Recently, a number of insulin nanocarriers have undergone clinical trials among which many of them faced failure. Drawbacks associated with them include toxicology, low level of oral bioavailability and elevated intraindividual difference in insulin absorption. In the near future, to develop clinically significant insulin loaded nanocarriers biocompatibility, biodegradability and immunological responses should be considered. As a result, various features have to be taken in account before designing novel insulin nanocarriers. Some of the features are optimum particle size which can interact with the intestinal mucosa, the stability of the nanocarriers in biological fluids after in vivo administration, surface chemical composition, internal chemical composition and use of targeting ligands specific for apical membrane receptors. Additionally, detailed study about distribution kinetics and the interaction of nanocarriers with the mucosal lining of intestinal epithelia is also needed.
Table 1
Physicochemical parameters for different types of insulin nanocarrier
Nano-carrier

Method of synthesis

Components

Size (nm)

Zeta potential (mV)

Route of administration of nanocarrier

EE (%)

DL (%)

Dose (I.U./kg) (min/max)

PA (%)

Ref

Chitosan-insulin

Graft polymerization

Carboxylated chitosan + methyl methacrylate

251 to 319

–22 to –26.4

Oral

85

11.9

15 (min)

100 (max)

9.7

[77]

Polyelectrolyte complexes + oily dispersion system

Chitosan + Oleic acid + Plurol oleique + Labrasol

108

29.97

Oral

30.38 to 78.81

–

50

7

[76]

Iionotropic pre-gelation + polyelectrolyte complexation

Chitosan + Alginate

748

−5.6

Oral

72.8

9.9

25 (min)

100 (max)

7.1 to 3.4

[79]

Polyelectrolyte complexation

Chitosan + Dextran sulfate

527

−20.6

Oral

69.3

2.3

50 (min)

100 (max)

5.6 to 3.4

[78]

Ionotropic gelation

Chitosan + TPP + Poloxamer 188

250 to 400

27.31 to 40.71

Oral

59.6 to 88.6

7.0 to 26.3

7 (min)

21 (max)

14 to 15.3

[60]

Ionotropic gelation

Chitosan + TPP

269 to 688

21.8 to 49.8

Oral

38.5 to 78.5

60.8

50 (min)

100 (max)

–

[64]

Ionotropic gelation

Chitosan + TPP

300 to 400

54 to 25

Pulmonary

87.4 to 96.7

19 to 55

5

–

[68]

Polyelectrolyte complexation

Chitosan

200 to 500

8.8 to 22

–

81.4 to 94.8

90

–

–

[67]

Ionotropic gelation

Chitosan + Poly(ç-glutamic acid)

110 to 150

−23.7 to 33.4

Oral

56.8

14.9

15 (min)

30 (max)

–

[70]

Ionotropic complexation + coacervation

Chitosan + Dextran sulfate + Alginate

423 to 850

–

Oral

3 to 94

5 to 13

–

–

[71]

Coacervation method

Chitosan + Eudragit L100-55

135 to 199

−20.7 to −27.9 mV

Oral

3.38

30.56

–

–

[72]

W/O/W multiple emulsion + polyelectrolyte cross-linking

Chitosan + Alginate + Calcium chloride + Labrafac CC + Phospholipid + Span 80 + Cremorphor EL

488

−62.25

Oral

47.3

–

25 (min)

50 (max)

8.19 to 7.84

[74]

Polyelectrolyte complexation

Chitosan + γ-PGA

185.1 to 198.4

29.9 to 27.8

Oral

40.1 to 55.1

5.2 to 14.1

30

13.0

[65]

PLGA-Insulin

Reverse micelle–solvent evaporation method

PLGA + Phospholipid + PVA

102 to 428

−12 to −22

Oral

51.5 to 90.4

4

20

7.7

[82]

Emulsion solvent diffusion method

PLGA + Hp55

169

–

Oral

65.41

3.17

20

6.27

[47]

W/O/W solvent evaporation technique

PLGA + Chitosan + Pluronic 188

134.4

43.1

Oral

52.76

1.29

15

10.5

[87]

W/O/W solvent evaporation technique

PLGA + Pluronic 188

121.3

−1.72

Oral

46.87

1.14

15

7.6

[87]

Hydrophobic ion pairing + emulsion solvent diffusion method

PLGA + Sodium oleate + PVA

161

−33.4

Oral

91.2

–

20

11.5

[88]

W/O/W double emulsion method

Poly(d,l-lactide-co-glycolide) + poly(ethylene glycol)

120 to 355

–

–

95

–

–

–

[89]

W/O/W double emulsion method

β-cyclodextrin-PLGA

120 to 355

–

–

95

–

–

–

[89]

Double-emulsion solvent evaporation method

PLGA + PEG + Folate

∼260

–

Oral

87

∼6.5

50

–

[90]

Dextran-insulin

Emulsion method

Dextrans + Epichlorohydrin + vitamin B(12)

160 to 250

–

Oral

45 to 70

2 to 4

20

11.4 to 26.5

[102]

Ionotrophic gelation + polyelectrolyte complexation

Dextran + Alginate + Poloxamer + Chitosan + BSA

396

−38.2

Oral

–

–

50

13

[103]

Nanoemulsion dispersion + triggered instantaneous particle gelation

Dextran + Alginate + Chitosan + PEG + BSA

>1842 (90 %)

>812 (50 %)

−7

Oral

85

–

25 (min)

100 (max)

42 to 10

[104]

Polyalkylcyanoacrylate-insulin

Microemulsion

Isopropyl myristate + Labrasol + Plurol Oleique + Ethyl (2) cyanoacrylate

200 to 400

−22 to −11.4

Oral

16 to 32.6

1.82 to 0.62

100

–

[109]

Microemulsion

Isopropyl myristate + Labrasol + Plurol Oleique + butyl (2) cyanoacrylate

200 to 400

−21.5 to −6.5

Oral

11.5 to 52.3

1.31 to 0.99

100

–

[109]

–

Polybutylcyanoacrylate + Tween 20

78

–

Oral

–

–

50

15.5

[110]

–

Polybutylcyanoacrylate + Tween 20 + Soyabean oil + vitamin E

67

–

Oral

–

–

50

22.4

[110]

Solid lipid-insulin

W/O/W double emulsion technique

Cetyl palmitate

361

−3.4

Oral

43

–

50

5

[115]

–

Lecithin + stearic acid + ploxamer + wheat germ agglutinin-N-glutamyl-phosphatidyl-ethanolamine

75.3

−13.11

Oral

17.89 to 23.72

–

50

6.08

[117]

Reverse micelle-double emulsion

Sodium cholate (SC) + soybean phosphatidylcholine + stearic acid + palmitic acid

114.7

−51.36

–

97.78

18.92

–

–

[118]

W/O/W emulsion technique

–

2 µ

–

Pulmonary

56.32 to 66.02

–

8

35.62

[124]

Double emulsion method

Stearic acid/octadecyl alcohol/cetyl palmitate/glyceryl monostearate/glyceryl palmitostearate/glyceryl tripalmitate/glyceryl behenate

213 to 444.8

−9

Oral

–

–

50

2.92 to 4.53

[123]

Solvent emulsification-evaporation

Witepsol 85E

243

−25

Oral

43.6

2.1

25

8.26

[122]

Solvent emulsification-evaporation

Witepsol 85E + chitosan

470

34

Oral

52.2

1.4

25

17.7

[122]

Targeted insulin nanoparticle

Ionotropic gelation method

N-trimethyl chitosan chloride + CSKSSDYQC peptide +

342

3

Oral

55.4

–

50

5.66

[26]

Nanoprecipitation

PLA-PEG + human polyclonal IgG Fc

63

−5.6

Oral

–

0.5

1.1

13.7

[128]
Conclusion
Presently, nanoparticle based drug delivery system are playing an essential role in the pharmaceutical industry. A new drug delivery system of an existing drug can provide a new marketability which is the important in the economic point of view. The next generation nanoparticles based insulin may be the future medicine for T1DM. In the near future, this nanocarrier based insulin delivery could replace the traditional and most predictable subcutaneous insulin injections. Possibly this next generation nanoparticle mediated insulin may improve efficacy of this medicine and will also help the better quality of the living of T1DM patients.
Abbreviations
PLGA:

Poly(lactic-co-glycolic acid)
PACA:

Poly(alkylcyanoacrylate)
TPGS:

d-α-tocopheryl polyethylene glycol 1000 succinate
PMAA:

Poly(methacrylic acid)
HPMCP:

Hydroxypropyl methylcellulose phthalate
PGA:

Poly glutamic acid
FDA:

Food and drug administration
PVA:

Polyvinyl alcohol
PEG:

Polyethylene glycol
BSA:

Bovine serum albumin
MALDI:

Matrix-assisted laser desorption ionization
Declarations
Authors' contributions
CC and SSL gathered the data. GS, JSN and ARS analysed it and wrote the review article. GPDC edited the article. All authors read and approved the final manuscript.
Acknowledgements
This study was supported by Hallym University Research Fund and a Grant of the Korean Health Technology R&D Project, Ministry of Health & Welfare, Republic of Korea (HI12C1265). The authors also take this opportunity to thank the management of VIT and Galgotias University for providing the facilities and encouragement to carry out this work.
Competing interests
The authors declare that they have no competing interests.
Open AccessThis article is distributed under the terms of the Creative Commons Attribution 4.0 International License (http://creativecommons.org/licenses/by/4.0/), which permits unrestricted use, distribution, and reproduction in any medium, provided you give appropriate credit to the original author(s) and the source, provide a link to the Creative Commons license, and indicate if changes were made. The Creative Commons Public Domain Dedication waiver (http://creativecommons.org/publicdomain/zero/1.0/) applies to the data made available in this article, unless otherwise stated.
Authors' Affiliations
(1)
Institute For Skeletal Aging, Hallym University-Chuncheon Sacred Heart Hospital, Chuncheon, Korea
(2)
Amity Institute of Nanotechnology, Amity University, Noida, India
(3)
Medical Biotechnology Division, School of Biosciences and Technology, VIT University, Vellore, India
(4)
Department of Bio-informatics, School of Computer and Information Sciences, Galgotias University, Greater Noida, India