Bioluminescent magnetic nanoparticles as potential imaging agents for mammalian spermatozoa
Journal of Nanobiotechnology
2016
14:20
Received: 9 November 2015
Accepted: 17 February 2016
Published: 17 March 2016
Abstract
Background
Nanoparticles have emerged as key materials for developing applications in nanomedicine, nanobiotechnology, bioimaging and theranostics. Existing bioimaging technologies include bioluminescent resonance energy transfer-conjugated quantum dots (BRET-QDs). Despite the current use of BRET-QDs for bioimaging, there are strong concerns about QD nanocomposites containing cadmium which exhibits potential cellular toxicity.
Results
In this study, bioluminescent composites comprised of magnetic nanoparticles and firefly luciferase (Photinus pyralis) are examined as potential light-emitting agents for imaging, detection, and tracking mammalian spermatozoa. Characterization was carried out using infrared spectroscopy, TEM and cryo-TEM imaging, and ζ-potential measurements to demonstrate the successful preparation of these nanocomposites. Binding interactions between the synthesized nanoparticles and spermatozoon were characterized using confocal and atomic/magnetic force microscopy. Bioluminescence imaging and UV–visible-NIR microscopy results showed light emission from sperm samples incubated with the firefly luciferase-modified nanoparticles. Therefore, these newly synthesized luciferase-modified magnetic nanoparticles show promise as substitutes for QD labeling, and can potentially also be used for in vivo manipulation and tracking, as well as MRI techniques.
Conclusions
These preliminary data indicate that luciferase-magnetic nanoparticle composites can potentially be used for spermatozoa detection and imaging. Their magnetic properties add additional functionality to allow for manipulation, sorting, or tracking of cells using magnetic techniques.
Keywords
SpermatozoaBioluminescence ImagingMagnetic nanoparticlesNanocompositesReproductionCore–shell nanoparticlesLuciferase
Background
Nanoparticle-based biomedical applications include nanomedicine, bioimaging and theranostics [1]. Recently, nanoparticle-based bioimaging technologies have focused on bioluminescent resonance energy transfer-conjugated quantum dots (BRET-QDs), such as PbS, CdSe/ZnS, and CdTe/CdS QDs [2–6]. However, BRET-QDs are under scrutiny due to their cadmium content, since cadmium has known toxicity [7, 8]. An alternative noninvasive bioimaging system could explore luciferase enzymes, which are found in nature and has inherent light emission characteristics, for bioluminescence imaging in whole animal and cellular systems. For example, luciferase obtained from Renilla reniformis has been coupled with CdSe/ZnS QDs to create self-illuminating nanoparticles for dual imaging purposes. In this complex, the chemical energy generated by the reaction of luciferase with its substrate (coelenterazine or luciferin) produced light (bioluminescence) which excited the QD for a bright fluorescence emission [9, 10]. Similarly, firefly Photinus pyralis luciferase has been combined with core–shell quantum rods (CdSe/CdS or CdSe/CdS/ZnS), producing a significant increase and optimization in BRET ratios [11].
In biomedical applications, core–shell nanostructures comprised of a magnetic core present a unique opportunity for multi-functionality, incorporating optical imaging with tracking, sorting and/or cellular manipulation [12, 13]. Superparamagnetic iron oxide nanoparticles are clinically approved by the European Medicines Agency (EMA) and U. S. Food and Drug Administration (FDA), and have been used to label and track cells via MRI techniques [14]. For example, lectin-coated iron oxide nanoparticles have been successfully used to bind and remove (under magnetic field) moribund mammalian spermatozoa without impairing the fertility potential of remaining unbound spermatozoa [15, 16]. Recently, hybrid micro-helixes made of a polymer-metal composite with magnetic properties have demonstrated the possible impacts from using magnetic microstructures in assisted fertilization [17]. Magnetic nanoparticles have shown viability in labeling and tracking applications; however, we are interested in using magnetic nanoparticles to enable cell detection, labeling and sorting without further perturbation of their viability—which would be the case when using fluorescent agents requiring additional excitation. In this study, coupling firefly luciferase (Photinus pyralis) with a magnetic nanoparticle carrier is expected to provide a multifunctional nanocomposite with both magnetic manipulation and bioimaging properties. One objective of this work is to describe the synthesis and in situ characterization of core–shell nanocomposites comprised of a citric acid-stabilized magnetic nanoparticle core surrounded by a spherical shell of the bioluminescent firefly luciferase (Photinus pyralis) enzyme. A second objective is to analyze preliminary bioluminescence data from boar spermatozoa incubated with the newly synthesized luciferase-modified magnetic nanoparticles (Luc + MNP). This analysis is presented using chemical and morphological characterization of the luciferase-magnetic nanoparticle composite and bioluminescence imaging, along with comparative data from a commercial BRET-QD that served as bioluminescence control.
Results and discussion
Conjugated nanoparticle preparation
Iron oxide magnetic nanoparticles (MNPs) were synthesized using a co-precipitation technique that is described in detail in the methods section. After synthesis, MNPs were stabilized with a citric acid coating to form the citric acid-magnetic nanoparticle (CA-MNP) conjugate. A second reaction added the firefly luciferase enzyme onto the periphery of the CA-MNP to form the luciferase-CA-MNP (Luc + MNP) complex. With the goal of performing cell sorting through nanotechnology tools, one advantage of using luciferase enzymes as imaging probes resides on the avoidance of additional light excitation that may damage cells when using fluorescent probes [18].
In situ
ATR-FTIR spectroscopy was used to confirm the chemical changes in the MNPs for each reaction step (Fig.
1
). For CA-MNPs, a strong peak at ~1645 cm
−1
was observed corresponding to the symmetric carbonyl (C = O) vibrations of the carboxylic acid groups (–COOH) in citric acid when bound to iron oxide [
19
]. FTIR spectra of neat firefly luciferase showed distinctive peaks at 1550 cm
−1
and 1515 cm
−1
, which are amide-II vibrations characteristic of luciferase [
20
]. In addition, the peak near 1650 cm
−1
corresponds to an amide-I band commonly observed when multiple α- and β-functional groups are present, and has been previously observed for luciferase [
21
]. After addition of luciferase to the CA-MNPs complex, distinctive peaks were observed for the Luc + MNP samples that match the spectral signature for neat luciferase and indicate strong binding between luciferase and the CA-MNPs. Amide-II peaks observed in the neat luciferase spectra were also observed in the luciferase-CA-MNP (Luc + MNP) spectra. In addition, the strong peaks at ~1400 and ~1350 cm
−1
and the broadening and slight shift of the Amide-I peak is indicative of strong binding interactions between the amide/amine groups of luciferase and the carboxylic acid groups on the surface of the citric-acid modified iron oxide nanoparticles [
19
].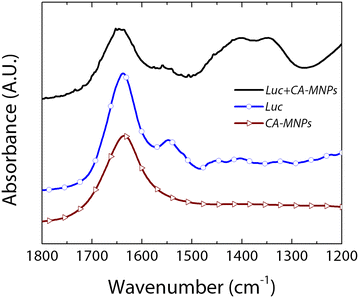 Transmission electron microscopy (TEM) was used to examine the structure and uniformity of the synthesized nanocomposites. Figure
2
a shows a high-resolution TEM image of the as-synthesized CA-MNPs; homogeneous particles, approximately 17 nm in diameter, were observed. Cryo-TEM was performed on CA-MNPs to confirm the primary particle size and gain information on the in situ nanoparticle dispersion (Fig.
2
b). Samples imaged under cryogenic conditions showed a more dispersed particle phase that is expected to be more representative of the actual dispersion in solution [
22
]. Cryo-TEM images of Luc + MNPs (Fig.
2
c) show the nanocomposite diameter ranging from 40–50 nm were observed, supporting the addition of firefly luciferase to the nanoparticles. Luc + MNP showed as distinct core–shell morphology with a lighter- colored luciferase shell (~5 nm) surrounding the darker CA-MNP core. (Note that the lighter-colored strands between and near some of the Luc + MNP structures are likely luciferase strands which have extended/unfolded during the cryogenic sample preparation and are partially coordinated with the Luc + MNPs as an effect of rapid temperature changes as discussed elsewhere [
23
]). These TEM images not only validate the formation of the Luc + MNP complexes, but also demonstrate the formation of core-shell structures, as has been reported elsewhere for luciferase complexation with silver nanoparticles [
24
].

Dynamic light scattering (DLS) was used to evaluate the diameter of CA-MNP both before (31.5 ± 1.5 nm) and after (119.7 ± 23.9 nm) firefly luciferase adsorption. The increase in particle diameter and particle size distribution (Additional file 1: Figures S1, S2) is attributed to the addition of a firefly luciferase shell. While the trends are the same, the DLS particle sizes are larger than those measured using TEM. However, the DLS data is expected to be more representative of the in situ particle sizes since the DLS data is collected in the luciferase enzyme hydrated state and the DLS experiment gives statistically significant data for the average particle sizes and particle size distributions.
Electrostatic charge on nanoparticle surfaces can be used to confirm the surface modification of nanoparticles, including binding with enzymes and proteins [24]. Here, phase-angle light scattering (PALS) measurements were used to study the surface charge of CA-MNPs at neutral pH before and after the addition of firefly luciferase on the CA-MNP periphery. For CA-MNPs, PALS data shows a negative ζ-potential (−21.5 ± 2.0 mV). After addition of luciferase, the ζ-potential of nanoparticles increased to 4.5 ± 0.5 mV. The shift from negative to positive ζ-potential values confirms that luciferase is present as a shell on the exterior in the Luc + MNPs complexes.
Spermatozoa labeling and bioluminescence imaging
This study demonstrates that luciferase-magnetic nanoparticle (Luc + MNP) composites and citric acid-magnetic nanoparticles (CA-MNPs) can be used for binding and imaging of spermatozoa. Luc + MNPs adds additional advantages as different locations on the sperm are targeted for binding and enhanced bioluminescence imaging and tracking can be performed. At this point, their additional magnetic functionality, for example to manipulate the sperm cells, was not examined; however, it will be the focus of future studies. This preliminary study shows that luciferase-modified magnetic nanoparticles is a magnetic platform that can be utilized as a possible alternative for QD-based bioimaging, and which also has potential for magnetic cellular manipulation and MRI applications. In addition, this nanocomposite system will allow for alternate or secondary surface functionality to be included, as desired, through tailored surface-modification techniques. Future studies could include examinations of the (1) optimum ratio(s) between luciferase and CA-MNPs, (2) adsorption process mechanism(s) and the resultant Luc + MNP complex structures using experimental and computational techniques [29], Luc + MNP/cell binding ratios using in vivo/vitro microscopy techniques [30], toxicity and biocompatibility effects on the as-synthesized Luc + MNPs [31], and alternate nanoscale fluorescent dyes which are emerging in cell labeling [32].
Conclusion
Magnetic nanoparticles were synthesized and complexed with firefly (Photinus pyralis) luciferase enzyme to produce a multifunctional nanocomposite, Luc + MNP. Inherent bioluminescence in the presence of mammalian spermatozoa was examined, showing Luc + MNP as a promising candidate to enhance or replace some current bioimaging technologies. By utilizing FDA-approved iron oxide magnetic nanoparticles and a natural enzyme, such as firefly luciferase, this nanocomposite has potential for a lower toxicity than quantum dots, as well as the ability to magnetically manipulate cells and track them in vivo. The results presented here demonstrate the possibility of using this luciferase-modified magnetic nanoparticle for cellular binding and imaging. Additional studies on the optimum concentrations and solution composition for cell binding and viability, cell tracking and magnetic manipulation, and time-dependence of the labeling and bioluminescence will allow for a better understanding of the parameters for implementing Luc + MNPs for assisted reproductive technologies. Other activation mechanisms (beyond coelenterazine addition), such as ATP/Mg2+ sources, are also interesting avenues for future studies.
Abbreviations
BRET:

bioluminescent resonance energy transfer-conjugated
MNPs:

magnetic nanoparticles
CA:

citric acid
CA-MNP:

citric acid coated magnetic nanoparticles
Luc + MNP:

core–shell structure with a luciferase shell around a CA-MNP core
BLI:

bioluminescence imaging
QD:

quantum dot
ART:

assisted reproduction technologies
MRI:

magnetic resonance imaging
TEM:

transmission electron microscopy
PBS:

phosphate buffer solution
Luc:

luciferase
AFM/MFM:

atomic and magnetic force microscopy
Declarations
Authors' contributions
ESV, JMF, and KBW conceived the study. ESV performed the synthesis and characterization of CA-MNP and Luc + MNP samples and drafted the manuscript. JMF along with ESV performed the incubation study, BLI, and NIR-microscopy measurements. ESV performed the AFM/MFM measurements and data analysis, and JMF performed the confocal microscopy measurements. KBW and JMF guided the experimental effort, contributed to the data analyses and technical details presented, and assisted in writing and revising the manuscript. PLR and STW participated in the design of the experimental protocol for spermatozoa manipulations and imaging and provided guidance in interpreting the results. All authors read and approved the final manuscript.
Acknowledgements
We are very grateful to Ying Xiao and Dr. Clayton Loehn at Louisiana State University for cryo- TEM imaging. We also thank Jeffrey Johnston for his assistance in the laboratory and Dr. Jaime Curbelo for fruitful discussions.
Competing interests
The authors declare that they have no competing interests.
Funding
This work has been funded by the National Science Foundation (EPS-0903787; IIA-1430364), the Office of Research and Economic Development at Mississippi State University, and the U.S. Department of Agriculture (#58-6402-3-018).
Open AccessThis article is distributed under the terms of the Creative Commons Attribution 4.0 International License (http://creativecommons.org/licenses/by/4.0/), which permits unrestricted use, distribution, and reproduction in any medium, provided you give appropriate credit to the original author(s) and the source, provide a link to the Creative Commons license, and indicate if changes were made. The Creative Commons Public Domain Dedication waiver (http://creativecommons.org/publicdomain/zero/1.0/) applies to the data made available in this article, unless otherwise stated.
Authors' Affiliations
(1)
Department of Chemical and Materials Engineering, University of Dayton, Dayton, USA
(2)
Facility for Cellular and Organismal Imaging, Mississippi State University, Mississippi State, USA
(3)
Department of Animal and Dairy Sciences, Mississippi State University, Mississippi State, USA
(4)
Department of Biochemistry and Molecular Biology, Entomology and Plant Pathology, Mississippi State University, Mississippi State, USA
(5)
Department of Pathology and Population Medicine, College of Veterinary and Medicine, Mississippi State University, Mississippi State, USA
(6)
Dave C. Swalm School of Chemical Engineering, Mississippi State University, Mississippi State, USA