Zebrafish: A complete animal model to enumerate the nanoparticle toxicity
Journal of Nanobiotechnology
2016
14:65
Received: 10 May 2016
Accepted: 5 August 2016
Published: 20 August 2016
Abstract
Presently, nanotechnology is a multi-trillion dollar business sector that covers a wide range of industries, such as medicine, electronics and chemistry. In the current era, the commercial transition of nanotechnology from research level to industrial level is stimulating the world's total economic growth. However, commercialization of nanoparticles might offer possible risks once they are liberated in the environment. In recent years, the use of zebrafish (Danio rerio) as an established animal model system for nanoparticle toxicity assay is growing exponentially. In the current in-depth review, we discuss the recent research approaches employing adult zebrafish and their embryos for nanoparticle toxicity assessment. Different types of parameters are being discussed here which are used to evaluate nanoparticle toxicity such as hatching achievement rate, developmental malformation of organs, damage in gill and skin, abnormal behavior (movement impairment), immunotoxicity, genotoxicity or gene expression, neurotoxicity, endocrine system disruption, reproduction toxicity and finally mortality. Furthermore, we have also highlighted the toxic effect of different nanoparticles such as silver nanoparticle, gold nanoparticle, and metal oxide nanoparticles (TiO2, Al2O3, CuO, NiO and ZnO). At the end, future directions of zebrafish model and relevant assays to study nanoparticle toxicity have also been argued.
Keywords
Zebrafish
Nanoparticle
Toxicity
Animal model
Background
Now-a-days, nanotechnology encompasses an increasing impact on the industrial revolution accounting for multi-billion-dollar business sector. Various industrial sectors, including tissue engineering, drug delivery, imaging, diagnostics, surface texturing, and bio-interfaces are currently using nanomaterials in their products [1, 2]. Hence, with the growing business impact of nanotechnology, Business Communications Company (BCC) projected that the nanotechnology industry was approximately 7.6 billion USD market in 2013 which further has a potential to rise up to 1 trillion USD by 2020 [3]. Nanotechnology is upcoming as a solution across a range of industrial problems and also acts as a crossroad for different enabling technologies like biotechnology, computational science, physical science, communications technology, cognitive science, and others [4, 5]. Mihail Roco of the U.S. National Nanotechnology Institute visualized four generations of nanotechnology [6] and expected that the third generation is about to appear around 2010 with different types of nanosystems and thousands of their interacting components. In accordance, until 2013, 1814 nanoparticles products are commercially available in the market [7].
Nanotechnology is known for the designing, development, description, and applications of materials at nanometer scale. Furthermore, engineered nanodevices are finding an ever-expanding range of applications due to the possibility of versatile modifications in their shape, size, surface, and chemical properties. The surface of nanomaterials can be modulated according to their application such as for drug delivery the biocompatibility of the nanomaterials can be modified and their cell specific targeting ability can also be enhanced by attaching them with targeting ligand [8, 9]. Presently, people are using a wide variety of commercially available nanoparticles for their daily utilities such as—(1) silver (Ag) nanoparticles are used in sheets and clothing, (2) titanium dioxide nanoparticles are used in different cosmetics, lotions and creams, (3) carbon nanoparticles are used in motorcycle and in bicycle, and (4) clay nanoparticles are used in beer bottles [10]. With the growing demand of nanoparticles and their commercial potential, the area of nanotoxicity has grown considerably during the last 10–15 years and we are hoping that in near future it will address our serious concern. The area of nanotoxicity also addresses the regulatory aspects for the growing explosion in nanoparticle technology. The enhanced possibility of nanoparticle exposure and their toxic effects on consumers and environment is also a thoughtful issue to be highlighted [11].
In fact, there are an increasing number of literatures that documents the concern over toxicity for broad range of engineered nanoparticles/nanomaterials such as CNT, fullerenes, graphene metal nanoparticles, metal oxides nanoparticles, crystalline materials, amorphous materials and nano-sized polymers [
12
]. Various toxicity experimental assays/model organisms are used time to time for this purpose, such as in vitro cellular assays, multi-cellular model organisms (such as daphnia and sea urchin) [
13
] and higher animal models like mice [
14
]. With the use of the compound material from in vitro to in vivo experiments, it has been observed that the higher animal models are more valuable in comparison to simple experimental models. Each and every year, the number of engineered nanomaterials and their products are continuously increasing and there is a critical need to develop representative model organism, able to assess nanotoxicity accurately and to screen the nanoparticles at throughput level. In this regard, zebrafish as an in vivo model organism has attracted scientific interest because of its unique features (Fig.
1
).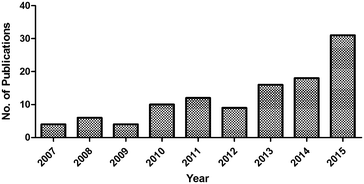 In this depth review, firstly we focused on the advantages of zebrafish that makes it a popular experimental animal model for various studies. Further, we described the different nano-toxicological assessment methods in detail. Afterwards, various nanomaterial toxicological studies conducted using zebrafish model have been emphasized. Finally, we also highlighted the drawbacks and future prospects of zebrafish model for nanotoxicity studies.
Zebrafish: a popular experimental animal model
The global acceptance of zebrafish as a modern experimental animal model is increasing gradually. This animal model is becoming popular in the fields of toxicology and biomedical research during both adult as well as embryonic stages. The reason for this wide recognition of zebrafishes as popular animal model is due to some exceptional set of characteristics it possesses. Some of them are their small size, very high reproducibility, quick development, transparency of the embryo and acquiescent to genetic as well as chemical screens [
15
,
16
]. Additionally, we can also find extensive literature on zebrafish experiments. It has been noted that zebrafish is a small sized animal and, therefore, it can be handled without any difficulty. The eggs hatch rapidly, and the larvae can start feeding after 120 h of fertilization indicating the onset of experiments on zebrafish larvae from that point [
17
]. Another advantage is that the embryos are transparent, and all cells are observable since early larval stages. In addition, organs and tissues may also be readily visualized in vivo and can be examined instantly [
18
,
19
]. Furthermore, zebrafish is known to possess high fecundity rate generating large number of embryos. As an example, the females spawn around 300 eggs per week under ultimate conditions. This may result in fecundity of >300,000 eggs per kg of the female. Additionally, it can spawn in the laboratory aquarium by adding flora and gravel into the tank [
20
,
21
]. It has also been observed that the eggs hatch rapidly and organogenesis occurs quickly. As a result, the major organs are developed within 5–6 days post-fertilization (dpf) in larvae (Fig.
2
). At the average of 350 dpf, females can attain size of 38 mm while males can attain a maximum mean size of 35 mm with a weight of 0.9 and 0.6 g, respectively [
22
]. Another major advantage of zebrafish is that the cardiovascular, nervous and digestive systems of this model animal are similar to mammals [
20
]. In addition, highly conserved signaling pathways are found both in zebrafish and humans with a high level of genomic homology [
23
]. Thus, genetic analysis assessment of a particular gene function by transgenic development and knockdown experiments can also be performed through zebrafish with an ease [
24
]. Recently, National Institutes of Health (NIH), USA, has started to encourage the zebrafish model organism for the analysis of different diseases with a genetic program [
25
]. Zebrafish genetic map has also been developed, showing >2000 microsatellite markers and 400 distinct genes. As observed, high level of resemblance exists among the human and zebrafish genomes (more or less 75 % similarity) making it a feasible animal model for analytical studies [
26
].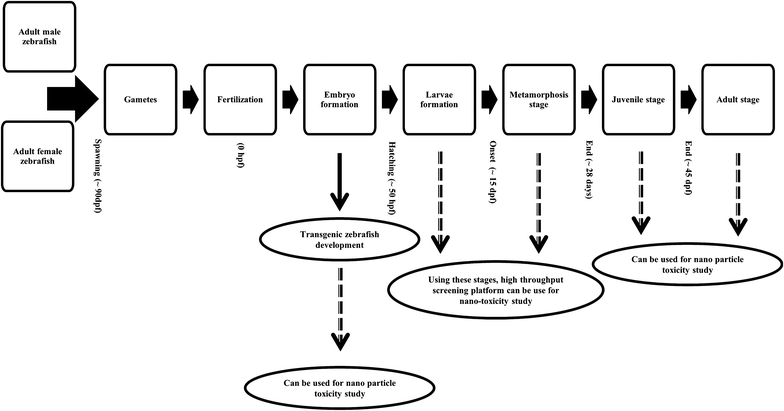 Different model organisms and uniqueness of zebrafish model to understand the toxicity
Several model organisms are been explored to understand the mechanism of various human diseases along with their genetic disorders. Frequently used organisms are yeast (Saccharomyces) [27], Drosophila [28], Caenorhabditis elegans (C. elegans) [29], zebrafish [30], mouse [31], monkey [32], and many more. Drosophila or C. elegans are outstanding models for studying the events of genetic functions related to the common molecular machine. These models help us to understand regulatory molecular machinery, such as a complex of communicating proteins or a signal-transduction pathway [33, 34]. On the contrary vertebrate model systems such as the mouse, zebrafish, and monkey are most preferred models for the human diseased state as compared to invertebrate model organisms. However, vertebrate model organisms are the most complex model systems among all of them. Both the advantages and disadvantages of all these animal model organisms are already discussed in previous reports [35, 36].
Among the entire vertebrate models the most widely studied is mouse model system. However in mouse model, some disadvantages are notable such as (1) "forward" genetics is difficult; (2) inside the mother embryonic manipulations and fetal experiments are complicated; (3) developmental stages, as well as life cycle, is moderately time-consuming; (4) high cost is involved for animal breeding and developing animal house facilities. As zebrafish offers various advantages over mouse model, it is emerging as an important model system which can connect development, disease, and toxicological studies. Henceforth, in the present scenario zebrafish can be represented as an interesting tool for assessing nanoparticle toxicity [20].
Different assessment methods to evaluate nanoparticle toxicity
In respect to various advantages offered by zebrafish, as discussed above, it is a unique model from the view point of the environment and human safety (EHS). The information produced from nano EHS studies can help to manage the risk of nanomaterials and nanotechnology related products in near future. The information may also assist us in framing the effective guidelines on protective measures, quality controls, and design strategies for improving nanomaterials and minimizing toxicity [37–39]. Using this model organism, several specific protocols have been used for the toxicity screening which are as follows:
Nanotoxicology in zebrafish
Nanotoxicology is an interdisciplinary field, cross-linking various subjects such as chemistry, physics, biology, medicine and toxicology [93, 94]. Though, this area has many applicative approaches yet it is still in nascent form and the majority of the nanotoxicology studies are confined only within in vitro models. Some research groups performed toxicological studies using animal models (in vivo) which are supposed to be significant due to the diversity in animal physiology and anatomy in animal models. Recently, for this purpose zebrafish is proposed as one of the most successful model and notable advancement has been made in nanotoxicology studies using zebrafish as animal model [95]. This section categorizes some of the currently available toxicity data of several nanoparticles which has been studied using zebrafish model.
Drawbacks of zebrafish model for nanotoxicity study
To evaluate the toxicity profile of nanomaterials, zebrafish model was used in various studies as an in vivo model system. The toxicity level of these nanoparticles was assessed by observing the malformations and functional defects in zebrafish. However, it is very clear from the literature survey that nanomaterial based immunotoxicity assay is still lacking. Additionally, due to the rapid developmental stages in zebrafish it is very difficult to perform systematic embryo-based nano-toxicity assays. However, automation and advanced technologies can help in nano-toxicity screening with zebrafish embryos. Several nanomaterials are used for the therapeutic purpose such as drug delivery and antimicrobial therapeutics. Therefore, it is needed to understand the absorption, distribution, metabolism and excretion (ADME) properties of these nanomaterials. However, it is ambiguous that how ADME assay will perform in zebrafish model after nano-drug delivery.
Future prospects
Zebrafish has shown its enormous potential as an in vivo model for nanomaterial toxicity study. Presently, various molecular biology techniques and zebrafish model transgenic lines have been developed for this purpose. Various zebrafish microarrays and huge genomic resources are nowadays available for nanotoxicity evaluation. All these advance resources makes zebrafish an extremely multipurpose system for toxicogenomic studies of nanomaterial in the very near future. Proteins and genes expression studies of zebrafish development have the huge possibility to uncover the still debated nanomaterial toxicity. Although, high throughput screening systems using larval stages of zebrafish is already being exploited for nanomaterial toxicity study, there is still an enormous potential for nanomaterial toxicity assays.
Conclusion
Presently, zebrafish have become a smart vertebrate model for toxicological testing. In Germany, the zebrafish embryo test was introduced as a standardized ISO program in the evaluation of chemicals. This assay can be used for water testing to evaluate the level of environmental contaminants [138]. Furthermore, this animal model is much faster, cheaper and more efficient animal model for more than a decade [139], and this model is used for toxicological testing of nanomaterial. With the use of modern technology, the zebrafish might be able to become a significant alternative of other mammalian models for toxicological testing of nanomaterial in forthcoming years.
Abbreviations
hsp70:

heat shock protein 70
eGFP:

enhanced green fluorescence protein
ROS:

reactive oxygen species
DsRED:

zebrafish transgenic lines that express green or red fluorescent proteins
lysC:

lysozyme C
FLI-1 gene:

friend leukemia integration 1gene
Declarations
Authors' contributions
CC, ARS and GS collected the data and drafted the manuscript. ARS and SSL revised and edited the manuscript. All authors read and approved the final manuscript.
Acknowledgements
This research was supported by Hallym University Research Fund, by Basic Science Research Program through the National Research Foundation of Korea (NRF) funded by the Ministry of Education (2014R1A1A4A03009388), and by a grant of the Korea Health Technology R&D Project through the Korea Health Industry Development Institute (KHIDI), funded by the Ministry of Health & Welfare (HI12C1265), Republic of Korea.
Competing interests
The authors declare that they have no competing interests.
Open AccessThis article is distributed under the terms of the Creative Commons Attribution 4.0 International License (http://creativecommons.org/licenses/by/4.0/), which permits unrestricted use, distribution, and reproduction in any medium, provided you give appropriate credit to the original author(s) and the source, provide a link to the Creative Commons license, and indicate if changes were made. The Creative Commons Public Domain Dedication waiver (http://creativecommons.org/publicdomain/zero/1.0/) applies to the data made available in this article, unless otherwise stated.
Authors' Affiliations
(1)
Department of Bioinformatics, School of Computer and Information Sciences, Galgotias University, Greater Noida, India
(2)
Institute of Skeletal Aging and Orthopedic Surgery, Hallym University-Chuncheon Sacred Heart Hospital, Hallym University, Chuncheon, Republic of Korea