Real-time, label-free monitoring of cell viability based on cell adhesion measurements with an atomic force microscope
Journal of Nanobiotechnology
2017
15:23
Received: 16 November 2016
Accepted: 8 March 2017
Published: 22 March 2017
Abstract
Background
The adhesion of cells to an oscillating cantilever sensitively influences the oscillation amplitude at a given frequency. Even early stages of cytotoxicity cause a change in the viscosity of the cell membrane and morphology, both affecting their adhesion to the cantilever. We present a generally applicable method for real-time, label free monitoring and fast-screening technique to assess early stages of cytotoxicity recorded in terms of loss of cell adhesion.
Results
We present data taken from gold nanoparticles of different sizes and surface coatings as well as some reference substances like ethanol, cadmium chloride, and staurosporine. Measurements were recorded with two different cell lines, HeLa and MCF7 cells. The results obtained from gold nanoparticles confirm earlier findings and attest the easiness and effectiveness of the method.
Conclusions
The reported method allows to easily adapt virtually every AFM to screen and assess toxicity of compounds in terms of cell adhesion with little modifications as long as a flow cell is available. The sensitivity of the method is good enough indicating that even single cell analysis seems possible.
Keywords
AFM
Cell adhesion
Fast-screening measurement
Gold nanoparticles
Cytotoxicity
Cell viability
Background
The cell membrane is more than just a passive lipid bilayer barrier. Of special relevance, cell membrane proteins are an integral part of the cellular machinery concerning sensing and reacting to what surrounds the cell, through different processes such as signaling, transport and immune response. In particular, cell adhesion molecules and their main function, i.e., cell adhesion, are of prime importance on cell biology and medicine, being a key player on several biological processes such as tumor invasion and metastasis [1], stem-cell fate [2] and cell death and/or growth arrest [3]. Cell detachment, or loss of anchorage in adhesive cells, is a common marker of cell death [4], which could be monitored as a sign of cytotoxicity. For instance, intracellular signals caused by the intracellular accumulation of exogenic agents (e.g. toxins, drugs, nanoparticles, etc.) at toxic concentrations can in general cause cell detachment [5], followed by cell death.
In order to evaluate the safety of a new agent, variety of in vitro cell-based assays is often employed. One feasible strategy to evaluate the potential toxic effects of an unknown compound will be, in the first stage, to evaluate basal cytotoxicity (by using for instance screening assays), and second assess the specific types of toxicity [6] (i.e. to understand the cause cell injury). There are several cell-based assays used to evaluate cytotoxicity, including methods to monitor the function of organelles, cell viability, to track cellular components, etc. Cell viability assays are among the most frequently used methods in all form of cell cultures [7]. There are a variety of cell viability assays that could be used to monitor enzymatic activities or general metabolism, some of those assay include the resazurin and tetrazolium reduction, as well as protease activity methods [8].
Most frequently employed standard cytotoxicity methods to assess cell death, including cell viability and proliferation assays, rely on extrinsic labeling or reporter agents which, once internalized, interact with specific cell components providing a signal, typically colorimetric, fluorescent, or bioluminescent. The measured signal can be then related to different cellular parameters that are evaluated and associated in terms of cell viability, such as the activity of mitochondrial enzymes, for instance the succinate dehydrogenase, the intactness of cell membranes, adenosine triphosphate production, etc. [9]. The major limitation of these in vitro methods to evaluate cytotoxicity is that they may be affected by interferences between the compounds and the read-out signal. As example, metallic nanoparticles (NPs) may interact specifically or non-specifically with the reagent or substrate of the assay [10, 11]. Fluorescent NPs may cause crosstalk with fluorescence read-out of the assay. Further-more, some of the conventional toxicity methodologies are single endpoint assays, i.e., fail to provide real-time continuous monitoring of cell viability, as the assay itself interferes with cell viability [12]. As an alternative to the classic cytotoxicity methods, electrode-impedance-based methods have emerged as a powerful label-free analytical tool to assess cell characteristics [13, 14], including cell viability [15], adhesion, cycle, metastasis, migration, and invasion.
Mass sensors based on micro- and nanomechanical resonators represent a class of ultra-sensitive sensors with enormous potential in the biomedical field [16], with the capability of weighing single cells and single nanoparticles in fluids [17]. Mechanical biosensors have been widely used for ultrasensitive detection of pathogens [18], and also some work has attempted to dynamically inspect living cells [19–24]. There is also some recent work which addresses dynamic (>1 h) qualification of cell viability by a micromechanical mass sensor [25].
Here we report on a micromechanical mass-sensing platform for label-free continuous monitoring (4–5 h) of intoxication in terms of loss in cell adhesion by using the oscillating cantilever of an atomic force microscope (AFM) as probe (more details see in the Additional file 1). AFM is a powerful tool to measure very small forces between a cantilever tip and a surface on the nanoscale, even if the surface to be inspected is soft and submerged in a liquid, e.g., cells in solution. With AFM binding forces between two molecules [26], adhesion of molecules to surfaces [27], adhesion of cells to surfaces [28], or cell to cell adhesion [29] can be recorded. As AFM also allows for lateral resolution also local properties of cell surfaces can be raster-scanned, such as topography [30], localization of adhesion sites [31], local electro-mechanical signaling [21], or local viscoelastic properties [32, 33]. In the following, an assay will be described, in which cell detachment from the cantilever of an AFM is recorded. Hereby the loss of cell adhesion upon cellular exposure to toxic agents, e.g., NPs or chemicals, is monitored.
In general, normal cells could initiate cell death when lost of cell attachment/contact to the extracellular matrix (ECM) occur [3, 34]. Indeed, it is known that disruption of cell adhesion and cell–matrix interactions with successive detachment of cells may be related to signs of cell death [35]. The importance relays on the fact that cell attachment to ECM plays a central role in cell physiology for instance in cell morphology, proliferation, motility among others [36]. Therefore, in the present study we presented a complementary method to monitor loss of cell detachment, a fast-screening-technique to assess dose dependent toxicity using AFM based methodology. The results obtained with this methodology could possibly be associated to early sign of cell death (before cell death is perceptible). To demonstrate the feasibility of the approach proposed, as control, the results obtained from the cantilever were associated with the results obtained with a common conventional cell viability test, the resazurin assay.
Results and discussion
In our method, a triangular cantilever (SNL-10, k = 0.12 N/m, f
0
= 23 kHz, Bruker Co) is mounted in a chamber with controlled equilibrated temperature, which can be flushed with different solutions (e.g., NPs or chemical agents in different media and concentrations). Optical images of the cantilever at individual steps of the experiment are shown in Fig.
1
. The injection system is schematically shown in Fig.
2
a. For a given frequency the cantilever amplitude is highly dependent on the mass of the cantilever or, in our case, on the mass of the cantilever with cells attached (details see in Additional file
1
). Because cells attached to different position on the cantilever can have different impact on the deflection, finite elements model can be used for extending the theoretical results of the triangular cantilever [
37
] (description of finite element model about triangular cantilever in Additional file
1
) and in order to control the eventual variations due to cells, the cantilever preparation and characterization are performed for each experiment, i.e., calculation of spring constant before and after experiment, determination of the resonance frequency and deflection sensitivity, to identify that the variance of the deflection is the most appropriate means of analyzing and comparing the data from the different experiments. Figure
2
b schematically depicts the method by showing the successive steps through which the cantilever's dynamic deflection was recorded: (1) The readily mounted cantilever started oscillating in air and then flooded with cell medium, meanwhile the deflection will remain at the initial level. (2) A cell suspension (120 µL of a solution of human cervical cancer HeLa cells at 10
5
cells/mL) was injected into the sample chamber and was left for ca. 1 h to allow the cells to sediment and eventually attach to the surface of the cantilever [
38
]. During this time, the deflection amplitude increased due to the added cell mass. (3) In order to study the effect of chemical agents or NPs on cell adhesion, cells were exposed to these agents/NPs at different concentrations. Upon impairment of cells by these substances, cells could lose contact to the AFM cantilever, and the effects on cell adhesion could be monitored and evaluated. Cell detachment is visible as change of mass of the cantilever-cell system. (4) Finally, the cell is flushed with 70% EtOH and PBS buffer to remove all cells and prepare the system for the next measurement. After the rinsing step, the cantilever is optically inspected to confirm that no rest from the previous experiment were present, which is also confirmed by the reset of the real-time deflection to the initial equilibrium (cf., the deflection of pure medium and PBS in Additional file
1
).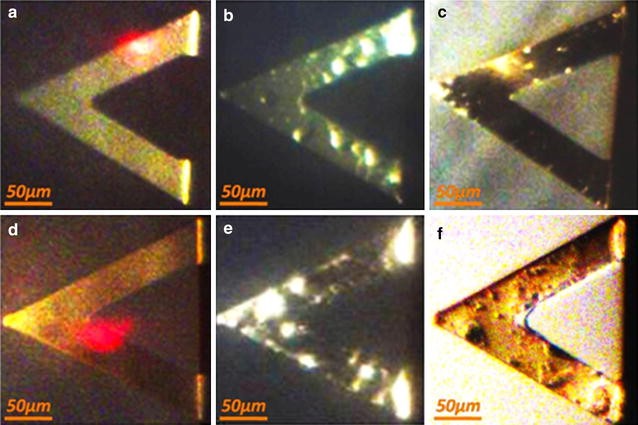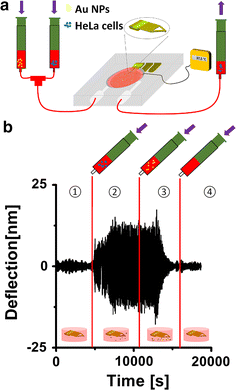 As a proof of concept, cells were exposed to differently sized and coated gold nanoparticles (Au NPs), as well as other toxic agents, such as ethanol (70%), CdCl2, and staurosporine (STS) as a common agent typically used to trigger apoptosis [39]. The effects on cell adhesion upon exposure to NPs and chemical agents at different concentration and time points, were evaluated using the above described setup. Au NPs were used as a NP model in this study because they are interesting materials for biomedical application [40] and thus their biocompatibility needs to be further studied. For instance, it has been reported that the metallic surface of Au NPs could trigger catalytic reactions and cause generation of reactive oxygen species (ROS) [41]. Generation of ROS could damage cellular process and induce ROS associate-toxicity through several mechanisms. Indeed, oxidative stress induced for NPs have been shown. Those cell responses need to be taken in consideration when evaluating possible cytotoxicity effects induced by NPs [42, 43].
In the present study, the effects of three different types of Au NPs with different surface coating and size were evaluated. In general, parameters such as the organic coating around the NPs (e.g., intended as result from synthetic surface modification, or non-intended as result from the absorption of macromolecules from the cell media), size, shape, dose, among others, will affect the impact of the NPs on cell function and morphology, typically by impairing metabolic activity, mitochondrial function, as well shaping the degree and pathway(s) of NP internalization by cells [44].
In the present study we used Au NP suspension having varying NP concentrations (3–400 nM). In Fig. 2b, the AFM data after injection of 50 nM of Au NPs into the sealed and temperature-controlled (37.5 °C) sample chamber is shown. Generally, Au NPs are internalized by cells by different mechanisms, one of the most common pathway is endocytosis [45]. After a lag-phase of ca. 1 h, a time that is typically sufficient for internalization of some Au NPs, a diminishing dynamic amplitude in the AFM signal was observed, resulting in loss of cell adhesion which we ascribed to onset of cytotoxicity. In fact, upon exposure of cells to a potentially dose-dependent toxic agent, cells may change their adhesion properties and be gradually detached from the oscillating cantilever, which would be accompanied by the decrease of the cantilever amplitude, and in this manner recorded. In order to regenerate the cantilever in situ 150 mL of a solution of ethanol (70%) and PBS buffer were injected, respectively. 70% ethanol is known to kill cells. PBS then washed the remaining cell debris away, thus clearing the cantilever, and reduced the amplitude of the cantilever oscillation to the initial value. This process was repeated twice, so that the cantilever will be clearly rinsed and then more measurements may be accomplished during a single session with cells from the same batch. Just before the next measurement and in particular, before cells were injected to the measuring chamber, cell medium was injected again, in order to keep the chamber in conditions suitable for cell culture. The current deflection accompanied with optical images is used for checking the state of the cantilever and chamber.
For a more detailed and comprehensive evaluation of the presented method, the effects of three different types of Au NPs on cells were investigated (details can be found in "
Methods
"): (i) Au(5)-PMA, i.e., Au NPs having a core diameter of 5 nm which are grafted with poly(isobutylene-alt-maleic anhydride) dodecylamine (in the following referred to as PMA); (ii) Au(13)-PMA, i.e., Au NPs having a core diameter of 13 nm coated with PMA [
46
]; (iii) Au(13)-PEG, i.e., Au NPs having a core diameter of 13 nm coated with polyethylene glycol (PEG) [
47
]. Unless otherwise specified a concentration range from 3 to 400 nM (in terms of NP concentration) was tested. For comparison, other common toxic agents were used, such us ethanol (70%), CdCl
2
, and STS (3 nM–1 µM). Two different cells lines were used for those studies, the human cervical cancer cells (HeLa) and the breast adenocarcinoma cells (MCF7). The dynamic effects on cells caused by the NPs or the chemical agents were monitored by the deflection versus time curves shown in Fig.
3
a, b. The agents were injected to the cantilever at different concentrations. Then, after about 1 h exposure, the measurement started (indicated by the red line). After a lag phase, which depended on the agent used, as well as on the dose, cells started to detach (blue line), as indicated by the diminishing deflection amplitude. Notice, that there are no significant changes before NPs have been added, i.e., during the 1 h prior to injection of the agents. After that, the oscillation shows an exponential attenuation, described by a damping coefficient, here referred to as damping value B. The B value is thus an indication for the amplitude damping rate, that is, the damping increases with an increase of B (details about derivation in Additional file
1
). The B values extracted from the amplitude decay caused by detachment of cells in each case were quantitatively calculated by a home-made program (details in Additional file
1
) (cf., Fig.
3
a, b). All original data showing the whole dynamic process for different agents, times and doses are shown in the Additional file
1
. Taken these data together, the different B values are condensed into the heatmaps shown in Fig.
3
c for HeLa cells and Fig.
3
d for MCF7 cells. The following results can be extracted from these heatmaps: (1) In case the same PMA-coating is used, bigger NPs (i.e. diameter of inorganic core of 5 vs. 13 nm), at the same NP concentration, induce a faster onset of cell detachment. (2) In case the NPs had the same diameter of inorganic core (13 nm) and similar surface charge, but different organic coatings (PMA versus PEG) were used, cell detachment is less pronounced for the PEG-coated NPs, probably due to less efficient internalization, as expected from such coatings [
48
]. (3) Ethanol (necrosis-trigger agent), CdCl
2
, and staurosporine (apoptosis-trigger agent) were used as references in order to underline the general applicability of the method, and to demonstrate that it is not limited to detecting cell detachment due to presence of NPs. As expected, ethanol and CdCl
2
show early and very fast cell detachment indicative of efficient necrotic agents, while STS shows late and slow cell detachment indicative of apoptosis [
49
]. The B values versus concentration data points were fitted with logistic curves for both cell lines (cf. Fig.
4
), yielding a "half-detachment-dose" value for each agent, so that trends can be extracted. In order to verify that our method could be used to detect and measure toxicity of agents to cells for reference, we evaluated the effects of NPs and compounds exposed to HeLa and MCF7 cells on their cell viability. For that, we used a common cell viability method, the resazurin assay, used to evaluate the metabolic activity of the cells (cf., data in the Additional file
1
). This cell viability method was used as a reference control method to compare with the cantilever measurements obtained. As the AFM measurements were carried out without CO
2
control, the resazurin assays were carried out in the presence or absence of CO
2
(to mimic the conditions of the cantilever, i.e. without CO
2
, and standard protocols, i.e. with CO
2
). Indeed, the same toxicity trends were observed for the resazurin as for the AFM measurements. There is however one advantage of the AFM assays. In the resazurin assays measurements for different time points have to be carried out separately, while the AFM assays in principle allows for continuous real-time recording.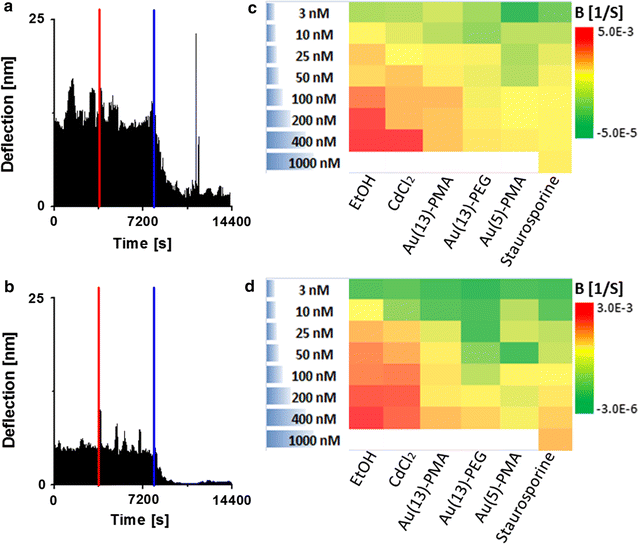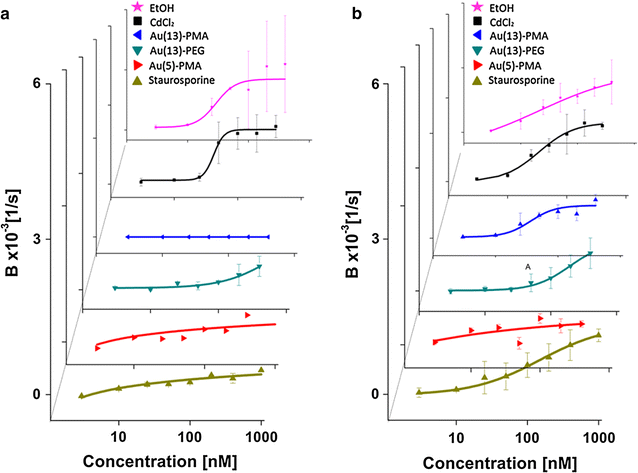 Conclusions
The results obtained in this work suggest that the presented method is a generally applicable fast-screening-technique based on label-free real-time monitoring tool, which uses cell detachment from an oscillating cantilever to measure cell intoxication. After desired exposure time, the release rate of cells (as quantified in terms of damping values B) from the cantilever was extracted. We speculate that in future, this method may be applied even to single cells or other cell types such as primary cultures.
Declarations
Authors' contributions
FY designed the method and organized research. RR wrote the software and contributed to the measurements. PDP, BP and MS synthesized, purified and characterized the NPs. AHS, SRP, NF and UB offered the cells and run the cell-assays. PDP, WJP and NH suggested the research plan and experiments. FY, PDP, WJP, NF and NH wrote the manuscript. All authors read and approved the final manuscript.
Acknowledgements
The help of Dr. H-C. Kim in programming the calculation software is gratefully acknowledged. The authors thank Dr. S. Ashraf for help in cell culture at the initial stages of the project.
Competing interests
The authors declare that they have no competing interests.
Availability of data and materials
All data generated or analyzed during this study are included in this published article (and its additional information files).
Funding
This work was financially supported in part by DFG Grant PA 784/25-1 to WJP.
Open AccessThis article is distributed under the terms of the Creative Commons Attribution 4.0 International License (http://creativecommons.org/licenses/by/4.0/), which permits unrestricted use, distribution, and reproduction in any medium, provided you give appropriate credit to the original author(s) and the source, provide a link to the Creative Commons license, and indicate if changes were made. The Creative Commons Public Domain Dedication waiver (http://creativecommons.org/publicdomain/zero/1.0/) applies to the data made available in this article, unless otherwise stated.
Authors' Affiliations
(1)
Department of Chemistry, University of Marburg, Marburg, Germany
(2)
Department of Physics, University of Marburg, Marburg, Germany
(3)
Department of Pharmacy, University of Marburg, Marburg, Germany
(4)
CIC biomaGUNE, San Sebastián, Spain
(5)
Material Science Center, University of Marburg, Marburg, Germany