A signal amplification assay for HSV type 1 viral DNA detection using nanoparticles and direct acoustic profiling
Journal of Nanobiotechnology
2010
8:3
Received: 5 November 2009
Accepted: 14 February 2010
Published: 14 February 2010
Abstract
Background
Nucleic acid based recognition of viral sequences can be used together with label-free biosensors to provide rapid, accurate confirmation of viral infection. To enhance detection sensitivity, gold nanoparticles can be employed with mass-sensitive acoustic biosensors (such as a quartz crystal microbalance) by either hybridising nanoparticle-oligonucleotide conjugates to complimentary surface-immobilised ssDNA probes on the sensor, or by using biotin-tagged target oligonucleotides bound to avidin-modified nanoparticles on the sensor. We have evaluated and refined these signal amplification assays for the detection from specific DNA sequences of Herpes Simplex Virus (HSV) type 1 and defined detection limits with a 16.5 MHz fundamental frequency thickness shear mode acoustic biosensor.
Results
In the study the performance of semi-homogeneous and homogeneous assay formats (suited to rapid, single step tests) were evaluated utilising different diameter gold nanoparticles at varying DNA concentrations. Mathematical models were built to understand the effects of mass transport in the flow cell, the binding kinetics of targets to nanoparticles in solution, the packing geometries of targets on the nanoparticle, the packing of nanoparticles on the sensor surface and the effect of surface shear stiffness on the response of the acoustic sensor. This lead to the selection of optimised 15 nm nanoparticles that could be used with a 6 minute total assay time to achieve a limit of detection sensitivity of 5.2 × 10-12 M. Larger diameter nanoparticles gave poorer limits of detection than smaller particles. The limit of detection was three orders of magnitude lower than that observed using a hybridisation assay without nanoparticle signal amplification.
Conclusions
An analytical model was developed to determine optimal nanoparticle diameter, concentration and probe density, which allowed efficient and rapid optimisation of assay parameters. Numerical analysis and subsequent associated experimental data suggests that the response of the mass sensitive biosensor system used in conjunction with captured particles was affected by i) the coupled mass of the particle, ii) the proximal contact area between the particle and the sensor surface and iii) the available capture area on the particle and binding dynamics to this capture area. The latter two effects had more impact on the detection limit of the system than any potential enhancement due to added mass from a larger nanoparticle.
Keywords
Gold NanoparticlesHerpes Simplex VirusGold ParticleFlow CellQuartz Crystal Microbalance
Background
The detection of pathogen-specific nucleic acid sequences provides a precise and accurate method for clinical and environmental screening. Real-time, label-free biosensors have the potential to provide rapid and precise detection of nucleic acids, provided that sample preparation (including nucleic acid extraction) is accomplished without user intervention, and the requisite sensitivity and specificity for detection is achieved. As a label-free method, quartz crystal microbalance (QCM) technology provides a rapid and effective method for the detection of both protein analytes (antigen immunoassays) and nucleic acid testing (NAT). The frequency change of a QCM biosensor can be described in terms of the total mass of the bound molecules, associated shear modulus imparted by the bound analyte layer and the non-binding bulk viscosity and density changes of the liquid adjacent to the sensor surface [1]. Inclusion of additional mass in the form of nanoparticles conjugated to a specific sequence recognition element enables the detection of significantly lower concentrations of DNA or RNA fragments.
There are two principle ways in which nanoparticles are used for NAT enhancement. In the first method, nanoparticles are conjugated to target oligonucleotides that hybridise to the probe on the sensor surface [2–4]. In the second method, biotin tagged target oligonucleotides bind to avidin-modified nanoparticles [4–7]. The latter scheme is relatively simple to implement since avidin modified nanoparticles can be used for different DNA sequence detection assays, whereas the former method requires specific oligonucleotide modified nanoparticles for individual assays. Additionally the assay can be performed either as homogeneous or heterogeneous assay formats [4, 8–12]. For example Mao et al. used streptavidin modified ferric oxide nanoparticles (ca. 145 nm diameter) for the detection of Escherichia coli O157:H7 [5]. By employing a heterogeneous assay format with a 10 minute hybridisation period followed by a 10 minute signal enhancement with nanoparticles under flow, they achieved a detection limit of 10-12 M for synthetic DNA sequences. Pang et al. employed DNA probe-modified 13 nm gold nanoparticles to detect specific sequences from the β-thalassemia gene [13]. By means of a heterogeneous assay and one hour hybridisation at 55°C in a static cell followed by a further hour incubation with nanoparticles, they achieved a detection limit of 2.6 × 10-9 M. Liu et al. modified a QCM sensor surface with gold nanoparticles to increase the available surface capture area, then enhanced the hybridisation signal with gold nanoparticles derivatised with thiolated complimentary DNA [14]. In this case, the hybridisation assay was performed for two hours at 40°C in a static cell with a resultant a detection limit of 10-16 M. Whilst these assay formats can deliver impressive limits of detection, they suffer from long incubation times and/or complex amplification procedures requiring multiple steps that are not suited to a rapid, point of care test format.
In the current study, we describe the detection of specific, conserved DNA sequences of herpes simplex virus (HSV) type 1. HSV causes recurrent mucosal infections of the eye, mouth and genital tract. HSV type 1 establishes a lifelong latent infection within the host which can subsequently reactivate to cause recurrent infections and occasionally life threatening HSV encephalitis. The probe and complementary target sequence used for the HSV recognition assays was from VP16 gene region of HSV viral sequence, which encodes for an essential structural protein and also functions as a major virion trans-activator of virus gene expression [15]. HSV regulatory protein VP16 plays key roles to stimulate viral gene expression during the earliest stages of infection, thus it is relevant to diagnose clinical HSV infection by detecting the genes encoding VP16 as this is an important replication and virulence determinant.
The objective of this study was to investigate the optimal methodology for signal enhancement with gold nanoparticles to enable both sensitive and rapid HSV viral sequence detection. In our previous study [16] we observed that a semi-homogeneous assay format (in which probe and complimentary target are pre-mixed in solution) led to a lower assay detection limit than a heterogeneous, two-step flow-based assay. Completely homogeneous assays are advantageous in that they allow single step, rapid tests that require minimal amounts of sample and are easier to embody in a device suitable for point-of-care diagnostic testing. In this study the results of semi-homogeneous and completely homogeneous assays were compared for both NeutrAvidin (NA) and NA-modified gold nanoparticle signal enhancement methods. An analytical model for the optimal nanoparticle diameter, concentration and probe density was developed to allow selection of a sub-set of subsequent experimental conditions for evaluation.
Materials and methods
Resonant acoustic profiling (RAP) experiments were conducted using an automated four-channel RAP ◆ id 4 instrument (RAP ◆ id 4; TTP Labtech, Royston, UK). The instrument applies the principles of QCM sensing, in that a high frequency (16.5 MHz) oscillating voltage is applied to a piezoelectric quartz crystal to induce the crystal to resonate, and its resonance frequency is then monitored in real time. RAP ◆ id 4 integrates acoustic detection with a continuous flow micro fluidic delivery system, a thermal control unit, and automated sample handling. Four individual flow cells enable up to four measurements to be performed simultaneously. The volume of each flow cell used in this study was 900 nl. The time required to exchange the complete volume of the flow cell could be set as low as 2.2 seconds at a flow rate of 25 μl/min and as high as 14 milliseconds at a flow rate of 4000 μl/min. In order to minimise sample consumption, 25 μl/min was employed for the pathfinder assay development. Baseline drift observed during the study was 0.25 ± 0.15 Hz (n = 12) after docking and priming the sensor chips. The operating temperature was 25 ± 0.5°C throughout the assays.
Preparation of NeutrAvidin modified gold nanoparticles
NeutrAvidin modified gold nanoparticles were synthesized by derivatizing 1 ml of aqueous gold nanoparticles (BBInternational, Cardiff, UK) with 6 μl of a 1 mg/ml solution of NA. The mixture was incubated for an hour on a shaker at room temperature. Then 100 μl of 10 mg/ml BSA was added and allowed to stand on a shaker for further 20 minutes, followed by centrifugation to remove excess reagents. The supernatant was removed; then 33 μl 10 mg/ml BSA, 100 μl Tris buffer (20 mM Tris-HCl, 150 mM NaCl, 1 mM EDTA, pH 7) and 1 μl of 5% sodium azide were added. The modified gold nanoparticles were stored at 4°C and warmed to room temperature before use.
Sensor Surface Preparation
AKT
◆
iv
Covalent sensor chips (TTP Labtech, Royston, UK) were employed for the assays. Sensor surfaces were prepared by immobilising NeutrAvidin (NA; Perbio Science UK Ltd, Cramlington, UK) on sensors using conventional amine coupling chemistry. The running buffer used for immobilisation was degassed Dulbecco's modified phosphate buffered saline (PBS, pH 7.4; Sigma-Aldrich, Poole, UK). The flow rate of the buffer for the assay was 25 μl/min. Sensor surfaces were first activated with a 1:1 mixture of 400 mM EDC and 100 mM NHS (LINK
◆
it
Coupling Solution kit; TTP Labtech, Royston, UK), prepared in 0.22 μm-filtered deionised water, and mixed immediately prior to use (final concentrations; 200 mM EDC and 50 mM NHS). EDC-NHS was injected simultaneously across all four sensor surfaces for 3 minutes. NA (50 μg/mL in PBS buffer) was then injected simultaneously across sensor surfaces for 3 minutes. Non-reacted NHS esters were capped with 1 M ethanolamine, pH 8.5 (LINK
◆
it
Coupling Solution kit; TTP Labtech, Royston, UK). Frequency changes relating to protein coupling were recorded 2 minutes after the protein injection was completed. After NA immobilisation, the running buffer was changed to Tris buffer comprising 20 mM Tris-HCl, 150 mM NaCl, 1 mM EDTA, pH 7. Biotinylated complementary surface probe and scrambled surface probe (biotinylated probes; TIB Molbiol, Berlin, Germany; Table
1
) were diluted in Tris buffer to 10 μg/ml and injected separately over different flow cells for 3 minutes to create active and control surfaces. The frequency changes of the biotinylated probes captured were recorded 4 minutes after the end of the injection.
Table 1
Nomenclatures and sequences of HSV type 1 and control oligonucleotides.
Name

DNA Sequence

VP16 Surface probe

5'-Biotin- CTC GTT GGC GCG CTG AAG CAG GTT TTT G-3'

-3'

VP16 Scrambled surface probe

5'-Biotin-ACC TGG GCA TGT ATG GTG TCG TCG CGT T-3'

-3'

VP16 Target sequence

5'-AAA ACT TCC GTA CCC CT CA A AA A CC T GC T TC A-3'

VP16 Detection probe

5'-GGG TAC GGA AGT TTT TCA CTC GAC - Biotin-3'
Hybridisation Signal Enhancement Assay
Running buffer used for the assay was Tris buffer comprising 20 mM Tris-HCl, 150 mM NaCl, 1 mM EDTA, 0.05% Tween 20, pH 7. Initially 10 mM Biotin (Sigma-Aldrich, Poole, UK) in Tris buffer was injected for 1 minute to block the remaining active sites of the NA layer then semi-homogeneous and homogeneous assays were performed for VP16 target detection.
Semi-homogeneous assay
The VP16 target sequence and VP16 detection probe were hybridised in a tube at 55°C for 3 minutes at required concentrations; VP16 detection probe concentration being at least twofold higher concentration than the VP16 target sequence concentration. The resultant hybridised material was then injected over the sensor surface to be captured by VP16 surface probe. Subsequently, to increase the signal NA or NA modified gold nanoparticle solutions were injected for 3 minutes (Figure
1 - A
). The frequency change due to the binding was recorded 180 seconds after the injection started.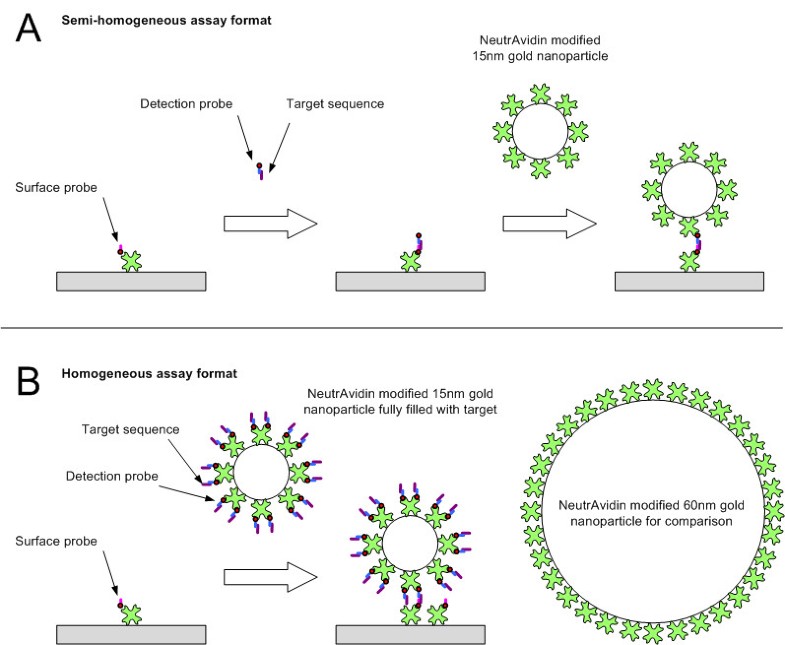 Homogeneous assay
The VP16 target sequence and VP16 detection probe were hybridised at 55°C for 3 minutes at required concentrations; VP16 detection probe concentration being at least twofold higher than the VP16 target sequence concentration. Depending on the assay evaluated either NA or NA modified gold nanoparticles was then added to the hybridised VP16 target and detection probe solution. Subsequently this mixture was injected across the sensor surface coated with surface probe as described above (Figure 1 - B). The frequency change was recorded 180 seconds after the beginning of the injection.
Conclusion
In this paper we demonstrated a sensitive and rapid assay for the detection of HSV 1 viral sequences. With use of 15 nm gold nanoparticles and a 6 minutes assay time, three orders of magnitude lower sensitivity was obtained than the assay without nanoparticles amplification. There are several reports cited herein that describe empirical results using different sized nanoparticles for near identical or similar assays, and for which detection sensitivities are observed to vary by several orders of magnitude. However, to the best of our knowledge, this work is the first example of a detailed theoretical analysis towards a better understanding of the mechanisms that lead to such differences and the somewhat counterintuitive observation that a small diameter particle leads to greater sensitivity in a mass-based biosensor assay.
Declarations
Acknowledgements
Matthew Cooper and Yýldýz Uludağ would like to express their gratitude to the National Institute of Allergy And Infectious Diseases for partial financial support, NIH Grant Number AI-061243-02.
RAP, RAP ◆ id, AKT ◆ iv, LINK ◆ it are registered trademarks of TTP Labtech, part of TTP Group PLC (UK).
Authors' Affiliations
(1)
Cranfield Health, Cranfield University, UK
(2)
Cambridge Medical Innovations, Cambridge, UK
(3)
Institute for Molecular Bioscience, University of Queensland, St Lucia, Australia
Copyright
© Uludağ et al; licensee BioMed Central Ltd. 2010
This article is published under license to BioMed Central Ltd. This is an Open Access article distributed under the terms of the Creative Commons Attribution License (http://creativecommons.org/licenses/by/2.0), which permits unrestricted use, distribution, and reproduction in any medium, provided the original work is properly cited.