Emerging Applications of Bacterial Spores in Nanobiotechnology
Journal of Nanobiotechnology
2003
1:6
Received: 26 November 2003
Accepted: 15 December 2003
Published: 15 December 2003
Abstract
Bacterial spores are robust and dormant life forms with formidable resistance properties, in part, attributable to the multiple layers of protein that encase the spore in a protective and flexible shield. The coat has a number of features pertinent to the emerging field of nanobiotechnology including self-assembling protomers and the capacity for engineering and delivery of foreign molecules. This review gives an account of recent progress describing the use of the spore, and specifically, the spore coat as a vehicle for heterologous antigen presentation and protective immunization (vaccination). As interest in the spore coat increases it seems likely that they will be exploited further for drug and enzyme delivery as well as a source of novel self-assembling proteins.
Keywords
Heterologous ProteinBacterial SporeSpore SurfaceSubtilis SporeSpore Coat
Background
Nanostructured surfaces exhibit unique physical and chemical properties that can be exploited for many important technological applications to produce molecular structures and systems for the assembly within the nanometre size range. Nanotechnology not only can produce surfaces with novel functionality, but also new devices that are cheaper and faster than conventional ones, and which may have other advantages. There are numerous biological applications of nanotechnology, including self-assembly of supramolecular structures, slow release and delivery of enzymes and drugs, biocoatings and molecular switches actuated by chemicals, electrons or light. Many of these applications involve the development of sophisticated self-assembled surface substrates, particularly those with defined spacing. The emerging science of nanobiotechnology relies on the observation that, through evolution, nature has produced highly complex nanostructures using macromolecules, especially nucleic acids, polysaccharides and proteins. Accordingly, by understanding the principles of how these macromolecules interact to produce nanostructures, it should be possible to exploit this knowledge in the design and synthesis of new artificial structures and devices. The advantages of this "learning from nature" approach is that well defined fabrication processes already exist in bacteria.
Many organisms, particularly microorganisms, have novel and interesting structures that could be exploited, for example, the lattice-type crystalline arrays of bacterial S-layers [1, 2] and bacterial spore coats [3] both of which have protective properties. This review will examine recent studies exploiting the bacterial spore as a vaccine vehicle where the spore coat has been used for the display of heterologous antigens. In principle, the spore coat could be used not only as a delivery vehicle for a variety of different molecules but also as a source of new and novel self-assembling proteins.
Surface Display Systems
Biological applications of surface display systems are numerous and include the development of bioadsorbents and biocatalysts, the identification of new antibiotics and antigens, and the delivery of vaccines and drugs. While certainly not complete, this illustrates some of the potentially exciting and challenging areas that have recently attracted researchers' attention worldwide. Proteins able to bind metal ions or other pollutants as well as enzymes able to degrade polysaccharides when expressed in heterologous hosts can be used as bioadsorbents for heavy metal removal [4, 5], as whole-cell biocatalysts for detoxification of harmful organic contaminants from the environment [6], or for polysaccharide-degradation by the food and paper pulp industry. Peptides expressed in appropriate hosts are used to obtain combinatorial libraries and then used for i) the determination of epitope specificity of monoclonal antibodies, ii) the identification of interacting proteins and interaction sites [7] and iii) the identification of new antibiotics [8–10]. Proteins and peptides with high antigenic or pharmacological activity once expressed in appropriate hosts have been used for the development of new vaccines and drugs [11–13].
Several approaches have been undertaken to develop efficient display systems expressing heterologous polypeptides on the surface of viruses [14], microbial [7, 15], mammalian [16] and insect [17] cells. All these systems share a common theme, targeting recombinant proteins to the cell surface by constructing gene fusions using sequences from membrane-anchoring domains of surface proteins [18]. Each surface display system involves at least two components: a carrier protein, anchored on the cell surface, and a heterologous passenger protein exposed outside the cell. Several characteristics of carrier proteins can affect the efficiency of surface display and have different effects on the stability and integrity of the host cell. A successful carrier protein should meet the following requirements: i) it should have an efficient signal peptide or transporting signal, to allow the fusion protein to go through the inner membrane; ii) it should have a strong anchoring motif, to avoid detachment from the surface; and iii) it should be resistant to the proteases present in the extracellular medium or in the periplasmic space.
The location of insertion, or fusion, of the heterologous protein into the carrier protein is another important factor, since it can influence the stability, the activity and post-translational modification of the fusion protein. Therefore, fusions at the N-terminus, C-terminus or interior of the carrier protein (sandwich fusions) are, in some cases, constructed with the same passenger to obtain an efficient display. Some characteristics of the passenger protein can also affect the translocation process and final surface display. The folding structure of the passenger protein such as the formation of disulfide bridges at the periplasmic side of the outer membrane [19] or the presence of many charged or hydrophobic residues can affect translocation through the membrane [20]. The choice of the host organism is also an essential step for efficient display. A good host should be compatible with proteins to be displayed and should be easy to manipulate and cultivate without cell lysis.
Bacterial Spore Coats
Spore coats are comprised of protein, have ordered arrays of protomeric subunits, exhibit self-assembly and have protective properties [3]. As dormant metabolically inactive life forms, spores can survive indefinitely in a desiccated state, and indeed have been documented as surviving intact for millions of years [21, 22]. The spore can resist temperatures as high as 90°C as well as exposure to noxious chemicals [23]. Most (but not all) spore forming bacteria belong to two principal genera, Bacillus and Clostridium. Clostridia spore-formers, unlike Bacillus, only differentiate under anaerobic conditions making Bacillus the most amenable genus for study.
Bacillus
species produce a single spore or endospore (as opposed to fungal exospores), within the bacterial cell by a process of differentiation requiring the coordinated action of hundreds of developmental genes [
24
,
25
]. Typically mature spores are 0.8–1.2 μm in length and have either a spherical or ellipsoidal shape (see Figure
1A
). The single bacterial chromosome is condensed within the centre of the spore known as the core. Layers of lipid membrane and modified peptidoglycan surround the spore core but the most important structure is the spore coat. This laminated proteinaceous shell provides the spore with resistance to organic solvents and lysozyme. In
Bacillus subtilis
as many as 25 different coat proteins are present in two distinct coat layers (Figure
1B
), the inner and outer coat, but in other species there is evidence that the coat is less complex and may in some cases consist of only a few protein types [
3
,
26
,
27
]. The structure and assembly of the spore coat is now emerging as a model system to understand complex morphogenetic assembly processes akin to classical studies on phage T4 assembly. The outer, electron-dense, layer of the
B. subtilis
coat is comprised of 5 principal polypeptides, CotA (65 kDa), CotB (59 kDa), CotG (24 kDa), CotC (11 kDa) and CotF (8 kDa). CotA is a multi-copper oxidase [
28
,
29
] and can accumulate in multimeric forms (observed microscopically) within the sporulating cells in some coat-defective mutants [
3
]. Presumably oligomerisation and self-assembly of CotA precedes deposition onto the spore coat surface. The CotG and CotB proteins have also been shown to interact covalently [
27
] and in addition CotG [
30
] and also CotC [
31
,
32
] have extremely unusual amino acid sequences containing multiple repeats (>13) of 12–13 amino acids rich in lysines and tyrosines. Furthermore, many of the spore coat proteins have unusual profiles i.e. multimeric forms and aberrant molecular masses, when examined by SDS-PAGE. Recently, it has been shown that the spore coat is actually flexible and can expand and contract and this feature is critical for spore formation when the spore dehydrates and similarly for germination when the spore rehydrates [
33
,
34
]. This aspect of a self-assembled structure is particulary interesting and might offer a number of future applications in drug delivery, nanofabrication and surface coatings.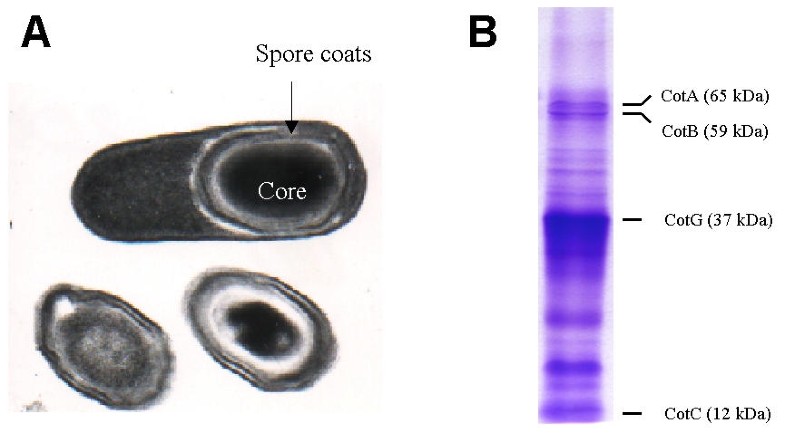 Conclusions
The protective coat of the bacterial spore offers two areas of interest for long-term exploitation pertinent to nanobiotechnology. First, as a substrate for delivery of biomolecules and second as a source for understanding self-assembling molecules. As a delivery vehicle the spore coat has been shown to provide a suitable surface for display of heterologous antigens using the CotB and CotC proteins. As vaccine vehicles spores have a number of advantages over other second generation systems under development. However, the same carried systems (CotB and CotC) could also be used for delivery of proteins important for industry (e.g. xylanases) or for drug delivery. It is probable that other spore coat proteins can be used for surface expression and delivery and indeed spore-forming species other than B. subtilis could be developed. The spore coat carries scores of different protomers of which some self-assemble although little is currently known about how this occurs. Accordingly, the assembly processes that form the spore coat as well as the nature of individual proteins could provide a rich source of hitherto unknown self-assembling molecules.
Declarations
Acknowledgements
This work was supported by grants from the Wellcome Trust (SMC) and the European Union to SMC and ER.
Authors' Affiliations
(1)
Dipartimento di Fisiologia Generale ed Ambientale, Università Federico II, Napoli, Italy
(2)
School of Biological Sciences, Royal Holloway, University of London, Egham, UK
(3)
School of Biological Sciences, Royal Holloway, University of London, Egham, UK
Copyright
© Ricca and Cutting; licensee BioMed Central Ltd. 2003
This article is published under license to BioMed Central Ltd. This is an Open Access article: verbatim copying and redistribution of this article are permitted in all media for any purpose, provided this notice is preserved along with the article's original URL.