Role of omics techniques in the toxicity testing of nanoparticles
Journal of Nanobiotechnology
2017
15:84
Received: 5 July 2017
Accepted: 12 November 2017
Published: 21 November 2017
Abstract
Nanotechnology is regarded as a key technology of the twenty-first century. Despite the many advantages of nanotechnology it is also known that engineered nanoparticles (NPs) may cause adverse health effects in humans. Reports on toxic effects of NPs relay mainly on conventional (phenotypic) testing but studies of changes in epigenome, transcriptome, proteome, and metabolome induced by NPs have also been performed. NPs most relevant for human exposure in consumer, health and food products are metal, metal oxide and carbon-based NPs. They were also studied quite frequently with omics technologies and an overview of the study results can serve to answer the question if screening for established targets of nanotoxicity (e.g. cell death, proliferation, oxidative stress, and inflammation) is sufficient or if omics techniques are needed to reveal new targets. Regulated pathways identified by omics techniques were confirmed by phenotypic assays performed in the same study and comparison of particle types and cells by the same group indicated a more cell/organ-specific than particle specific regulation pattern. Between different studies moderate overlap of the regulated pathways was observed and cell-specific regulation is less obvious. The lack of standardization in particle exposure, in omics technologies, difficulties to translate mechanistic data to phenotypes and comparison with human in vivo data currently limit the use of these technologies in the prediction of toxic effects by NPs.
Keywords
Cytotoxicity
Nanoparticles
Omics technologies
Transcriptomics
Proteomics
Background
Many scientists view nanotechnology as the revolutionary technology of the twenty-first century because it opened new possibilities for improvement of products used in healthcare, cosmetics, and medicine. Nano-sized materials, on the other hand, can also have negative effects on human health, particularly when inhaled. Epidemiological data showed adverse action of air-borne ultrafine particles on humans, which were confirmed in animal exposures [1]. Toxicity of metal, metal oxide and carbon-based nanoparticles (NPs) is most relevant for human health because exposure to this group of NPs is highest, occurs over long periods and degradation and excretion of the ingested particles are low [2]. Numerous studies have addressed adverse effects of NPs exposure by in vitro and in vivo experiments. The vast majority of in vitro studies used cell-based assays with phenotypic readout parameters, mainly membrane integrity, apoptosis, cell morphology, and proliferation. Oxidative stress was identified as mechanism of toxic action and, therefore, included in the routine testing. Toxicity testing of NPs in vivo comprised exposure of rodents and histopathological evaluation of liver, lung, spleen, kidney, brain, gastrointestinal tract, analysis of bronchoalveolar lavage fluid, blood count and clinical chemistry as readout parameters.
In the last years, principles, methodology and techniques of toxicity testing changed and these developments have also influenced the testing of NPs. One important change was the introduction of quantitative analysis of molecular and functional changes in multiple levels of biological organization in traditional toxicology testing (Fig.
1
). The new strategy, termed systems toxicology, changed the current approach of relying almost exclusively on high-dose phenotypic responses in animals [
3
]. Core technologies in systems toxicology are the "omics" techniques, namely genomics, transcriptomics, proteomics and metabolomics. Omics technologies have also been used for in vitro and in vivo testing of NPs. One advantage might be the identification of new targets and markers for NP toxicity. Such markers would be very useful because exposure to NPs occurs at low levels. If realistic exposure levels are used in conventional in vitro testing it is possible that no phenotypic changes occur because exposure duration is too short. The application of higher doses, on the other hand, may lead to a different cell response because particle agglomeration and stability of the dispersion depend on the particle density [
4
]. By the use of transcriptomics, however, adverse effects of low particle concentrations on cells may be detected because the techniques identify changes before phenotypic changes are obvious. Another advantage of the omics techniques would be their lower interference with NPs. False positive and negative results in conventional screening assays have been frequently described. They are due to interference by color, fluorescence, chemical activity, light scattering, etc. (e.g. [
5
]). In contrast, similar problems have not been reported in omics studies. Removal of the NPs during the isolation procedure of the analyte appears to be the most likely reason for that. The use of omics techniques, however, requires more expensive infrastructure and skilled personal in sample preparation and data analysis than conventional testing. Based on the overview of NP studies using omics techniques in vitro and in vivo, this review aims to answer the following questions (i) are omics technologies able to identify new targets in nanotoxicology, (ii) are the technologies robust enough to be used for toxicity screening, (iii) to which extent do the reported regulations correspond to results obtained in phenotypic assays.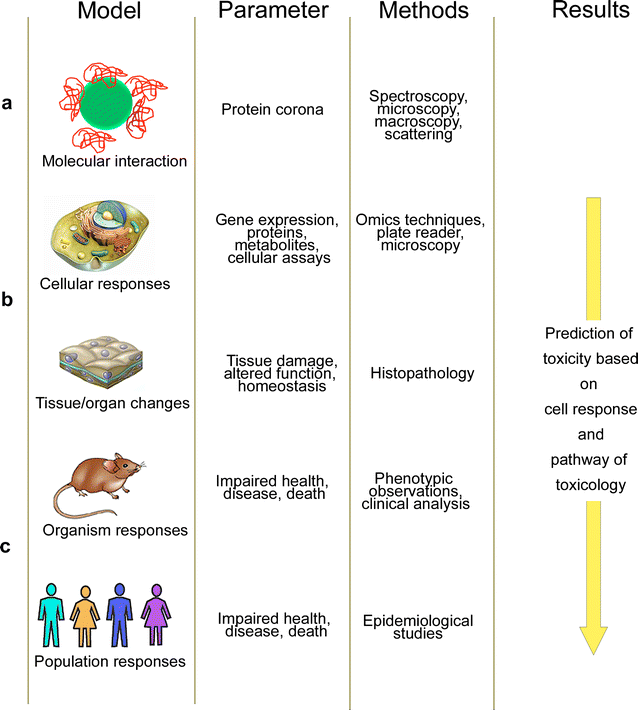 NPs contained in commercial products with relevance for human exposure were addressed in this review. They appear suitable for such a comparison although the action of some of the NPs is caused partly by dissolved ions. The different omics technologies are shortly introduced and data within the same study, between platforms and between research groups and NP action across the platforms and phenotypic assays compared. Finally, a comparison of omics technologies to high-throughput phenotypic testing is made.
Omics techniques
The suffix "omics" stands for "as a whole" and includes epigenomics, genomics, transcriptomics, proteomics and metabolomics. These studies differ from the traditional observation of phenotypes in the way that they can provide primarily mechanistic information and may identify the pathway of toxicity. Based on these techniques it is possible to identify adaptive responses to toxicants at low levels that do not yet cause toxicity but put cells or organisms under stress, which reflects the situation of particle exposure. Identification of cellular stress is important because manifest toxicity occurs when the compensation system is exhausted. An example for the manifestation of adverse effects only upon challenge of the organism is the decreased antibacterial defense of mice that have been exposed to CoO NPs [6].
Toxicants that do not interact or bind to a single type of macromolecule can perturbate multiple pathways and result in a broad activation of pathways. NPs influence various cellular processes (proliferation, apoptosis, inflammation, membrane integrity) [7] and induce such a pattern. In this case, it is usually difficult to deduce the pathway of toxicity from the regulation pattern [3].
Systems toxicology includes genomics, epigenomics (miRNomics and DNA modifications), transcriptomics, proteomics, and metabolomics. Genomics investigates genes and their functions by use of recombinant DNA, DNA sequencing and bioinformatics to analyze function and structure of the genome. The goal is to identify a particular sensitivity of individuals to a given toxin rather than the screening for toxicity of compounds or NPs. The epigenome can be altered by toxicants and, therefore, is useful for toxicity screening.
A detailed description of the respective detection techniques is out of the scope of this review and only the basic principles of the respective techniques will be mentioned.
Omics data in nanotoxicology
Combinations of the keywords "nanoparticles", "silver, "gold", "silica", "titanium dioxide", "copper oxide", "zinc oxide", "carbon nanotubes", "toxicity", "nanotoxicity", "whole genome expression analysis", "epigenetics", "proteomics", "transcriptomics", "metabolomics", "miRNA analysis", and "miRNomics" were used for searches in PubMed and other search machines. For the overview of the in vitro results, particle (material and surface functionalization), particle size, exposure dose and duration, cells used for the studies, and reported regulated pathways are summarized in Table
1
. Table
2
contains indication of particle (material and surface functionalization), particle size, animal species, exposure route, exposure dose and duration, and reported regulated pathways reported in animal studies.
Table 2
Characterization of in vivo toxicity according to changes in mRNA expression (transcriptomics), proteome (proteomics), and metabolome (metabolomics) with categories
P

Size

Sp

Appl

Exp

Regulated pathway(s)

St

Im

De

Pr

Mo

Me

Ve

Si

O

References

A. Transcriptomics

Ag

20

Rat

Inhal

381 µg/m3; 12 weeks

Kidney: cell cycle, xenobiotic metabolism, extracellular signaling

X

X

[154]

Au

4, 100

Mouse

Iv

426 mg/kg; 30 min

Liver: apoptosis, cell cycle, inflammation, metabolic process

X

X

X

X

[155]

CNT

4 × 67, 0.8 × 11, 3.8 × 49, 5.7 × 49

Mouse

It, oroph, inhal,

Meta-analysis

Lung: inflammation resembling different disease pattern

X

[51]

Cu

25

Rat

Oral

50–200 µg/kg; 5 days

Kidney: coagulation, cell signaling, amino acid metabolism

X

X

[84]

C60, NiO

60, 59

Rat

Inhal

0.12 mg/m3; 3 days–4 weeks

Lung: C60: immune process; NiO: ox. stress, inflammation

X

X

[156]

SiO2 (Cd-doped)

20

Rat

It

1 mg/animal; 7–30 days

Lung: circadian rhythm, inflammation, cell cycle

X

X

X

[157]

TiO2

5–6

Mouse

Ig

10 mg/kg; 90 days

Ovary: estradiol, progesterone metabolism

X

[88]

TiO2

5–6

Mouse

Ig

10 mg/kg; 90 days

Liver: inflammation, apoptosis, ox. stress, metabolic process, cell cycle, signal transduction, cytoskeleton, cell differentiation

X

X

X

X

X

X

X

[87]

TiO2

5–6

Mouse

Oral

2.5–10 µg/kg; 90 days

Spleen: inflammation, apoptosis, ox. stress, metabolic processes, ion transport, signal transduction, cell proliferation/division, cytoskeleton

X

X

X

X

X

X

[89]

TiO2

8, 20, 300

Mouse

It

18–486 µg/animal; 1–90 days

Lung: inflammation, all same pattern

X

[85]

TiO2

10, 20.6, 38

Mouse

It

18–486 µg/animal; 1–28 days

Lung: inflammation

X

[158]

TiO2

10.5, 10, 20.6

Mouse

It, oroph, inhal,

Meta-analysis

Lung: inflammation resembling different disease pattern

X

[51]

TiO2

20.6

Mouse

Inhal

42 mg/m3; 1–22 days pn

Liver of offspring: females retinoid pathway

X

[90]

TiO2

20.6

Mouse

It

162 µg/animal; 1–22 days

Lung: inflammation

X

[86]

B. Proteomics

TiO2

< 25

Mouse

Ip

100 µg/animal; 7 days

Lung: ox. stress

X

[159]

TiO2

< 25

Mouse

Ip

100 µg/animal; 7 days

Liver: inflammation, apoptosis, ox. stress

X

X

X

[160]

TiO2

< 25

Mouse

Ip

100 µg/animal; 7 days

Brain: ox. stress

X

[161]

TiO2

< 25

Mouse

Ip

100 µg/animal; 7 days

Kidney: ox. stress, signal transduction

X

X

[162]

TiO2

25

Mouse

Id

5 µg/animal; 24 h

Lymph node: inflammation, lipid metabolism, mRNA processing, nucleosome assembly

X

X

[163]

ZnO

35

Rat

Inhal

12.1 mg/m3; 24 h

Lung: S100A8, S100A9, inflammation

X

[164]

C. Metabolomics

MnO

10

Rat

Iv

10 mg/kg; 6–48 h

Plasma, urine, tissues: lipid, energy metabolism, amino acid metabolism

X

[165]

PS, lipid polymeric

50, 40, 143, 160, 165

Mouse

It

200, 500 µg/animal; 24 h

BAL: inflammation (all, hydrophobic > less hydrophobic)

X

[91]

ZnO

35, 250

Rat

Inhal

1–5 mg/kg; 24 h

BAL, lung: cell anti-oxidation, energy metabolism, DNA damage and membrane stability

X

X

X

[166]
In the vast majority of studies NPs had an effect on regulation of genes, proteins or metabolites and only few studies reported no effects of NPs. For instance, gold NPs had no significant effect on gene regulation of human vein endothelial cells [33] and no alterations of the protein expression profile was observed in adipose tissue derived stem cells after exposure to 900 nm superparamagnetic iron oxide particles [34].
As the reporting of regulated pathways/processes is not standardized, in order to compare regulated pathways between omics techniques and phenotypic assays the following groups have been formed. Stress: oxidative stress, stress response, antioxidant reactivity, GSH-related, HSP, ER stress, cell stress, chaperones; immune: inflammation, immune response, phagocytosis; death: apoptosis, cell death; proliferation: mitosis, growth, proliferation, differentiation, transcription; morphology: cytoskeleton, adhesion, mobility, cytoskeleton organization; metabolism: mitochondria, ATP content, homeostasis, gluconeogenesis, glycolysis, protein synthesis, amino acid levels, energy metabolism; vesicles: membrane trafficking, lysosomes, vesicles; signaling: cell signaling (mitogen-activated protein kinase (MAPK), p53, p38 MAPK), signal transduction, and genotoxicity: DNA damage, DNA repair, nucleic acid metabolism.
Epigenomics
DNA methylation and histone acetylation studies do not provide pathway regulation pattern as output and are, therefore, not included in Table 1. They can, however, be used in toxicological screening and data be linked to phenotypic data obtained by classic genotoxicity assays. DNA hypomethylation has been reported after cellular exposure to SiO2, ZnO, TiO2, CuO, and Ag NPs [35–38] but effects on global DNA methylation in vivo by CuO NPs, Au NPs and SWCNTs are modest [39, 40]. Promoter methylation is increased by 60 nm Au NPs and decreased by SWCNTs in blood cells after intratracheal application of the particles [40]. NPs modify histones by binding to SH groups of histone deacetylases, decreasing the enzymatic activity (Au NPs) [41], or inducing histone hypoacetylation in breast cancer cells (cadmium tellurite (CdTe) quantum dots) [42]. The available data suggest that exposure to NPs may favor cell transformation and tumor development. Conventional phenotypic genotoxicity assays for chromosome damage, for instance COMET assay or micronucleus assay, show variable and partially conflicting results. TiO2 particles in sizes < 100 nm showed positive results in COMET assay (17/24), micronucleus (12/16), and sister chromatid exchanges (2/2) but predominantly negative results in COMET (3/5) and micronucleus (2/3) in vivo studies [43]. Also ZnO NPs showed genotoxic action in cellular but not in in vivo studies [44], while studies of SiO2 NPs reported weak genotoxic action in vitro and no genotoxicity in animal studies [44]. Lastly, CuO and Ag NPs showed genotoxicity in vitro [45–47] and in vivo [48, 49]. Variation in fibre length, contamination with heavy metals and pre-treatment of the CNTs samples prevent inter-study comparison. It appears that long CNTs induce genotoxicity, while short CNTs do not induce prominent genotoxicity [50]. Phenotypic assays and epigenetic assays identified more damage in cellular than in animal studies. Pathway regulation of DNA damage and repair and nucleic acid metabolism as indication for genotoxicity was also more frequently reported in in vitro than in in vivo studies. The higher frequency of epigenetic changes than of genotoxic effects indicates that epigenomic changes induced by SiO2 and TiO2 NPs may not result in manifest chromosome damage because repair mechanisms could prevent it. It is, however, possible that the particles act as a challenge making cells more vulnerable to the action of other genotoxic agents.
Particle effects according to transcriptomics, proteomics and metabolomics studies
Reported regulated pathways were classified according to phenotype changes as routine parameters in toxicity testing. This has the limitation that information on the regulated genes, proteins or metabolites is lost and that high quality and low quality studies are treated equally. Studies using transcriptomics (50) and proteomics (33) were more numerous than studies reporting metabolomics (10) and miRNomics (4) data (Table 1). The number of reports on cellular transcriptomics (37), proteomics (27), metabolomics (7), and miRNomics (4) was higher than that of in vivo studies using these techniques (13 in transcriptomics, 6 in proteomics, and 3 in metabolomics, Table 2). One meta-analysis of gene regulation after pulmonary exposure to CNTs (3) and to TiO2 NPs (2) was identified [51]. Transcriptomics studies focused on Ag, SiO2, and ZnO NPs, while Au and CNTs were most intensely investigated by proteomics (Tables 1, 2). Pathways were reported with different frequencies in the omics studies. Proliferation, oxidative stress, and immune pathways were mainly affected according to transcriptomics in cells (Table 1). Regulation of inflammation according to transcriptomics was also frequently reported in the in vivo studies of NP exposure by the pulmonary route (Table 2), while more variable regulation pattern were seen after oral and intravenous application. In miRNomics studies various pathway regulations have been reported but due to the low number of miRNomics studies a preference for specific regulation pattern would not be easy to discern. Proteomics of cells reported oxidative stress, morphology, energy metabolism, mitosis and apoptosis as most affected by NP exposure (Table 1). When particles were applied by pulmonary and dermal routes in animals regulation of inflammation was reported (Table 2). Metabolomic studies reported NP effects on oxidative stress, energy metabolism, apoptosis and other pathways in cell exposures (Table 1). In the in vivo studies effects on inflammation were identified (Table 2).
Several studies assessed NPs by omics techniques and phenotypic assays. Usually, only cytotoxicity screening assays was performed to determine the concentration range for the omics studies. This is important because strongly cytotoxic concentrations should be avoided as dead cells provide only limited information on regulatory mechanisms. If, on the other hand, concentrations far outside the toxic range are used, no changes in regulation will be seen. Effects at different particle concentrations were recorded in some studies because reaction to low and high particle concentrations may differ. Comparison with complementary techniques can confirm omics results and support relevance of the reported regulation pattern. Studies combined plate reader analysis of cytokine secretion, mitochodrial activity, cell death, and ROS generation [52–64], flow cytometry for cell cycle analysis and cell death [57, 65–68], microscopy for morphology and immunocytochemical staining [52, 57, 59, 67–73], and genotoxicity assays [74–77] with omics techniques. Other researchers used verification of the regulated pathways by using another omics technique [52, 78, 79]. Influencing the regulated pathway by addition of an antioxidant or studying cell recovery after removal of the particle challenge confirmed involvement of oxidative stress [80–83]. Histology [84–89], analysis of bronchoalveolar lavage fluid [85, 90, 91] and clinical chemistry [84] were performed to support the results of the omics in vivo studies.
The majority of transcriptomic studies evaluated samples up to 24 h, while proteomics studies mainly collected sample at ≥ 24 h (Table 1). mRNA is produced in oscillatory manner and the collection time of the sample is not representative for the levels before and after this time [92]. To avoid this bias, most transcriptomics studies analysed samples at different time points. The majority of proteomics and metabolomics studies, on the other hand, analysed only one time point.
The comparison with another omics technique showed that endoplasmatic reticulum stress induced by Au NPs could be demonstrated on genetic and protein level [78]. Regulated genes and proteins did not overlap in cells exposed to TiO2 NPs and MWCNTs [93] but regulated pathways were essentially the same. Similarly, gene regulation coincided very well with exoproteome profiles obtained by exposure of A549 cells with 12 nm SiO2 particles [78]. Concordant pathway regulation pattern was also obtained in transcriptomics and proteomics studies of macrophages exposed to Cu, CuO, and TiO2 NPs [61, 77]. The sensitivity of the different omics technologies may however differ. Gioria et al. used proteomics and metabolomics and identified different regulation profiles of 5 and 30 nm Au NPs only by proteomics [59].
Inflammation and oxidative stress were reported with different frequencies in transcriptomics and proteomics studies. Different exposure concentrations in the studies is not very likely the explanation as little dose dependency in the regulated genes was observed for SiO2 NPs [78]. TiO2 and ZnO particles also caused similar regulation pattern over a wide range of concentrations (5–50 µg/ml for TiO2 and 0.5–5 µg/ml for ZnO [94]. Another influencing factor may be exposure time. A time-dependent transcriptomics study of various NPs showed that upon short contact with NPs (1–3 h), cells reacted to different types of NPs in a similar way. After 24 h a particle-specific reaction pattern was seen [93]. When only studies are included, where ≥ 3 particles were evaluated (SiO2, TiO2, CNTs) it is also found that immune effects are reported in the transcriptomics but not in the proteomics in vitro studies. The comparison between transcriptomics and proteomics data from TiO2 rods and MWCNTs by Tilton et al. confirmed that regulation of immune processes was more pronounced in gene regulation than in protein regulation. Apparently, NP-induced changes in transcripts of inflammatory genes do not obligatorily result in changes of protein levels [93]. The reduced reporting of immune regulation in proteomics studies is also seen in the in vivo studies on TiO2 exposures (Table 2). NPs were applied by different routes and inflammation was reported in 5/7 transcriptomics and 2/5 proteomics studies, while oxidative stress related pathways were identified in 1/7 transcriptomics and 4/5 proteomics studies. The comparison is subjected to certain bias. The 5 proteomics studies were published by only two research groups. Lack of regulation of inflammation in transcriptomics was seen in studies where effects in organs far from the application of the NPs were analysed, in specific, changes in the ovary following intragastral application and changes in the liver of offspring after intratracheal application of the NPs to pregnant mice. The metaanalysis by Nikota et al. on TiO2 NPs and CNT confirmed regulation of inflammation but not of oxidative stress by transcriptomics [51]. Data integration is a critical and relevant factor for the outcome of omics studies. Most researchers use Ingenuity Pathway Analysis (IPA) that allows handling of transcriptomics, proteomics and metabolomics data. Free software programs (e.g. Integrated Molecular Pathway Level Analysis, IMPaLA) have similar capacities to analyze data obtained by all these techniques [95]. IMPALA and iPEAP (integrative Pathway Enrichment Analysis Platform) also allow to identify additional pathways from combined datasets originating from different omics techniques. The common software systems integrate data either based on pathway or biochemical ontology, on biological networks or on analysis of empirical correlations [96]. The analysis programs vary in outcome of the analysis (e.g. identification of additional pathways, functional enrichment analysis, differential correlation analysis, etc.), accepted inputs (e.g. genomic, proteomic, metabolomic, biochemical platform independent), user platform (e.g. software, web-based) and difficulty to use. Empirical correlation analysis is usually based on R package and more difficult to perform than pathway enrichment analysis.
The relatively high number of transcriptomics studies on cellular effects of 20 nm Ag NPs can show to which extent study results using the same technology, particles and cells vary. Different pathway regulation pattern were reported by six groups that evaluated the effect of 20 nm Ag NPs by transcriptomics. All of them analysed samples at various time points and all but one included 24 h as a sampling point. Two studies evaluated human dermal fibroblasts at high concentrations and two others studies HepG2 hepatocytes at low concentrations. In the fibroblast studies, but not in the HepG2 studies, there was overlap in the reported pathways. Interestingly, both studies on fibroblasts did not report regulation of oxidative stress, which was reported in most of the other studies on Ag NPs. Effects on fibroblasts were verified by phenotypic assays in one study of fibroblast and in one of the studies on HepG2 cells. Taking into consideration that interarray reproducibility may be low [17], disparate results can be due to the use of different array or pathway analysis platforms. In case of identification of additional pathways, as in the fibroblasts study, sensitivity of the cells could be different. Regarding the HepG2 studies, the different sampling times (≤ 24 h vs. ≥ 24 h) and different exposure concentrations may explain the difference. The comparison may indicate that transcriptomics data are particularly sensitive to the exposure conditions.
As particle handling and biological parameters (passage of cells, preparation of particles, exposure, use of exposure medium) may influence the results, only studies that included more than one particles or > 1 cell type were analysed to reveal particle- or cell-specific regulation pattern.
Influence of cell types
Cells differ in their resistance to oxidative stress, in the proliferation rate, in the reaction to inflammatory stimuli and their reaction to NPs, e.g. CNTs [97]. Particularly for particles, the ability of cells for phagocytosis appears to be important. Phagocytes ingest NPs to a higher degree and the particle accumulation may affect the physiology of phagocytes more than that of epithelial cells [98]. The reported regulation patterns, however, do not support this hypothesis as similar patterns were published for macrophages and epithelial cells exposed to ZnO NPs [94, 99]. Phagocytosis also appears not to be regulated by exposure to NPs. Only two proteomics and one transcriptomics studies reported regulation of phagocytosis [93, 100, 101], while the majority of transcriptomics (6) and proteomics (5) studies did not report this. The low importance of the cell type in pathway regulation was corroborated by a meta-analysis on regulation in Caco-2, THP-1, and small airway cells by TiO2 and CNTs. The authors concluded that regulation pattern were more particle-specific than cell-specific [93].
Differences in contact between particles and cells growing either adherent or non-adherent, may affect regulation. Although cells growing in suspension culture also settle on the bottom of the plate after a certain time, they do not form confluent monolayers and this may lead to different exposure doses. Differences in cellular particle uptake between adherent and non-adherent growing cells have been reported for instance for CNTs [102]. The reduced uptake could explain the different cytotoxicity of CNTs in cells growing in suspension compared to adherent cells [97]. Consistent with the hypothesis of a different reaction of adherent and non-adherent cells, alumina NPs showed a dose-dependent and time-dependent increase in cytotoxicity for adherent cells but only dose-dependent increase for suspension cells [103]. The majority of cells that were used in the studies (Table 1) were adherent growing cells and only two studies analysed cells growing in suspension in parallel to adherent growing cells [94, 104]. Fe3O4 were tested in THP-1 monocytes (growing in suspension) and in adherent growing HepG2 hepatocytes by transcriptomics. Since lack of contact may be a reason for a decreased cellular response, cellular uptake of the particles was determined by Prussian Blue staining. Despite lower uptake by THP-1 cells, more genes than in HepG2 cells were regulated, which suggests a higher sensitivity of the immune cells to exposure to Fe3O4 particles. The other transcriptomics study, however, did not identify prominent differences between Jurkat lymphocytes (suspension) and macrophages (adherent growth) when exposed to ZnO NPs. In this case different cell contact due to particle sedimentation was irrelevant because the authors concluded that the actions were caused by dissolved Zn2+ ions and not by intact particles.
Influence of particle properties
Biological effects are influenced by a variety of parameters, mainly by material, size, surface properties, and shape [105]. A particle-specific regulation pattern would not be unexpected but responses to plain particles of different material in transcriptomics and proteomics studies (e.g. Fe2O3/SiO2/ZnO; WC/WCCo; SWCNT/MWCNT; TiO2/CuO; ZnO/ZrO) in a given cell line after ≥ 24 h were uniform [53, 77, 100, 101, 106, 107]. Although the proteomics study on the effect of Au, Cu and CdTe NPs in THP-1 cells suggested particle-specific regulation [108], other studies do not give indication for particle-specific regulation in RAW 264.7 macrophages [61, 77, 101]. After pulmonary application, C60 fullerenes and NiO NPs regulated particle-specific and common transcriptomic pathways in mouse lungs [55]. Furthermore, all omics studies of pulmonary application of NPs, irrespective of the material, reported regulation of immune system and inflammation. These results support the hypothesis of a cell-/organ-specific reaction pattern. It might be possible that the invasive application, in general intratracheal instillation, increased the propensity for inflammation. The absence of pulmonary inflammation after inhaled TiO2 NPs versus instilled NPs supports this assumption [109].
When particles in different sizes and surface properties were studied the following can be concluded. Transcriptomics studies identified mainly quantitative differences in the regulation by particles of different size. Typically, smaller particles caused an effect, while the larger particles did not (e.g. [80], Table 1). Different pathways (oxidative stress vs. cell signaling), by contrast, have been reported for 20 and 100 nm Au NPs in proteomics [60]. Surface qualities did not markedly influence the regulation pattern according to transcriptomics and proteomics studies. Cellular effects of differently functionalized Au particles and bare and differently functionalized Fe3O4 particles in transcriptomics as well as action of coated and plain TiO2 and plain and pegylated SWCNTs support the missing effect of surface properties (Table 1). Comparative metabolomics study on intratracheally instilled polystyrene and polymer particles demonstrated a correlation between surface hydrophobicity and extent of the inflammatory reaction. This finding is consistent with results obtained by conventional testing where particles with hydrophobic surface induced higher immune response than those with hydrophilic surface [110].
Studies of spherical and rod-like CuO suggest a small influence of shape on gene regulation, with rod-like NPs showing a stronger pro-inflammatory effect than spherical particles [111]. Also the meta-analysis by Tilton et al. concluded that exposure to TiO2 rods and CNTs induced a particle-specific regulation pattern [93]. This leads to the hypothesis that particle-specific regulation may occur for non-spherical compared to spherical particles.
In summary, particle parameters caused rather quantitative than qualitative differences in the regulation pattern.
Correlation to phenotypic assays
For evaluation of the use of omics technologies in toxicity testing of NPs it is important to know the extent to which pathway regulation corresponds to phenotypic changes. The best method for this comparison is the choice of a phenotypic assay platform capable to analyse multiple parameters in the same cell population. Conventional screening comprises a panel of colorimetric, fluorometric and luminescent test methods for the detection of apoptosis, membrane damage, proliferation, lysosome function, etc. in parallel exposures. Interference of NPs may occur in one or more of these assays [112, 113]. High-content screening systems (HCS) have the advantage that they combine various fluorescent assays with detection of morphological changes by bright field microscopy. This way, several parameters can be analysed in parallel and inconsistency between signal and cell morphology can be discerned.
The suggested assay panel representing the most common targets for a comprehensive analysis of NP toxicity included: (i) cytotoxicity (proliferation, membrane leakage and integrity, ATP content, mitochondrial potential, metabolic activity, calcium flux, apoptosis), (ii) genotoxicity by DNA cleavage (micronucleus assay), (iii) inflammation (interleukin 1, 8 or tumor-necrosis factor alpha, nuclear factor kappa B, or activator protein-1 activation), (iv) oxidative stress (ROS generation or GSH), and (v) fibrotic potential (tumor growth factor-1 beta, collagens 1 and 3 and metalloproteinase activity) [114]. These categories correspond in essence to the pathway regulation classes in Table 1. Differences include the lack of fibrotic potential and genotoxic potential in the table and the addition of proliferation, morphology, vesicles and signaling pathways. Another set of targets for the toxicity screening of NPs, namely proliferation, apoptosis, inflammation and genotoxicity, has also been suggested [115].
The available HCS data are ambiguous regarding cell-specific reaction to NPs. CdTe NPs induced quantitatively different responses in differentiated and undifferentiated murine neuronal cells. Human and murine neuroblastoma cells, neural progenitor cells and neural stem cells reacted in different way to iron oxide NPs. Furthermore, 50 nm amine-functionalized polystyrene NPs induced apoptosis in a variety of cells (astrocytes, HEK293, A549, HepG2, and hMECD) but not in RAW 264.7 macrophages. Lack of cell-specific action, on the other hand was reported by other studies. Membrane damage and mitochondrial damage induced by TiO2, CeO2, and ZnO in sizes between 5 and 20 nm was similar in BEAS-2B and macrophages [116–119] and 35 nm Fe3O4 NPs produced the same profile in murine fibroblasts and simian COS cells [120].
The potential of screening by phenotypic assays is limited in the identification of new modes of action. Except for the cytotoxicity screening assays, they can only detect a specific cellular effect and the characterization of particle effects depends on the selection of the right assays. This can be seen as disadvantage compared to omics techniques in the untargeted form.
Conclusions
Omics platforms could be useful to identify new pathways and mechanisms in nanotoxicity not visible in conventional testing. This is, however, not always the case for NPs. Studies of polystyrene particles identified corresponding targets by conventional assays and whole genome transcription arrays [
53
,
105
,
121
]. Transcriptomic analysis, on the other hand, identified adverse cellular effects at lower concentrations than conventional cytotoxicity screening based on ATP content, dehydrogenase activity and cell impedance monitoring [
78
]. The comparison is complicated by the fact that the regulation of genes indicates a potential damage but does not prove that cell damage will actually occur. Researchers reported different regulation patterns by similar NPs in the same cells tested with the same technologies. As omics data were confirmed by phenotypic assays, disparate results between research groups may be caused by different exposure conditions. More frequently reported regulation of inflammation in cellular transcriptomics than proteomics studies, on the other hand, may be linked to the technology. General (technology-independent) problems with in vitro testing of NPs and issues related to omics technologies that limit their application in nanotoxicity testing are listed in Table
3
. Different particle exposure conditions have been suspected to be the reason for inter-study differences in phenotypic assays. In order to avoid this problem, standard operation procedures (SOPs) for preparation of particle suspensions, use of cell lines and preparation of cells have been developed (see for instance overview
https://www.nanopartikel.info/nanoinfo/methodik/401-arbeitsanweisung
). The general use of these SOPs by all researchers may decrease variations between studies. The use of confirmatory assays (e.g. another omics technique, phenotypic assays) is important to demonstrate study quality and verify pathway regulation.
Table 3
Limitations that hinder the broad use of omics technologies in nanotoxicology
| Independent from the technology | Technology linked |
| --- | --- |
| Lack of standardization of particle exposure | Request for high sample quality (freezing, protection against degradation) |
| Sample pre-treatment | Expertise in bioinformatics needed for data analysis |
| Cell type used for testing | Lack of standardization of sample preparation |
| Medium composition | Predictive value of the omics techniques not entirely clear |
| Relevant concentration range | |
Abbreviations
Ag:

silver
Au:

gold
BAL:

bronchoalveolar lavage fluid
CdTe:

cadmium tellurite
CNT:

carbon nanotube
Co:

cobalt
Cu:

copper
DCs:

dendritic cells
Diff.:

differentiated
ECM:

extracellular matrix
ER:

endoplasmic reticulum
ESI:

electrospray ionization
Exp.:

exposure
FexOy :

iron oxide
FGF-2:

fibroblast growth factor 1
FTIR:

Fourrier transform ion cyclotron resonance
GC:

gas chromatography
GSH:

glutathione
HCS:

high content screening
HGF:

hepatic growth factor
HPLC:

high performance liquid chromatography
HSP:

heat shock protein
id:

intradermal
ig:

intragastral
IMPaLA:

Integrated Molecular Pathway Level Analysis
inhal:

inhalation
ip:

intraperitoneal
IPA:

Ingenuity Pathway Analysis
iPEAP:

integrative Pathway Enrichment Analysis Platform
it:

intratracheal instillation
iv:

intravenous
LC:

liquid chromatography
MALDI:

matrix-assisted laser desorption ionization
MAPK:

mitogen activated protein kinase
MSCs:

mesenchymal stem cells
MS:

mass spectrometry
MWCNT:

multi-walled carbon nanotube
NfkB:

nuclear factor kappa B
NMR:

nuclear magnetic resonance
NP:

nanoparticle
oroph:

oropharyngeal aspiration
ox.:

oxidative
PAK:

p21 activated kinases
RISC:

RNA-induced silencing complex
SDS:

sodium dodecyl sulfate
SiO2 :

silicium oxide
SOP:

standard operation procedures
SWCNT:

single-walled carbon nanotube
TFG-β:

tumor growth factor beta
Tech:

technique
TiO2 :

titanium dioxide
TOF:

time of flight
WC:

tungsten carbide
ZnO:

zinc oxide
ZrO:

zirconium oxide
Declarations
Acknowledgements
Not applicable.
Competing interests
The authors declare that they have no competing interests.
Availability of data and materials
Not applicable.
Consent for publication
Not applicable.
Ethics approval and consent to participate
Not applicable.
Funding
Studies were supported by the Austrian Science Fund Grant P 22576-B18.
Publisher's Note
Springer Nature remains neutral with regard to jurisdictional claims in published maps and institutional affiliations.
Open AccessThis article is distributed under the terms of the Creative Commons Attribution 4.0 International License (http://creativecommons.org/licenses/by/4.0/), which permits unrestricted use, distribution, and reproduction in any medium, provided you give appropriate credit to the original author(s) and the source, provide a link to the Creative Commons license, and indicate if changes were made. The Creative Commons Public Domain Dedication waiver (http://creativecommons.org/publicdomain/zero/1.0/) applies to the data made available in this article, unless otherwise stated.
Authors' Affiliations
(1)
Center for Medical Research, Medical University of Graz, Graz, Austria