"For his outstanding contributions working with radiolabeled nanostructures, and his pioneering work on tumor vasculature targeting using these nanomaterials, making him a world-leading researcher at the interface of nanoscale sciences and imaging"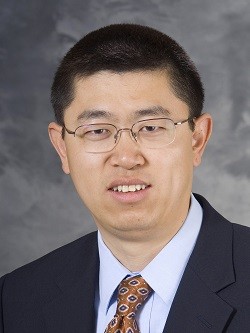 Biography: Weibo Cai is a Vilas Distinguished Achievement Professor at the Departments of Radiology, Medical Physics, Materials Science & Engineering, Pharmaceutical Sciences in the University of Wisconsin – Madison.
He is a Fellow of the American Institute for Medical and Biological Engineering (AIMBE), which is among the highest professional distinction conferred to a medical and biological engineer.
He serves as Editor-in-Chief of the American Journal of Nuclear Medicine and Molecular Imaging and the Journal of Nanobiotechnology, and he is an Associate Editor of EJNMMI.
Dr. Weibo Cai has published more than 360 papers in peer-reviewed journals (with >30,000 citations and h-index >93).
Group page: https://mi.wisc.edu/bio.htm
Note: Weibo Cai was not involved in the decision-making process for this award.