NANOMEDICINE: will it offer possibilities to overcome multiple drug resistance in cancer?
Journal of Nanobiotechnology
2016
14:17
Received: 31 October 2015
Accepted: 3 March 2016
Published: 9 March 2016
Abstract
This review is written with the purpose to review the current nanomedicine literature and provide an outlook on the developments in utilizing nanoscale drug constructs in treatment of solid cancers as well as in the potential treatment of multi-drug resistant cancers. No specific design principles for this review have been utilized apart from our active choice to avoid results only based on in vitro studies. Few drugs based on nanotechnology have progressed to clinical trials, since most are based only on in vitro experiments which do not give the necessary data for the research to progress towards pre-clinical studies. The area of nanomedicine has indeed spark much attention and holds promise for improved future therapeutics in the treatment of solid cancers. However, despite much investment few targeted therapeutics have successfully progressed to early clinical trials, indicating yet again that the human body is complicated and that much more understanding of the fundamentals of receptor interactions, physics of nanomedical constructs and their circulation in the body is indeed needed. We believe that nanomedical therapeutics can allow for more efficient treatments of resistant cancers, and may well be a cornerstone for RNA based therapeutics in the future given their general need for shielding from the harsh environment in the blood stream.
Keywords
Cancer chemotherapyNanomedicineMultidrug resistanceCancer stem cellsTumor-targeted delivery
Background
Around 50 % of humans who are diagnosed with a malignant tumor will die from their disease. In 2012, the actual figures for 40 European countries were 3.45 million new registered cases of various cancers and 1.75 million deaths from malignancies. The global incidence and mortality rates are similar [1]. Despite advances in diagnosis and treatment, mortality from cancer still remains high. Approximately 90 % of the recurrences of cancers after the primary general therapy (endocrine as well as chemical) are caused by the genes coding for multiple drug resistance (MDR) [2–9].
Many cancer therapies kill the bulk cells of a tumor but fail to cure the patient because they do not eliminate cancer stem cells (CSCs), [8, 10–22] which survive to generate new tumors. Virtually all anticancer therapies in use today are designed to target the primary tumors. However, it is usually not the cells in the primary tumor that threaten the life of the patient; it is the metastatic cell population. In the war against cancer, the CSCs and MDR must be mastered. The attacks on the CSCs can be direct (i.e. against the tumor cells) [2–5, 9, 23–25] or indirect (i.e. against in the microenvironment [26–30]) or intended to disrupt the communication between CSCs and the microenvironment [31–37].
Since its discovery in the early 1960s, nanomedicine has created high expectations, and nanotechnology has been expected to reinforce the current medical armament in clinical oncology. Unfortunately, many of these expectations have not been realized. In this review, we will attempt to analyze the present status of nanooncology. Because some publications on the possibilities for nanomedicine have been overoptimistic and oversimplified, we have devoted ample space to present studies showing the difficulties and obstacles that nanooncology faces.
In this review we will present:
1.

A brief outline of future oncologic treatments of generalized solid malignancies (in contrast to hematologic malignancies)

2.

The biological background to the phenomena of MDR and CSCs

3.

The factors that affect drug distribution in the human body

4.

A short introduction to nanotechnology

5.

An overview of some of the hurdles to be overcome by nanomedicines

6.

Strategies likely to be employed in future general oncologic treatments

7.

An inventory of drugs available today for general oncologic treatment

8.

Some clinical results utilizing nanotechnology.
An outline of future oncologic treatment of generalized disease
CSCs in a metastatic niche (i.e. stationary) are likely to be protected by several cellular shields, and to reach the CSCs these shields have to be removed one by one, like peeling an onion. The general steps in combatting CSCs include inhibition of drug-resistance mechanisms, elimination of the protecting bulk tumor cells, instigation of growth in the quiescent CSCs, and re-education (in this context—inducing differentiation) or elimination of the CSCs [38]. These steps are described in more detail at the end of this publication.
The background to MDR AND CSCs
Distribution of drugs in the human body
The distribution of drugs in the human body is governed mainly by vascular transport, transvascular transport, and interstitial transport through the ECM [101]. Extensive reviews are found in the following publications [102–113].
Nanoparticles
Nanos is the Greek word for "dwarf". Nanotechnology refers to matter with at least one dimension between 1 and 100 nm [
129
,
130
]. One nanometre is 10
−9
meters, and a sheet of paper is about 100,000 nm thick. In such a world, materials take on different physical, chemical, and biological properties as a result of their small size. NPs are solid particles with a plethora of sizes, compositions, and characteristics [
131
,
132
]. They are usually made of lipids, crystals of metals or silicates, proteins, or polymers. NPs can have several structures, and some of the more common ones are depicted in Fig.
1
.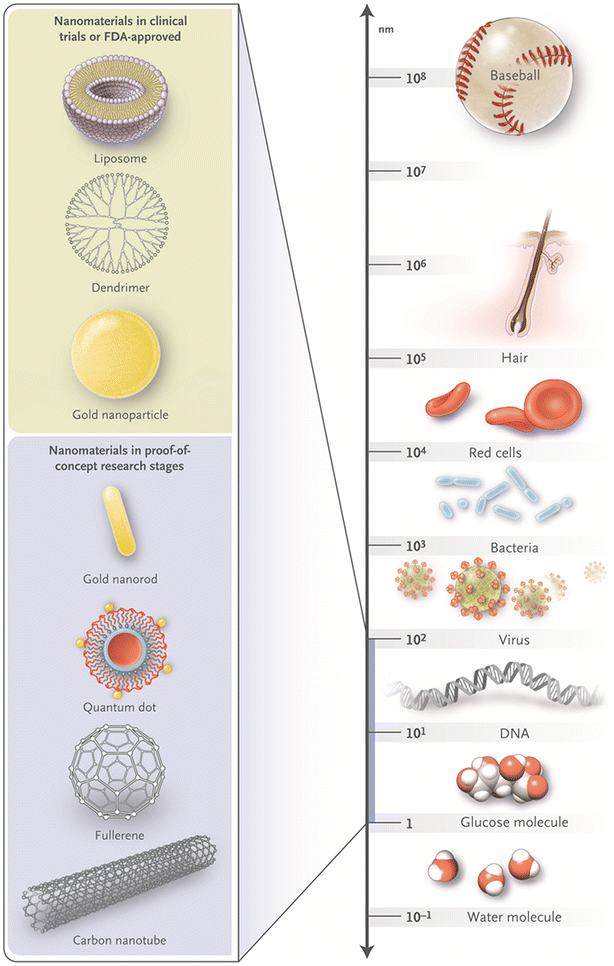 NPs can be loaded with drugs, bioactive agents (like genes), or diagnostic tools (like radioactive tracers) [
129
,
132
,
133
]. Thus armed, they can serve as vectors inside the body. These vectors can be constructed such that they are activated/dissolved under specific conditions such as acidity, temperature, or light. Such constructs are intended to serve dual purposes of protecting the host from the active agent while it is being transported in the body and protecting the active agent from being excreted by the kidneys, captured by the reticulo-endothelial system (macrophages, antibodies, etc.), or degraded by the host´s normal metabolism. An example of an oncologic therapy based on NP formulations is given in Fig.
2
.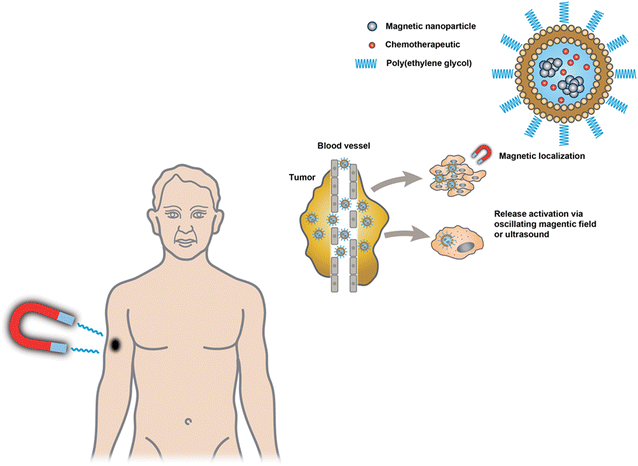 There are numerous well written reviews on the topic of nanomedicine and we point the interested reader to the following [28, 81, 132, 134–161].
Targeting of nanoparticles
So-called targeted delivery is based on functionalization of NPs with tissue-specific ligands such as antibodies, aptamers, [162] peptides, [161, 163, 164] or small molecules [165], and have been described in numerous publications [105, 129, 136, 166–179]. Targets on human cancer cells can be extracellular receptors on the cell surfaces (receptors for transferrin, estrogen, folate [180], etc.) or intracellular receptor (telomere [181], mitochondria [182]). To clarify, in the ligand/receptor interaction, we refer to a ligand as the mobile partner attaching to the non-mobile receptor, like some structure bound to the surface of a cell. In order for any binding between ligand and target to occur, the two participants must be no further apart than a few nm [183]. At greater distances, there is no attraction. This docking is easily achieved in vitro where the medium is of very low viscosity and where there are no mechanical obstacles. In vivo, however, the situation is much more complicated. Repeatedly, it has been shown that targeting of NPs does not increase the number of particles bound to cancer cells in vivo [3, 21, 28, 103, 104, 107, 111, 120, 134, 136, 139, 152, 182, 184–191]. For example, immunoliposomes armed with antibodies against human epidermal receptor (HER) do not bind to cancer cells "overexpressing" HER any more than non-targeted liposomes. The potential and the value of targeting of NPs for clinical oncology have—to date—been overestimated. There are fundamental laws of physics and materials, especially in relation to diffusion, absorption, adherence, and hydrodynamics, that not even NPs can avoid [192]. The situation in vivo is considerably more complex than in vitro making results based on in vitro studies of questionable relevance for situations in vivo. For example "overexpression" of cellular targets is a relative term where the number of structures on the cell surface is compared between a cancer cell and its normal counterpart. The comparison is made under in vitro conditions, but again this might be giving misleading information. First, even if the cancer cells in vitro express 1000 times as many receptors as their normal counterparts do under the same conditions, the relationship might be completely reversed in vivo. Secondly, In vivo, there might be 1,000,000 times as many normal cells expressing the same receptor, all capable of capturing a targeted vector. The results from in vitro analyses have simply underestimated the complexity of the situation. The receptor for transferrin is an illustrative example.
The transferrin receptor (TfR) is exposed on the surface of proliferating cells (recent review in Daniels et al.) [193], and TfR is frequently used as the target in nanooncologic therapy. In the human body, however, there are millions of normal cells expressing very high amounts of TfR. The disease hemochromatosis is a strong and eloquent example of this. Hemochromatosis is a group of diseases characterized by abnormal storage of iron [194]. The metal, which is toxic to cells in high amounts, is stored mainly in the skin, the heart, the pancreas, and the liver–organs where TfRs are abundant [195–197]. These organs are poisoned by the metal. The patient develops diabetes, and the skin is discolored brown. These two clinical features have given the disease the nickname "bronze-diabetes". The patient usually dies from either heart or liver insufficiency. The clinical picture of hemochromatosis indicates that if a NP is targeted to TfR on the membrane of a cancer cell, and injected intravenously, the NP can be hijacked by TfR expressed in normal organs. Thus the NP is more likely to end up in a normal organ than in a malignant tumor. Aiming at cancer cells with a single surface marker (such as TfR) results in aiming at a single population in a mixture of different cell populations that are constantly changing and moving.
Even if targeting of NPs to cancer cells in vivo can be inefficient, targeting of NPs to receptors on the surfaces of cancer cells has been effective in radiologic detection of cancers in humans [198], and in a few clinical cases targeted NPs have been effective in therapy (see below, Table 3) [108, 109, 113, 198–201].
The long journey
Until the development of orally formulated nanodrugs, the intravenous route will remain the dominating route for clinical administration of nanooncologic agents. From the entry of the therapeutic NP into the host´s blood circulation, the NP faces a long journey to its intended destination: the cancer cells [27, 107, 127, 186, 202]. During that journey, there are several barriers that need to be overcome. These hurdles are often neglected or disregarded in physiochemical evaluations of the future possibilities of nanotechnology to deliver agents to cancer cells. In this section, we point to a number of different obstacles during this long journey [127, 202].
Future therapeutic strategies
Therapy against CSCs is likely to require a combination of mathematics, physics, biology, chemistry, and medicine. A short outline of future general oncologic therapy was given in the introduction of this publication. Here, we will give a more detailed sketch of tomorrow´s general oncologic therapy. It is anticipated to be very complex, very personal, and very expensive. CSCs represent the prime target, but these are an elusive and moving target.
The future war on cancer will require multifunctional and multistep sequential therapy. Presented below are some possible steps:
A.

Blocking of some of the MDR genes

B.

Killing and removing the protecting bulk tumor cells. Just killing is not enough; the dead cells must be removed in order to expose the dormant CSCs

C.

Mobilization of the CSCs by instigating them to re-enter the cell cycle

D.

Elimination or re-education of the now proliferating CSCs.
Inventory of agents/drugs available today
Agents/drugs capable of blocking the MDR genes. The scientific community is already in possession of drugs/agents that can block four of the most important signaling pathways involved in MDR in cancer cell populations. Some examples are given in Table
1
. However, the potential side effects of blocking these genes are not known. It is also not known in what order they should be blocked, or for how long they must be blocked to allow for the next therapeutic step.
Table 1
Examples of drugs/agents capable of affecting some of the MDR genes in human cancer cells
Signal chain

Blocking agents

Clinical status

Ref.

Wnt

siRNA

Curcumin/Piperin

Several other natural products

Resveratrol

35 clinical trials

NOTCH

siRNA

Monoclonal antibodies

Peptides

Decoys

Secretase inhibitors

Several natural compounds

15 clinical trials

Hgh

Cyclopamine (alkaloid from plants)

Vismodelib

Cyclosporin

Sulforaphane (Broccoli)

Several clinical trials

Clinical trials

NANOG

siRNA

Resveratrol

Preclinical

[231]

[232]
Clinical cases where targeted nps are considered to be effective
In spite of all the skepticism, objections, and criticism of NPs—including the hurdles in "
The long journey
" (see above)—targeting of NPs against cancer cells has been successful in a few clinical cases. We have identified two reports on clinical cases where NPs were employed in the oncologic treatment and where the NPs were traced in some patients. These are summarized in Table
3
.
Davis et al. conducted a phase I study (no effect variable) for treating cutaneous malignant melanoma with siRNA. Biopsies from metastases from malignant melanoma were obtained after completion of the 21 day cycle (drug given on days 1, 3, 8, and 10). The siRNA was designed to suppress the messenger RNA in the malignant cells, and the siRNA in the biopsies was measured with PCR technique. The study demonstrates that siRNA systemically administrated to humans can inhibit a specific gene in a malignant tumor.
Senzer et al. conducted a phase I trial with genetic therapy (a variant of p53: SGT 53) against various malignancies. They gave the treatments twice weekly for 5 weeks, and biopsies were taken between 2 and 96 h after the last injection of SGT 53. Tissue samples were taken from cutaneous metastases from three patients with cutaneous malignant melanomas along with normal tissue samples. In all tumor-derived tissue, exogenous wt p53 was detected, but not in the normal tissue. These results indicate not only the tumor-targeting ability of systemically administered p53, but also the specificity for tumor tissue over normal tissue. However, in Senzer et al.'s publication it is not possible to estimate the time required for the NP to travel from the point of administration to the tumor.
Discussion
The question posed in the title of this article cannot yet be answered with certainty. Tomorrow´s treatments of disseminated cancers face monumental obstacles, but possibilities also remain. The therapy is likely to be personalized, complicated, and expensive. The primary targets—the CSCs—are elusive, evasive, mobile, and changing. New therapeutic strategies and weapons are needed.
An overview of today´s oncologic armament reveals that most of the weapons needed tomorrow already exist today. We are in possession of the drugs needed to block the genes responsible for MDR, we have the agents needed to extinguish the bulk of cancer cells, and we also have the agents needed to instigate growth in dormant cancer cells thereby making them susceptible to therapy. What is missing is knowledge of the chronological order of multistep therapies and the means of directing the active agents to their targets. Nanooncology might offer some solutions to these problems.
The versatility of this young science is very promising and has created high expectations, but several significant obstacles remain before nanomedicine can be considered practical for use in the clinic. One of the main reasons that limit the clinical translation from proof of concept of a novel nanomedicine to clinical phase testing is the matter of multifunctionality. The more complex nanomedicines that one constructs will undoubtable have a limited reproducibility in its manufacturing. An ideal drug delivery system for a MDR treatment may well include both a biological drug cargo and a more standard small molecule, packed in a nanoparticle system with a variation in size (as well as distribution of the cargo). This NP system is then further conjugated (and complicated) with a targeting moiety that allows for tissue targeting. The position and the number of available ligands on the NP surface can then also vary. In concluding such a system with three different components will have a very different composition compared to the "ideal" structure and leads to the issue of which part of this multifactorial system gives rise to the highest efficacy. This aspect is indeed very different from the situation for a small molecular "standard" drug, and this issue is a major limitation. Nanomedicine holds much promise but there are still major areas in both basic and applied research in the area nanotechnology that needs to be explored to solve some of these problems.
Another area of specific concern is the issue of targeting the rare CSC's. Small molecular therapeutics can indeed diffuse much more efficiently than a 100 nm NP systems and reach both more central parts of a tumor as well as reach more metastatic sites in the body. Such sites are also often less vascularized where small and nanomedicine constructs relying on the EPR effect will not be effective.
Conclusions
Looking back at the drugs/agents available today (Tables 1, 2, 3 in this publication) that can halt or even cure various generalized cancers, the scientific community is already in possession of the weapons needed. What is missing is aiming and timing. The key is to position the right drug at the right time at the right place and at the right concentration. If this can be achieved, it will represent a major step in treating a wide array of malignancies. In summary the relevance of in vitro based results are questionable still, and tomorrows cancer treatment will need to be multifactorial with different drugs at different time points and perhaps even localized.
References and notes
Results based on in vitro studies are not included in this list. And we apologize to those researchers whose publications are not listed.
Declarations
Authors' contributions
AMN and SF drafted and revised the manuscript together. All authors read and approved the final manuscript.
Acknowledgements
Financial support has been provided by The Royal Swedish Academy of Sciences, Percy Falks Foundation, Swedish Research Council, Carl Bennet AB, Karolinska Institutet, and VINNOVA—Swedish Governmental Agency for Innovation Systems.
Sten Friberg was previously at Department of Neuroscience, Swedish Medical Nanoscience Center, Karolinska Institutet, Retzius väg 8, 171 77 Stockholm, Sweden and Andreas M. Nyström was previously at Institute of Environmental Medicine, Nobels väg 13, SE-171 77 Stockholm, Karolinska Institutet, Nobels väg 13, 171 77 Stockholm, Sweden.
Competing interests
AM Nyström is Chief Medical Officer of Polymer Factory Sweden AB and is a shareholder in the company that is marketing dendrimers. The authors have no other relevant affiliations or financial involvement with any organization or entity with a financial interest in or financial conflict with the subject matter or materials discussed in the manuscript apart from those disclosed.
Open AccessThis article is distributed under the terms of the Creative Commons Attribution 4.0 International License (http://creativecommons.org/licenses/by/4.0/), which permits unrestricted use, distribution, and reproduction in any medium, provided you give appropriate credit to the original author(s) and the source, provide a link to the Creative Commons license, and indicate if changes were made. The Creative Commons Public Domain Dedication waiver (http://creativecommons.org/publicdomain/zero/1.0/) applies to the data made available in this article, unless otherwise stated.
Authors' Affiliations
(1)
Department of Neuroscience, Swedish Medical Nanoscience Center, Karolinska Institutet, Stockholm, Sweden
(2)
Institute of Environmental Medicine, Karolinska Institutet, Stockholm, Sweden
Copyright
© Friberg and Nyström. 2016